— Kosher, Non-GMO, Organic, Raw, Sproutable, Vegan
— Very low in Saturated Fat, Cholesterol, Sodium
— A Good Source of Dietary Fiber, Protein,  Folate, and Thiamin
— Rich in Iron, Phosphorus, Potassium
In particular, organic Kidney Beans are an excellent option for your weekly fix of healthy foods because they taste great, possess many nutrients, and may be used in many recipes. Many studies have proven this fact, and many health organizations advise having a few servings of legumes per week.
Kidney Beans: Benefits and Uses
The Health benefits of kidney beans are diverse, but the most popular of them is that this meal is rich in fiber and proteins. They also fill you up with starchy carbs that block blood sugar spikes. It means that people with diabetes should include kidney beans in their diet. These beans are legumes, which means that they are seeds of a pod plant. However, they may act as either vegetables or protein sources. People that consume animal protein sources might consider a ½ cup of cooked kidney beans as daily vegetable servings. And it's a fantastic source of protein for Vegans and vegetarians as a cup of cooked beans contains 15 grams.
Did you know that Kidney beans have a considerable advantage over animal-based protein foods because the amino acids you get are more comfortable for the body to digest? Therefore, even athletes and bodybuilders who need to control their muscle mass more efficiently will benefit from regularly eating kidney beans. You can enjoy this food in a significant number of ways. Try some kidney bean soup and salad; both are filling and delicious. Our beans can be combined with any vegetables and meats. Try to experiment, make some kidney beans curry as it tastes incredible.
Kidney Beans: Nutrition Facts
Like all legumes, Organic Beans from Food To Live provide you with various essential minerals and B vitamins, alongside protein and fiber. They are particularly rich in Copper, Iron, Potassium, Manganese, Phosphorus, Magnesium. A cup of cooked beans contains less than a gram of fat, so that this food is right in any weight management plan. It can help you achieve your goals faster because the carbs you get from the beans digest slowly. It helps control your hunger.
Tips for Storing Kidney Beans
Food To Live Organic Kidney Beans will keep for quite a few months as long as you ensure they stay dry. Always store them in an airtight container. Refrigerate the pack to increase shelf life or put them in the freezer where they will last for years.
How to Sprout Red Kidney Beans at Home
Yields approximately 3 Cups (1/2 lb.) of Sprouts. Prep 3 Tablespoons of beans, then transfer into a bowl or into your Sprouter. Add 2-3 times as much cool (60°-70°) water. Mix beans up to assure even water contact for all.
Allow beans to soak for 6-12 hours. Empty the beans into your Sprouter (if necessary). Drain off the soak water. Rinse thoroughly with cool (60°-70°) water. Drain thoroughly! Set your Sprouter anywhere out of direct sunlight and at room temperature (70° is optimal) between Rinses. Ensure sufficient air-circulation is provided.
Always be sure to Drain very thoroughly. The most common cause of inferior sprouts is inadequate drainage. Rinse and Drain again every 8-12 hours for 3 days.
Enjoy your homemade sprouts!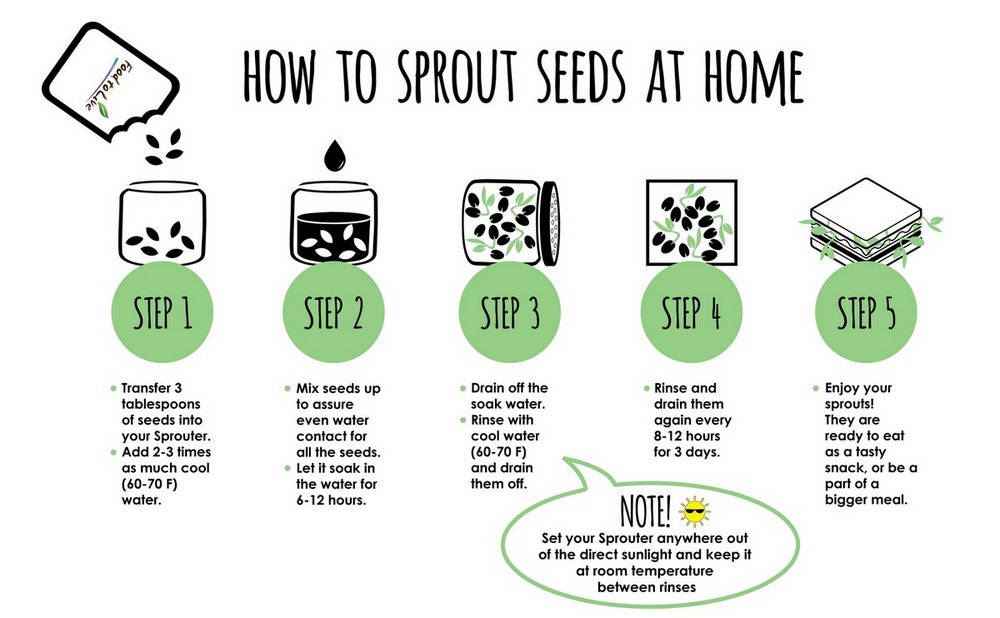 Cooking Instructions: Vegan Chilli
You don't have to soak your dried beans overnight.
Heat the olive oil in a large saucepan. Sauté the garlic, onion, celery, carrot, and pepper for a few min, on medium heat, until softened.
Add the cumin, chili flakes, salt, and pepper, and stir.
Pour in the chopped tomatoes, kidney beans, lentils, and vegetable stock. and simmer for 40-50 min.
Serve with some steamed basmati rice, fresh parsley, and a squeeze of lime juice.
Dark Red Kidney Beans Indian Curry