— Kosher, Raw, Sproutable, Vegan
— Sprouting Grade
— High Germination Rate
— Free of Cholesterol

— Suitable

 

for

S

irtfood

 

diet
Today, it has become clear that what we put in our bodies has a direct effect on our health. That's why it is so crucial that we eat foods that will repair, cleanse, and heal our bodies from terrible toxins, instead of eating foods that will only do more damage and wear us down. One way to improve your diet is by eating raw and healthy foods like mung bean sprouts — and Food to Live makes it easy and convenient to try sprouting your mung beans!
Health Benefits of Mung Bean Sprouts
These little beans are some of the most popular legumes for sprouting, and boast high levels of vitamins A, B, C, and E, as well as amino acids and minerals such as iron, calcium, magnesium, and potassium. Mung bean sprouts can also help you lose weight because you are eating a vegetable that contains high fiber, no cholesterol, and very few calories. With each bite, you feel satisfied without gaining a lot of unnecessary, empty calories in the process.
How to Use Mung Beans
Our raw mung beans are high quality and have a high germination rate. Sprouted mung beans are great by themselves as a healthy snack and can also be an ingredient in salads and soups for extra flavor, texture, and nutrition. Each time you eat mung bean sprouts, you are taking a positive step to better your health. Mung bean sprouts can help you reverse any damage that unhealthy snack foods have been causing in your body, so why not order your mung beans today from Food to Live? We make it easy to get the legumes, seeds, and spices you need for a healthier lifestyle.
How to Sprout Mung Beans at Home
Yields approximately 3 Cups (1/2 lb.) of Sprouts. Prep 3 Tablespoons of beans, then transfer into a bowl or into your Sprouter. Add 2-3 times as much cool (60°-70°) water. Mix beans up to assure even water contact for all.
Allow beans to soak for 6-12 hours. Empty the beans into your Sprouter (if necessary). Drain off the soak water. Rinse thoroughly with cool (60°-70°) water. Drain thoroughly! Set your Sprouter anywhere out of direct sunlight and at room temperature (70° is optimal) between Rinses. Ensure sufficient air-circulation is provided.
Always be sure to Drain very thoroughly. The most common cause of inferior sprouts is inadequate drainage. Rinse and Drain again every 8-12 hours for 3 days.
Enjoy your home-made sprouts!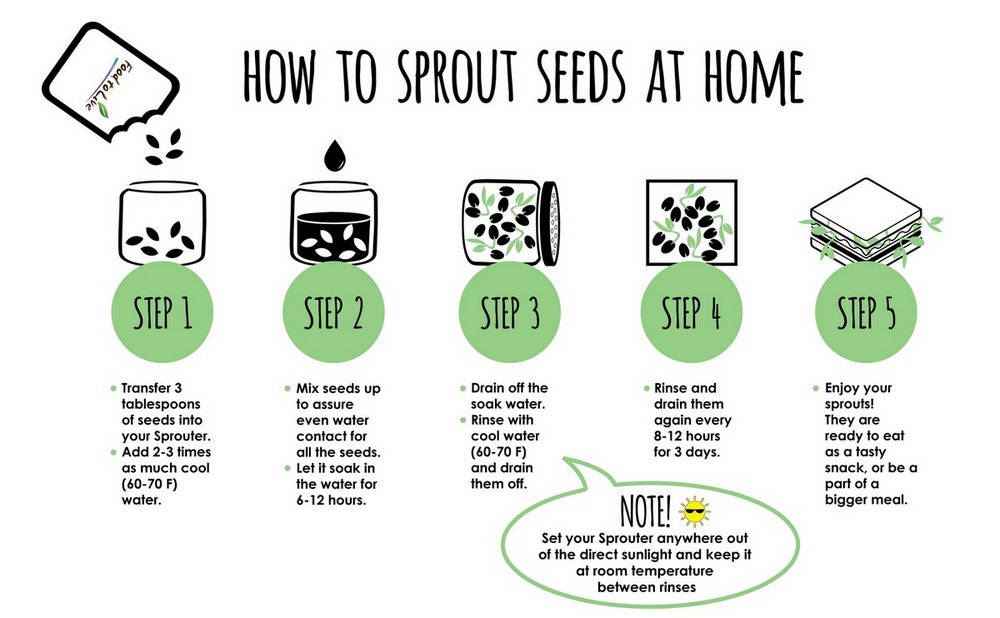 Creamy Coconut Mung Bean Stew