Organic Cranberries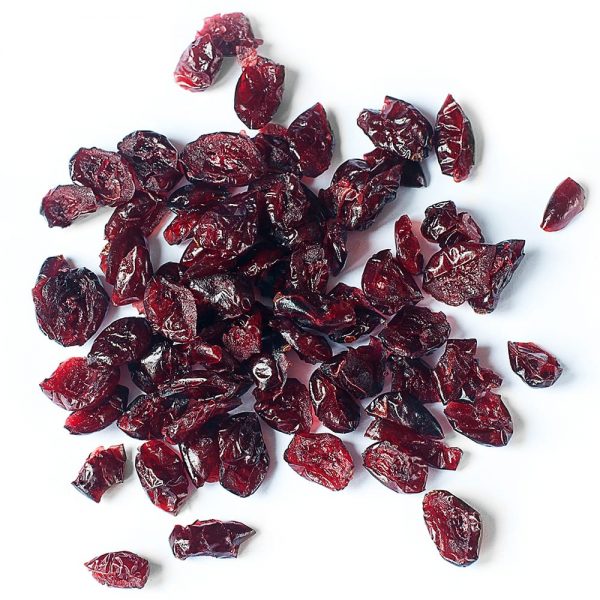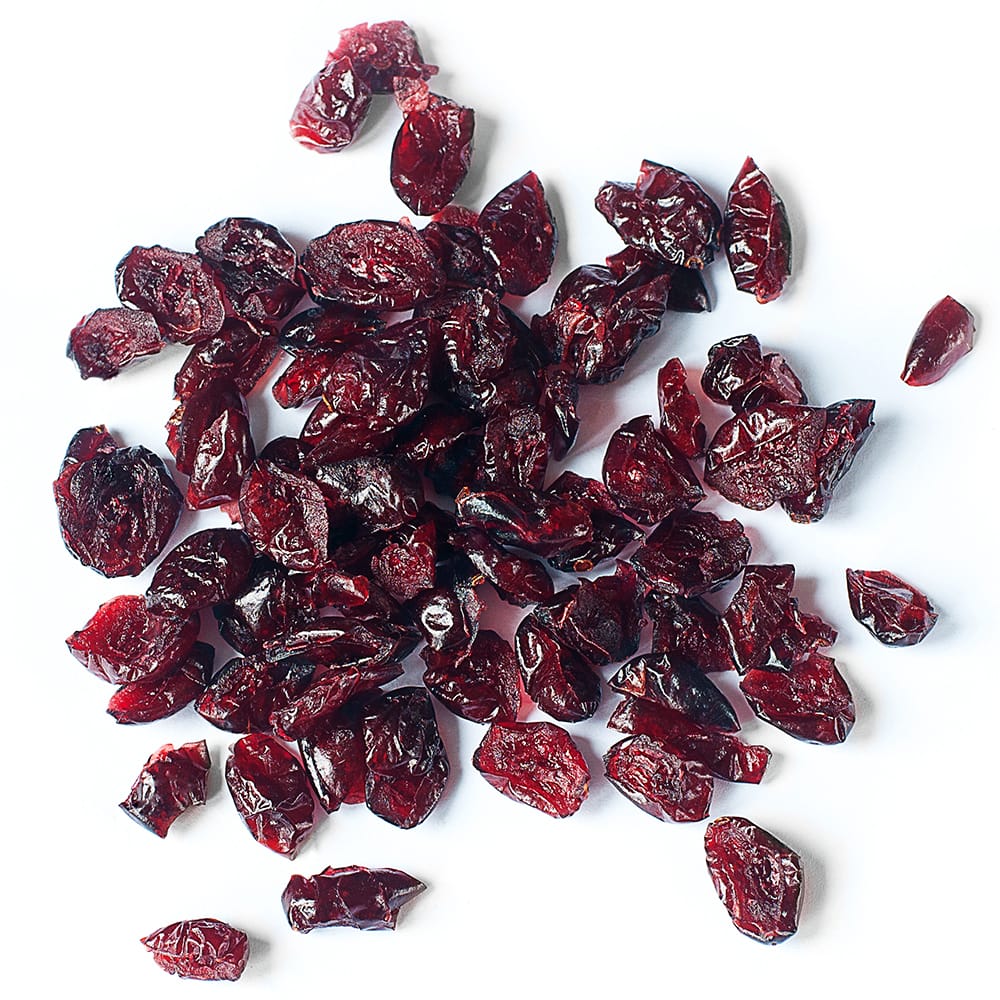 — Kosher
— Rich in Antioxidants
— Very Low in Saturated Fat
— Free of Cholesterol and Sodium
— Gently Infused with Organic Sugar
— Lightly Coated with Organic Sunflower Oil
Organic Dried Cranberries are one of the healthiest foods out there, and you can enjoy all their benefits in a significant number of ways. At Food To Live, we make them not freeze dried. This allows us to maximize the nutritional value of the product and ensure you can use it for making a variety of delicious dishes, both sweet and sour.
Dried Berries: Benefits
The benefits of these berries are too many to count. They contain the largest number of antioxidants in their food group, which means that they improve your health in general. Adding a handful of berries to a salad, smoothie, or cereal makes the dish more valuable for your wellbeing.
The best news is that researchers have proved that dry berries are better for you than cranberry vitamins made in a lab. Dry fruits contain a combination of elements that complement and enhance each other's effects, which creates an incredibly healthful cocktail. Pills based on cranberry extract are devoid of most of these elements and therefore can't compare to the actual fruit.
Dried Cranberries: Calories and Nutrition
In fact, this would be a great addition to such a meal plan as a cup of dry fruits contains only about 120 calories, but it gives you a boost of essential vitamins and minerals.
The most important nutrients you get from dried cranberries include:
Vitamin C
Vitamin E
Iron
Calcium
Potassium
Due to their high content of dietary fiber, berries are great for metabolism. You can even incorporate them in protein shakes for athletes and bodybuilders. The berries will make those taste better and infuse them with antioxidants. However, the majority of dried berries are sweetened to improve their taste, which brings this number to 26+ grams per cup.
Dried Cranberries from Food To Live are certified organic.
What Are These Berries Good For?
Dried cranberries can be used in all kinds of sweet and sour dishes. Their most famous culinary applications include:
Dried cranberries muffins, cookies, and bread
Dried cranberries sauce (for pasta, meat, and veggies)
Dried cranberries salad (fruit and vegetable)
Dried cranberries trail mix
Dried cranberries smoothie
You can also make a fantastic dried berries cake or pie by adding the berries to your favorite recipe. Rehydrate them with water, juice, or wine to enhance the flavor when cooking.
You can make a variety of dried berries juices by reconstituting the berries and combining them with other fruits in a juicer.
Dried Cranberries don't go bad if you store them in a cool, dry place, within an airtight container. They can keep for a year and even longer in the fridge or freezer.
Do you want to buy our products with discount?
We send discount coupons for every holidays
Nutrition Facts
---
Amount Per Serving
---
% Daily Value*
0.3g
0mg
1mg
18g
0.02g
---
Pantothenic Acid 0.05mg
1%
---
* The % Daily Value (DV) tells you how much a nutrient in a serving of food contributes to a daily diet. 2,000 calories a day is used for general nutrition advice.
INGREDIENTS: Organic Dried Cranberries, Organic Sugar, Organic Sunflower Oil
Storage Time: Up to 12 Months
Country of Origin: Canada, USA
Recommended posts
Not available POST
Recipes
Ingredients:
For salad:
5 oz organic mix of radicchio, green lettuce, and kale (or spinach, arugula, etc.)
2-3 mandarin oranges, peeled and segmented
1/2 cup dried cranberries
1/2 cup walnuts
For dressing:
1/2 cup oil (preferably flavorless like grapeseed or safflower)
1/4 cup fresh squeezed orange juice
1 tbsp fresh squeezed lemon juice
1 tbsp white wine vinegar
1 tsp Dijon mustard
1/4 tsp salt
1/8 tsp freshly ground black pepper
Description
For salad:
Arrange mixed greens in a large salad bowl. Top with remaining ingredients. Drizzle with some of the vinaigrette and toss to coat. Serve immediately.
For vinaigrette:
In a medium bowl, whisk together oil, orange juice, lemon juice, vinegar, mustard, salt and pepper. Whisk very well until the vinaigrette is combined.
Ingredients:
Salad:
1/2 head purple cabbage
1/3 cup dried cranberries
1/4 cup sunflower seeds
2 oz. feta, crumbled
Dressing:
1 orange, juiced (~1/3 cup)
1/2 lemon, juiced
1/2 tsp. dried thyme
1 tsp. dijon mustard
2 garlic cloves, minced (or 1 Tbsp. finely minced shallots)
Sea salt and pepper to taste
1/3 cup avocado oil or olive oil
Description
Thinly slice or shred the cabbage.
Combine the cabbage, cranberries, sunflower seeds, feta, and dressing in a large bowl. Stir until everything is well coated in dressing. Eat immediately or refrigerate until ready to eat.
Let us know what you think