— Kosher, Non-GMO, Organic, Raw, Sproutable, Vegan
— Cholesterol Free
— Very Low in Sodium, Unsalted

— Suitable

 

for

S

irtfood

 

diet
Organic raw sunflower seeds are the edible seeds of the sunflower plant, which are believed to have originated in North America, where they have been cultivated and consumed for thousands of years. Today, sunflower seeds are grown and consumed around the world and are an important source of food, oil, and animal feed. Food to Live Sunflower Seeds are shelled, raw, Organic, Non-GMO, Kosher, Vegan, and Sproutable.
Nutritional Value of Organic Sunflower Seeds
Organic Raw Sunflower Seeds are a nutrient-dense food that is high in many essential vitamins and minerals. They contain healthy fats, protein, and dietary fiber. Additionally, they are a good source of Vitamin E, Magnesium, and Selenium, which are important for overall wellness. Sunflower seeds are also low in carbohydrates and contain minimal amounts of sugar, making them a healthy snack option for those looking to maintain a balanced diet.
Ways to Use Organic Sunflower Seeds
Raw sunflower seeds are not only nutritious but also versatile and can be used in many delicious ways. These little seeds make a great addition to salads, adding a nutty and crunchy texture to the mix. You can also sprinkle them on top of soups and stews for added flavor and texture. They are also a great topping for smoothie bowls, adding a nice crunch to your morning meal.
If you're feeling adventurous, try making your own sunflower seed butter by blending raw sunflower seeds in a food processor until smooth. This can be a tasty alternative to peanut butter and can be used as a spread for toast, sandwiches, or as a dip for fruits and veggies. For a savory snack, you can also roast sunflower seeds with some spices like garlic or paprika, creating a delicious and healthy snack to munch on throughout the day. The possibilities are endless, so get creative and start incorporating raw sunflower seeds into your favorite recipes.
How to Store
To store Organic Raw Sunflower Seeds bulk, place them in an airtight container and store them in a cool, dry place like a pantry or cupboard. They can also be stored in the refrigerator or freezer to extend their shelf life.
How to Sprout Sunflower Seeds at Home
Yields approximately 3 Cups (1/2 lb.) of Sprouts. Prep 3 Tablespoons of seed, then transfer into a bowl or into your Sprouter. Add 2-3 times as much cool (60°-70°) water. Mix seeds up to assure even water contact for all.
Allow seeds to soak for 6-12 hours. Empty the seeds into your Sprouter (if necessary). Drain off the soak water. Rinse thoroughly with cool (60°-70°) water. Drain thoroughly! Set your Sprouter anywhere out of direct sunlight and at room temperature (70° is optimal) between Rinses. Ensure sufficient air-circulation is provided.
Always be sure to Drain very thoroughly. The most common cause of inferior sprouts is inadequate drainage. Rinse and Drain again every 8-12 hours for 3 days.
Enjoy your home-made sprouts!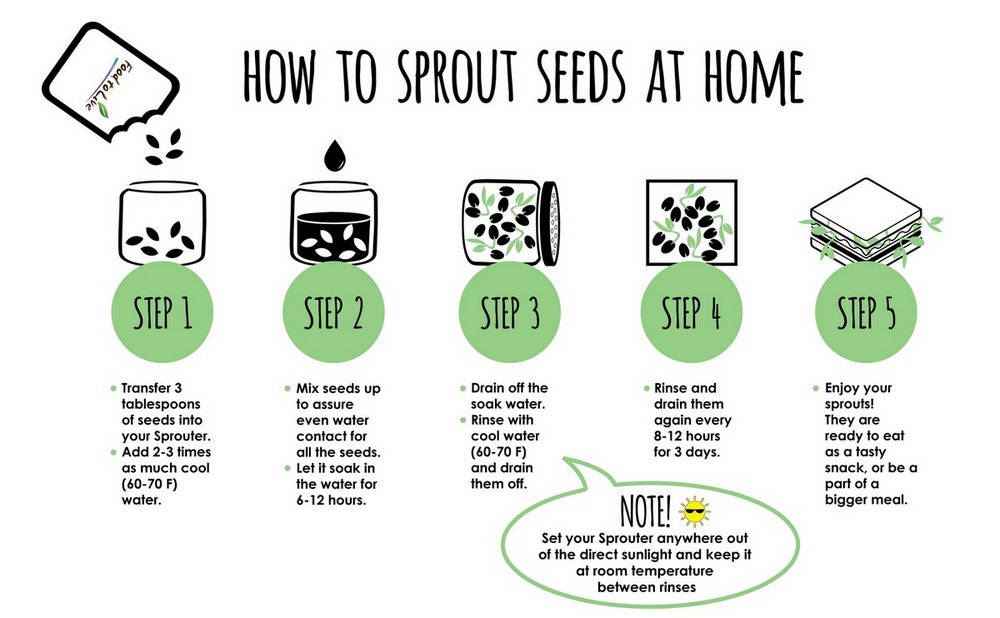 Homemade Sunflower Seed Butter