— Non-GMO, Organic, Raw, Sproutable, Vegan
— Very Low in Cholesterol, Sodium and Saturated Fat
— Very Good Source of Dietary Fiber, Protein, Folate, Magnesium, Thiamin, Potassium, and Copper
Organic Great Northern Beans are delicious and generally great for your health. Food To Live offers you to enjoy this fantastic type of white beans in tasty and nutritious meals, like chili, bean soups, salads, stews, and even gluten-free baked goodies. Our Organic Great Northern Beans are made with love and care to ensure their high quality and safety. Please, don't confuse great northern beans with navy and cannellini beans. All of them are types of white beans, but they have subtly different flavors and cooking properties. Organic Great Northern Beans are mid-size and firm. Cannellini beans are more prominent and also hold their shape well when cooked. However, they have a bit nuttier earthy taste. Navy beans are the smallest of the bunch and are softer than great northern beans.
Benefits of Great Northern Beans for Heart & Diet
One definitely should stock up on bulk beans as this food is excellent for your health. Due to their high nutritional value, these legumes benefit any diet. They provide you with 12.4 grams of dietary fiber in every cup of cooked seeds. It makes beans good for the heart. It ensures that this product has a low glycemic index, so it's safe for everyone concerned about glucose spikes.
Great Northern Beans Nutrition, Calories & Carbs
If you eat Organic Great Northern Beans, calories you get come from proteins and carbs instead of fat. A serving of these legumes (1 cup) only contains 0.8g of total fat, and only 0.2g of that is saturated. That very same serving of cooked great northern beans gives you a boost of Iron, Calcium, Manganese, Magnesium, Zinc, Copper, Selenium, Potassium, Phosphorus, B Vitamins (especially folate), Vitamin C. The great northern beans carbs content is 37.3g in total, with none of those being starch or sugars. It means that this legume is one of the best energy sources. Bodybuilders and athletes who require more proteins will benefit from this food the most as each serving has over 15g of easily digestible proteins. Vegans and vegetarians will be able to appreciate the high iron content of this food.
How to Cook Organic Dried Great Northern Beans
Organic Beans are one of the most versatile beans so that you can use them as substitutes in the majority of recipes. It would be most efficient to buy great northern beans bulk as you'll be able to use them for cooking – in chili, stew, soup, dip, hummus, salad, and more.
Don't forget to make some gluten-free homemade bean flour if you have a grinder. It can double up as a protein powder in vegan smoothies for bodybuilders. The delicate flavor of these beans makes them trendy in soups and stews. It merges well with any spices and tastes of veggies. It would be best if you bought great northern beans dry as they are healthier this way and can be stored for up to a year. Cook them as you would any beans. Pre-soak the seeds for 6-8 hours, rinse, bring to a boil (3 parts water:1 part beans), and cook at medium heat until tender. You can forego pre-soaking, but they'll cook longer this way.
How to Sprout Nothern Beans at Home
Yields approximately 3 Cups (1/2 lb.) of Sprouts. Prep 3 Tablespoons of beans, then transfer into a bowl or into your Sprouter. Add 2-3 times as much cool (60°-70°) water. Mix beans up to assure even water contact for all.
Allow beans to soak for 6-12 hours. Empty the beans into your Sprouter (if necessary). Drain off the soak water. Rinse thoroughly with cool (60°-70°) water. Drain thoroughly! Set your Sprouter anywhere out of direct sunlight and at room temperature (70° is optimal) between Rinses. Ensure sufficient air-circulation is provided.
Always be sure to Drain very thoroughly. The most common cause of inferior sprouts is inadequate drainage. Rinse and Drain again every 8-12 hours for 3 days.
Enjoy your home-made sprouts!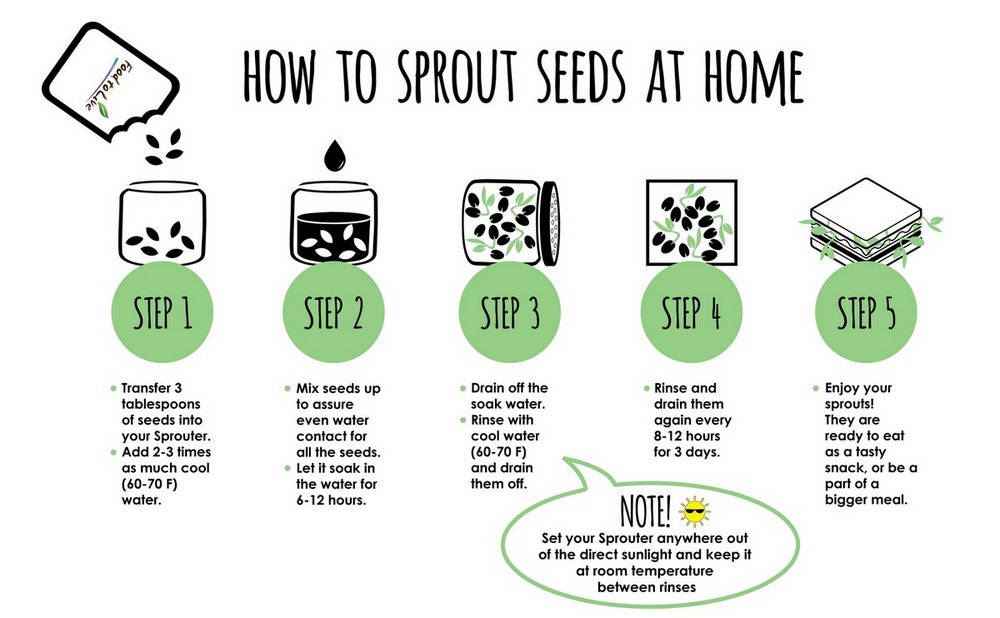 Vegan White Bean Burger