— Kosher, Non-GMO, Organic, Raw, Sproutable, Vegan
— Raw Red Quinoa
— Premium Quality, Gluten Free
— Sprouting Grade, High Germination Rate
— Cholesterol and Sugars Free
— High in Magnesium, Iron and Vitamin B-6

— Suitable

 

for

S

irtfood

 

diet
Organic Quinoa is an incredibly nutritious grain-like seed. This plant has its origin in South America, where ancient Incans called it "mother grain," as they believed it could secure a long, healthy life. As it turns out, their beliefs did have a certain foundation: quinoa seeds are an excellent source of protein and essential minerals and vitamins. The distinguishing feature of these seeds is that they contain all the main amino acids.
Health Benefits of Organic Red Quinoa
The main quality of organic Quinoa — as a powerful source of protein and minerals — determines how they benefit a human's body. These are numerous and significant:
Render help with bone and tissue building Quinoa seeds have a protein balance similar to that of meat, fish, and milk, so they are invaluable for those on a vegetarian diet. Besides, they are a rich source of calcium, the mineral that is responsible for bones' strength, and zinc, a co-factor of many enzymes that regulate the processes of growth and development, sperm generation, and nucleic acid synthesis. Consumption of Quinoa guarantees a beautiful appearance for your skin, hair, and nails.
Help cope with a severe headache Due to the high content of riboflavin and magnesium, you can eat organic Quinoa to get rid of migraine headaches. Riboflavin improves the transportation of oxygen to the brain cells and magnesium provides relaxation of the blood vessels that lead to the brain.

Quinoa seeds contain several substances — many with antioxidant qualities. Manganese prevents cells' mitochondria from being damaged during energy production. Together with vitamins A, B1, B2, E, and the mineral selenium, remove free radicals from the body, thus protecting it against cancer.

Regulate the work of the digestive system The great amount of insoluble fiber in Quinoa helps lower the occurrence of gallstones and improves bile functioning. The fiber is an irreplaceable method for preventing constipation, and to bind toxins.
Help reduce appetite Due to the high content of protein and fiber, quinoa seeds help you eat less. Meals with the seeds ensure the feeling of satiety, thus causing a reduction in daily calorie intake. Therefore, quinoa seeds help you stick to a low-calorie diet and manage your weight.
How to Sprout Red Quinoa at Home
Yields approximately 3 Cups (1/2 lb.) of Sprouts. Prep 3 Tablespoons of seed, then transfer into a bowl or into your Sprouter. Add 2-3 times as much cool (60°-70°) water. Mix seeds up to assure even water contact for all.
Allow seeds to soak for 6-12 hours. Empty the seeds into your Sprouter (if necessary). Drain off the soak water. Rinse thoroughly with cool (60°-70°) water. Drain thoroughly! Set your Sprouter anywhere out of direct sunlight and at room temperature (70° is optimal) between Rinses. Ensure sufficient air-circulation is provided.
Always be sure to Drain very thoroughly. The most common cause of inferior sprouts is inadequate drainage. Rinse and Drain again every 8-12 hours for 3 days.
Enjoy your homemade sprouts!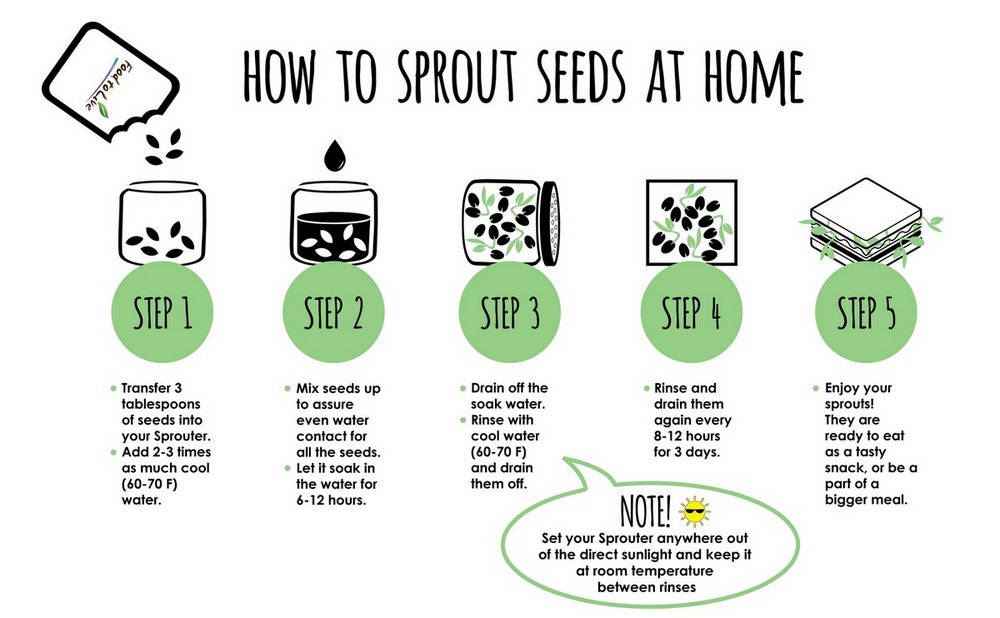 Cooking Instructions
Rinse the quinoa. Drain well.
Combine 1 part quinoa & twice as much water in a saucepan.
Bring the mixture to a boil, then decrease the heat to maintain a gentle simmer.
Cook until all of the water absorbed.
Remove the pot from heat, cover, and let the quinoa steam for 5 minutes. Add Salt.