— Kosher, Non-GMO, Organic, Raw, Sproutable, Vegan
— Improve digestion and overall wellness
— Contains 100% daily value of molybdenum that serves as a tremendous macrobiotic.
— Great source of dietary fiber, protein, phosphorus.
— Rich in minerals like zinc, copper, and magnesium
— Cholesterol and sodium-free, with no added sugar.
— Excellent for sprouting
Adzuki beans are initially grown in East Asia and are most widespread in Japan, China, and Korea. Their sweet flavor makes them a perfect ingredient in many Asian dishes. The most popular way to use Adzuki beans is to make a paste, and add them into numerous recipes, from savory ones to desserts. Apart from being a natural sweetener, beans provide plenty of benefits to those who include them in their regular diet. Rich in nutrients and useful elements, they help prevent and solve many health issues. Besides, if you buy the organic variety we offer in our store, you will enjoy twice as many advantages of adzuki beans. Moreover, Organic Adzuki Beans preserve all their healthy properties, while at the same time lack the damage from chemicals commonly applied to natural products.
Health Benefits of Organic Adzuki Beans
Improve digestion and Maintain weight loss.  Dietary fiber is an essential element of beans, and adzuki is not an exception. This fiber promotes the proper functioning of your digestive system. With better peristaltic motion, you will reduce the chances of bloating, diarrhea, and constipation to the minimum. Furthermore, the same dietary fiber helps get rid of extra weight. It gives you the feeling of satiety, and due to their low level of calories, you won't gain extra weight.
Support your heart. These beans contain many elements necessary to maintain your heart's health. Dietary fiber helps control the level of cholesterol in your blood. In addition, Potassium has a relaxing effect on blood vessels, which improves blood flow. Besides, they contain magnesium and folate, also beneficial for your heart and cardiovascular system.

Boost growth. 

Adzuki beans are rich in protein, which is vital for the formation of cells, tissues, and bones in your body. Therefore, these beans are a crucial ingredient in the diets of vegetarians and vegans who need to find rich sources of protein without turning to products of animal origin.

Detox your body.

Molybdenum is a rare mineral found in the beans in abundance. Thus, it makes the product an almost unique method to detoxification the liver in a completely natural way.
Prevent diabetes. The dietary fiber found in adzuki beans also plays a significant role in preventing or taming diabetes. It supports the functioning of insulin receptors. Moreover, helps to control blood sugar spikes and keeps the blood sugar level stable.
How to Sprout Organic Adzuki Beans at Home
To make 3 Cups (1/2 lb.) of Sprouts, you will need three tablespoons of beans. Transfer into a bowl or your Sprouter. Add 2-3 times as much fresh (60°-70°) water. Mix beans up to assure even water contact for all.
Allow beans to soak for 6-12 hours. Empty the beans into your Sprouter (if necessary). Drain off the soak water. Rinse thoroughly with cool (60°-70°) water. Drain thoroughly! Set your Sprouter anywhere out of direct sunlight and at room temperature (70° is optimal) between Rinses. These beans need sufficient air-circulation.
Always be sure to Drain very thoroughly. The most common cause of inferior sprouts is inadequate drainage. Rinse and Drain every 8-12 hours again for three days.
Enjoy your home-made sprouts!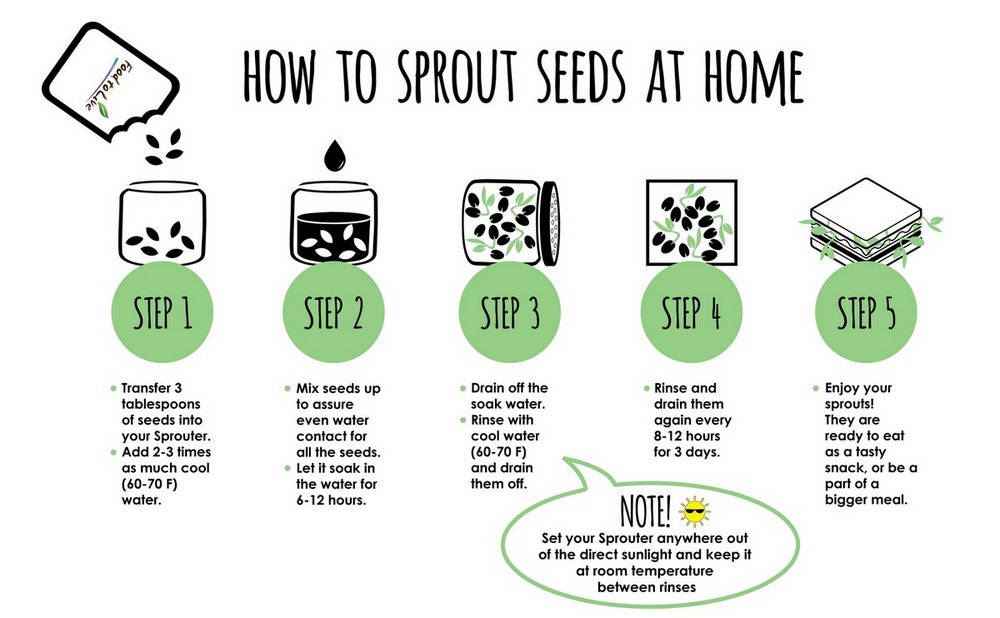 Cooking Instructions
Note: To reduce cooking time, soak 1 cup of beans overnight in 3 cups of water & 1 tsp salt.
Stovetop
Rinse beans before cooking.
Place 1 cup beans in a large pot with 4 cups water & 1 tsp salt.
Bring to a boil, then reduce to a simmer, cover & cook until tender, 45–60 min; drain well.
Slow Cooker
Rinse beans before cooking.
Place 1 cup beans, 4 cups water, & 1 tsp salt into a slow cooker.
Cover & cook on low for 4–6 hrs or high for 2½–3 hrs; drain well.
Basic Minestrone Soup Recipe