— Kosher, Non-GMO, Organic, Raw, Sproutable, Vegan
— Very Low in Cholesterol, Sodium, and Saturated Fat
— Good Source of Dietary Fiber, Protein, and Copper
— Very Good Source of Folate and Manganese
Food To Live Organic Garbanzo Beans are legumes that stand out even among that healthy food group. They are delicious with their rich nutty flavor. However, their main advantage is their high nutritional value. Organic garbanzo beans give you over 25% of the recommended daily amount of iron and 70% folate in a cup of cooked product. Since garbanzo beans and chickpeas are the same plants, the names can be used interchangeably.
Are Organic Garbanzo Beans Healthy
Organic garbanzo beans are one of the healthiest foods you can find. They are low-fat but extremely high in fiber, protein, and nutrients, making them heart-friendly. All world's health organizations recommend eating at least a serving of legumes daily. Organic garbanzo beans are an excellent option for your daily fix. As legumes are gluten-free, organic garbanzo bean flour is safe to use in baking for everyone, those with bean allergies excluded. Due to the high content of carbs, legumes aren't a regular part of the Paleo diet. However, you can eat them in moderation if you control your portions carefully. Organic sprouted garbanzo beans might be the best choice for a Paleo diet. However, you'll need to steam them to make the legume easier to digest. Your dog can enjoy garbanzo beans benefits as well. Be sure not to overfeed the animal and only give them plain, unsalted, thoroughly cooked beans.
Organic Garbanzo Beans Nutrition Facts Overview
Studying organic garbanzo beans' nutritional info proves that this legume is an excellent addition to a healthy diet. They contain varying amounts of:
B vitamins (especially rich in folate, thiamin, and vitamin B6)
Vitamin C
Vitamin K
Iron
Calcium
Zinc
Selenium
Manganese
Potassium
Copper
Magnesium
Cooked organic garbanzo beans also contain about 70mg of essential omega-3 fatty acids in one cup.
Make the Best Garbanzo Beans Snack
Out of the many ways to enjoy garbanzo beans, roasted is the most popular for a snack—Cook chickpeas as you would any other legume. Don't forget to soak overnight or speed-soak for an hour in hot water. Dry cooked organic garbanzo beans with a paper towel and tossed them in a generous helping of olive oil before roasting at 400F. The process should take about 20-30 minutes, and you'll need to stir them every 10 minutes. Sprinkle roasted garbanzo beans with any spices while they are still hot and enjoy immediately. You can also take them on a trip or a hiking expedition. Add cooked garbanzo beans to salads, stews, curry, chili, soup, or enjoy as they are. Bodybuilders and vegans can add a few spoonfuls of garbanzo bean flour to their protein smoothies. When you buy organic garbanzo beans dry from Food To Live, you get a product that will keep for years. Tore then in an airtight container somewhere cool and very dry. This will ensure maximum shelf life. Freezing will make dry goods last almost indefinitely.
How to Sprout Beans at Home
Yields approximately 3 Cups (1/2 lb.) of Sprouts. Prep 3 Tablespoons of beans, then transfer into a bowl or your Sprouter. Add 2-3 times as much cool (60°-70°) water. Mix beans up to ensure even water contact for all.
Allow beans to soak for 6-12 hours. Empty the beans into your Sprouter (if necessary). Drain off the soak water. Rinse thoroughly with cool (60°-70°) water. Drain thoroughly! Set your Sprouter anywhere out of direct sunlight and at room temperature (70° is optimal) between Rinses. Ensure sufficient air circulation is provided.
Always be sure to Drain very thoroughly. The most common cause of inferior sprouts is inadequate drainage. Rinse and Drain again every 8-12 hours for three days.
Enjoy your homemade sprouts!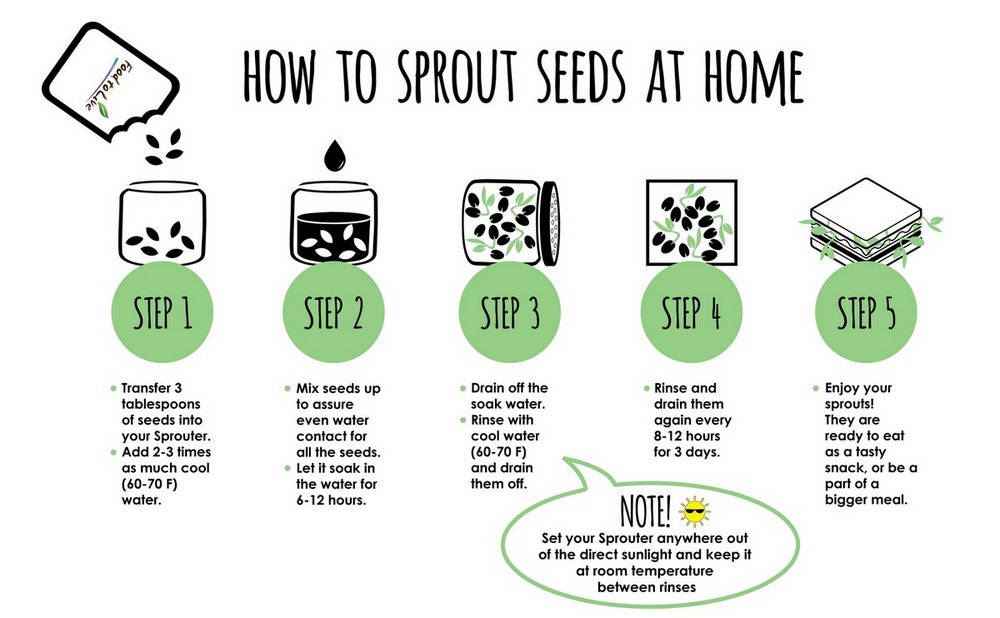 Healthy Chickpea Nuggets