— Kosher, Non-GMO, Organic, Raw, Sproutable, Vegan
— Sproutable for Wheatgrass
— Very Low in Cholesterol, Sodium, Saturated Fat
— Good Source of Dietary Fiber, Manganese, Calcium, Iron, Phosphorus & Selenium
Organic rye is one of the earliest domesticated grains that has been feeding humans for over 4000 years. Today, you can enjoy and the benefits it offers by cooking or sprouting Organic Rye Berries from Food To Live. Our product is produced and processed without the use of any dangerous toxins. Organic Rye from Food To Live brings lots of nutrients to your table, 100% Organic and, therefore, non-GMO.
Organic Rye Berries: Benefits and Nutrition Value
Rye berries are plentiful in nutrients, particularly manganese, copper, zinc, magnesium, and iron. Furthermore, this whole-grain holds about 25 grams of both protein and dietary fiber in every cup. Therefore, these nutrients make rye grain berries an excellent addition to any diet, including weight management plans. Fiber-rich foods are recognized as heart-friendly by default, and this element also helps keep your digestive tract healthy. However, Please keep in mind that organic rye berries are not gluten-free.
How to Cook Organic Rye
You'll need to soak them overnight (1 part berries, two parts water). Then, drain and rinse the grains before bringing them to a boil in a pot. Add a bit of salt and let it simmer for 40-50 minutes. Without pre-soaking, you'll need to cook organic rye berries for about 3 hours. The grains are considered cooked when they get as firm as you need them to be. Don't forget to remove them from heat a bit earlier if you plan to add them to a stew or otherwise cook. Organic rye berries can be a replacement for other whole grains in the majority of recipes. Try making rye pilaf and add cooked grains to salads. Organic rye bread tastes fantastic and is the healthiest kind of bread you can find. Be sure to use organic rye berries in various baking recipes.
How to Sprout Rye Berries at Home
Yields approximately 3 Cups (1/2 lb.) of Sprouts. Prep 3 Tablespoons of seed, then transfer into a bowl or into your Sprouter. Add 2-3 times as much cool (60°-70°) water. Mix seeds up to assure even water contact for all.
Allow seeds to soak for 6-12 hours. Empty the seeds into your Sprouter (if necessary). Drain off the soak water. Rinse thoroughly with cool (60°-70°) water. Drain thoroughly! Set your Sprouter anywhere out of direct sunlight and at room temperature (70° is optimal) between Rinses. Ensure sufficient air-circulation is provided.
Always be sure to Drain very thoroughly. The most common cause of inferior sprouts is inadequate drainage. Rinse and Drain again every 8-12 hours for 3 days.
Enjoy your homemade sprouts!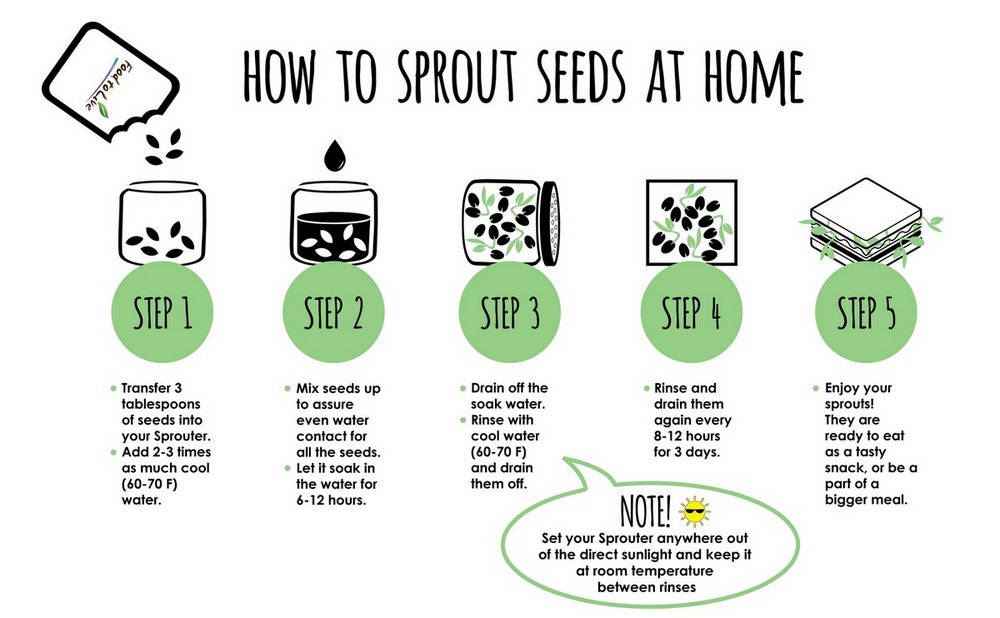 Cooking Instructions
Rinse 1/2 cup of Organic Rye Berries.
Combine Rye Berries with 1 3/4 cup water and 1/4 tsp Sea Salt.
Bring to a rolling boil and reduce heat.
Cover with lid and let it simmer for 1 hour or until tender.
Drain and set aside to cool off or serve immediately.