— Kosher, Raw, Sproutable, Vegan
— Whole Raw Lentils
— Premium Quality, Sprouting Grade
— High in Fiber & Iron
— Fat and Cholesterol Free
There are about ten broad types of lentils. Although they are all related in taste, they vary in color and also have different useful properties. Like other varieties, whole red lentils have a pleasant nutty flavor. Their extraordinarily bright color adds an eye-pleasing decorative element to dishes.
Use whole red lentils to make delicious and beautiful soups, purees, vegetable stews, salads, and casseroles. These lentils are one of the cleanest and safest products. Even if it grows in the contaminated area, it tends not to store nitrates, toxic elements, and radionuclides. It contains a lot of protein and fiber, which quickly satisfy the body, reducing hunger. Therefore, lentils are often a staple of those trying to lose weight.
Research has shown that whole red lentils contain almost all of the elements necessary for regular human activity. They contain many easily digestible fundamental proteins, which are particularly important for vegetarians and non-meat eaters.
 Red Lentils Health Benefits
Whole red lentils are a rich protein source and an important element of a healthy diet and good nutrition. Its health benefits are enormous, and the most important of them are as follows:
Whole red lentils are an excellent tryptophan source, an amino acid that turns into serotonin in the human body. As everyone knows, the lack of serotonin leads to depression, anxiety and has the unwanted effect of sending an individual into a bad mood. Serotonin levels increase with the consumption of whole red lentils, which are the most available tryptophan.
The protein included in this product is comparable to that found in meat but is even more digestible. No wonder that whole red lentils are very popular with vegetarians.
The content of many minerals and trace elements eliminates bad cholesterol from the blood vessels. Moreover, they improve the hemoglobin level, normalize the myocardium, and strengthen the heart muscle.
Their content of isoflavones can suppress free radical cells. Experts suggest eating whole red lentils in any form since the isoflavones are not destroyed by heat treatment.
Whole red lentils contain light carbohydrates and an excellent substitute for bakery products and many kinds of groats for people with diabetes.
How to Sprout Lentils at Home
Yields approximately 3 Cups (1/2 lb.) of Sprouts. Prep 3 Tablespoons of lentils, then transfer into a bowl or into your Sprouter. Add 2-3 times as much cool (60°-70°) water. Mix lentils up to assure even water contact for all.
Allow lentils to soak for 6-12 hours. Empty the lentils into your Sprouter (if necessary). Drain off the soak water. Rinse thoroughly with cool (60°-70°) water. Drain thoroughly! Set your Sprouter anywhere out of direct sunlight and at room temperature (70° is optimal) between Rinses. Ensure sufficient air-circulation is provided.
Always be sure to Drain very thoroughly. The most common cause of inferior sprouts is inadequate drainage. Rinse and Drain again every 8-12 hours for 3 days.
Enjoy your homemade sprouts!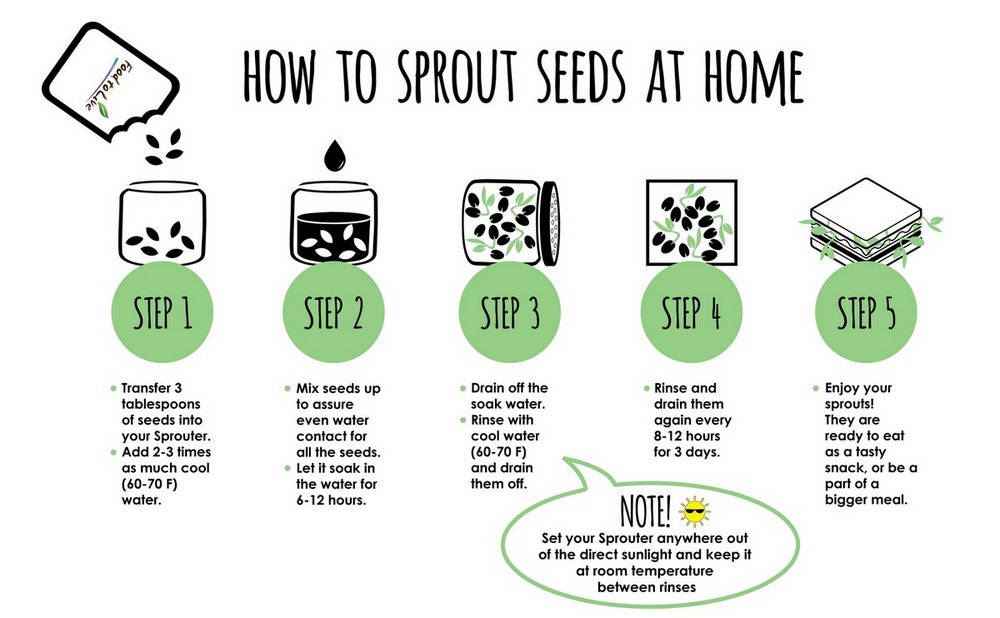 Cooking Instructions
Bring a pot of water to boil. Once the water is boiling, add the lentils. Reduce the heat as necessary to maintain a lively simmer.
Add some flavor boosters, if you'd like; Some salt, maybe a bay leaf, and maybe a clove of garlic.
Cook until you reach your desired consistency. You'll need to test them for doneness when the timer goes off.
Strain off the excess water. We've cooked our lentils in an abundance of water, so now you'll want to get rid of the excess. Return your lentils to the pot, off the heat, and remove the bay leaf if you added one.