— Kosher, Non-GMO, Organic, Raw, Sproutable, Vegan
— Low in Cholesterol, Sodium and Saturated Fat
— Very Good Source of Dietary Fiber, Calcium, Iron and Magnesium
Organic Cannellini Beans are a great vegan protein source to incorporate into a balanced diet. Cannellini beans are large in size, white, kidney-shaped with a nutty taste. They can be easily thrown on top of a salad to beef up a lunch, can be mixed into soups, or can be pureed and combined with spices and vegetables to make a great vegetarian burger. One of the most common forms of white beans, they're often used in cooking because they retain their shape and texture even after being cooked for a long time. It makes them an excellent choice for use in soups, stews, and chilis.
Organic Cannellini Beans Nutrition Information
Cannellini beans are an especially great option for a healthy diet because they pack a punch of fiber and protein into your day without adding cholesterol or fat—a benefit you don't find with most animal-based protein sources.
Fat-Free


Diets high in fat can lead to weight gain, obesity, and heart disease. Foods, like cannellini beans that are naturally fat-free, can help you maintain a healthy weight long-term without feeling hungry or deprived.

Cholesterol Free


High blood pressure, heart disease, blood clots, and strokes are all possible side-effects of a diet high in cholesterol. Whether you are on a low-cholesterol diet by your doctor or are simply trying to maintain a preventatively healthy lifestyle, finding low-cholesterol and cholesterol-free foods is a must. Unfortunately, many recommended lean proteins — including eggs — are loaded with cholesterol. Cannellini beans are a cholesterol-free protein source, allowing you to maximize the potential of your meals without worrying about skyrocketing blood pressure.

High Fiber


Nearly 15% of the US suffers from chronic constipation, a condition that, at its best, is uncomfortable, and if left untreated leads to hospital visits. Eating a high-fiber diet is proven to be one of the best ways of regulating the digestive system, ensuring that your body can process foods and healthily eliminate waste. A typical diet, filled with processed foods and chemicals, is notably lacking in fiber. Therefore, increasing your intake of whole, natural foods like cannellini beans, which are full of dietary fiber, can reduce the bloating, dehydration, and discomfort associated with constipation

High Protein


Protein is a nutrient necessary for whole-body strength and growth. From your organs to your hair, bodily systems are reliant on protein to stay strong and healthy. Protein also improves satiety, helping you feel fuller with fewer calories, which can promote a healthy weight. Moreover, protein can also help increase muscle mass. While it's essential to consume protein, what some people don't know is that it's equally important to consume a variety of proteins from a variety of sources. No two protein sources are the same. It's necessary to benefit from different types of proteins so that your body can locate all 20 essential protein-based amino acids and to have a healthy body.
How to Sprout Cannellini Beans at Home
Yields approximately 3 Cups (1/2 lb.) of Sprouts. Prep 3 Tablespoons of beans, then transfer into a bowl or into your Sprouter. Add 2-3 times as much cool (60°-70°) water. Mix beans up to assure even water contact for all.
Allow beans to soak for 6-12 hours. Empty the beans into your Sprouter (if necessary). Drain off the soak water. Rinse thoroughly with cool (60°-70°) water. Drain thoroughly! Set your Sprouter anywhere out of direct sunlight and at room temperature (70° is optimal) between Rinses. Ensure sufficient air-circulation is provided.
Always be sure to Drain very thoroughly. The most common cause of inferior sprouts is inadequate drainage. Rinse and Drain again every 8-12 hours for 3 days.
Enjoy your homemade sprouts!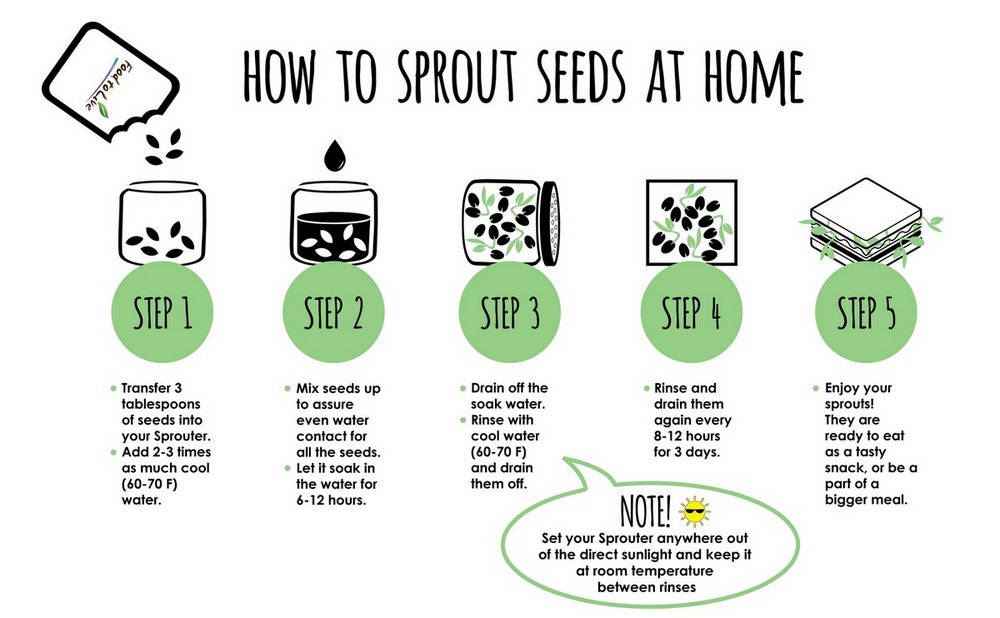 Cooking Instructions: Beans with Garlic & Sage
Place beans in a large bowl. Cover with cold water (at least 6 cups) and let soak overnight.
Drain beans. Place in a heavy large pot. Add 8 cups of water, 2 tbsp olive oil, garlic, sage, & black peppercorns.
Bring to simmer over medium-high heat. Reduce heat to medium-low; simmer uncovered 1 – 1/2 hrs, stirring occasionally.
Add 1 tsp coarse salt. Let simmer until beans are tender, add more water if needed to keep beans covered, 30 min longer.
Cannellini Beans Cucumber Cold Soup