Vegan Baklava
INGREDIENTS
1/2 cup dark brown sugar or Sucanat
1/2 teaspoon ground cinnamon
1 cup walnut pieces
1 cup shelled pistachios
3/4 cup raw almonds
12 sheets phyllo dough, thawed overnight in the refrigerator
1/2 cup light olive oil or melted coconut oil, plus more for the pan
1 cup agave syrup (or, for a non-vegan version, honey)
1/2 cup cold water
Zest from 1 large lemon, preferably organic, removed in 1 long strip
DIRECTIONS
Preheat the oven to 350°F (180°C). Oil a 13-by-9-inch baking pan.
In a blender, blitz the brown sugar or Sucanat and cinnamon until powdery. Transfer to a small bowl.
In the blender or a food processor, pulse the walnuts until mostly finely chopped but still a bit chunky. Transfer to a small bowl and stir in 1/3 of the sugar mixture. Do the same for the pistachios and the almonds, dumping each mixture into a separate bowl.
Cover the phyllo sheets with a large piece plastic wrap, then cover that with a towel that's just barely damp. Remove 1 sheet and place it on a clean work surface. Brush half the surface with olive or coconut oil. Fold the sheet in half and place it in the prepared pan, then brush the top with oil. Repeat with 2 more sheets. Scatter the walnuts over the phyllo in an even layer. Repeat the layering with 3 more sheets phyllo, the pistachios, 3 more sheets phyllo, and the almonds. Layer the last 3 sheets phyllo on top.
Using a sharp paring knife, score the top layer of phyllo sheets across the short side of the pan to form 6 strips. Next, score the phyllo diagonally from corner to corner, and then score parallel to that line 2 times on each side. (Or if that just completely confused you, just cut it into squares or triangles however you wish.) Bake for 40 minutes, until the phyllo is lightly golden and crisp.
In a small saucepan, combine the agave syrup, water, and lemon zest. Bring to a boil over high heat, then lower the heat and simmer, stirring occasionally, for 10 minutes. Let cool slightly, then remove and discard the zest.
Pour the syrup over the pastry. Cover the baklava and refrigerate for at least 1 hour before serving. Stored in the refrigerator, tightly covered, the baklava will keep for about 2 weeks.

Enjoy it!
Show all recepies with Almonds
Healthy Homemade Raw Almond Butter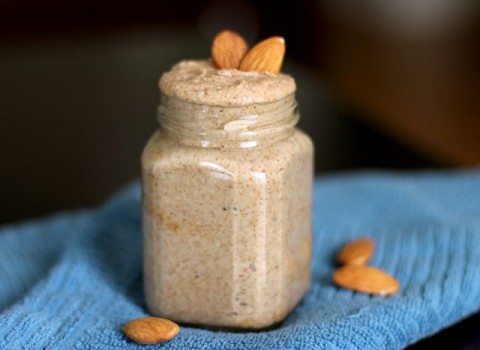 Ingredients
2 cups almonds
3/4 cup coconut oil
2 tablespoons raw honey or grade B maple syrup
1 teaspoon sea salt
Instructions
Place nuts and sea salt in food processor and grind to a fine powder. Add honey and coconut oil and process until 'butter' becomes smooth. It will be somewhat liquid but will harden when chilled. Store in an airtight container in the refrigerator. Serve at room temperature.
Enjoy it!
RawVegan Espresso Brownies (Grain Free)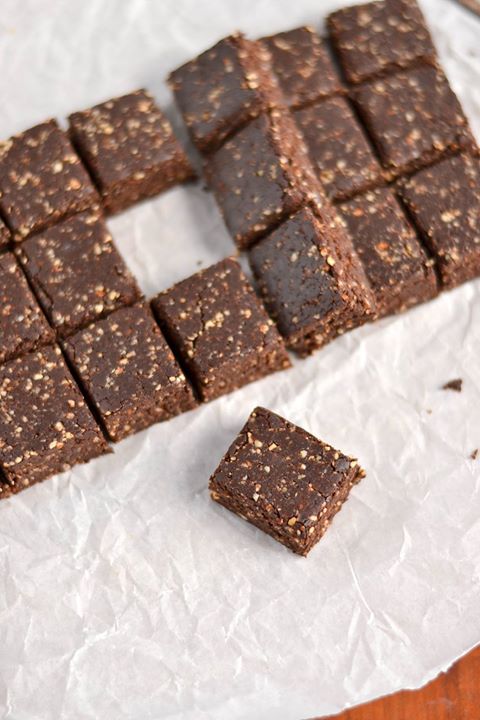 Ingredients:
¾ C raw walnuts
½ C raw almonds
1¼ C pitted Medjool dates, packed
½ C unsweetened cocoa powder
1 tbsp instant coffee
1 tsp pure vanilla extract
pinch sea salt
Instructions:
In a food processor process the walnuts and almonds until no large pieces remain. Place the nut meal in a bowl.
Place the pitted dates in the food processor and process again until no large pieces remain. The dates may even form a dough. Just break it up with a knife and continue with the recipe.
Add the ground up nuts back to the food processor along with the cocoa powder, instant coffee, vanilla and sea salt. Process until all the ingredient are evenly distributed and the mixture it just starting to clump together.
Prepare a loaf pan by lining it with wax paper, parchment or even plastic wrap then pour the crumbly mixture in. Press down firmly.
You may turn out the brownies and slice immediately or if you prefer, refrigerate 30 minutes before slicing so that the mixture is firmer. Store in an airtight container on the counter or in the fridge.
Recipe Source: www.fooddoodles.com
Almond Butter Maca Madness Smoothie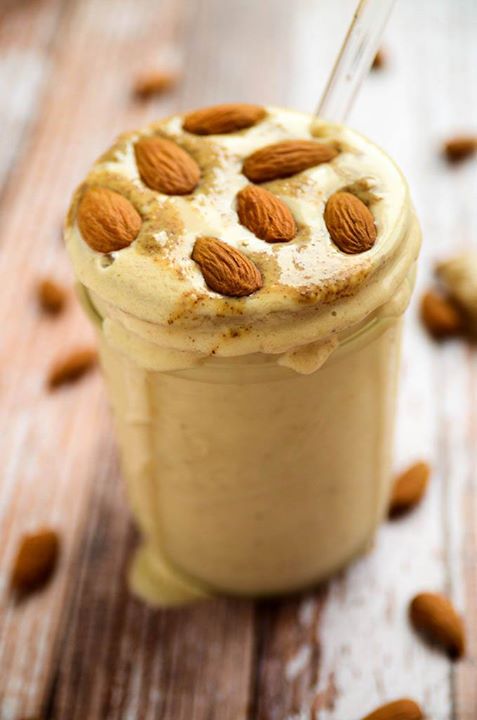 INGREDIENTS:
2 frozen bananas
1 cup unsweetened almond milk
1 tablespoon almond butter
1 heaping tablespoon maca powder
1/2 teaspoon pure vanilla extract
optional: raw almonds for garnishing
INSTRUCTIONS:
Add all ingredients to a high-speed blender and blend for 2-3 minutes or until smooth and creamy.
Pour into a glass and enjoy.
Recipe Source: www.blissfulbasil.com
Oat Cookies with Goji Berry Jam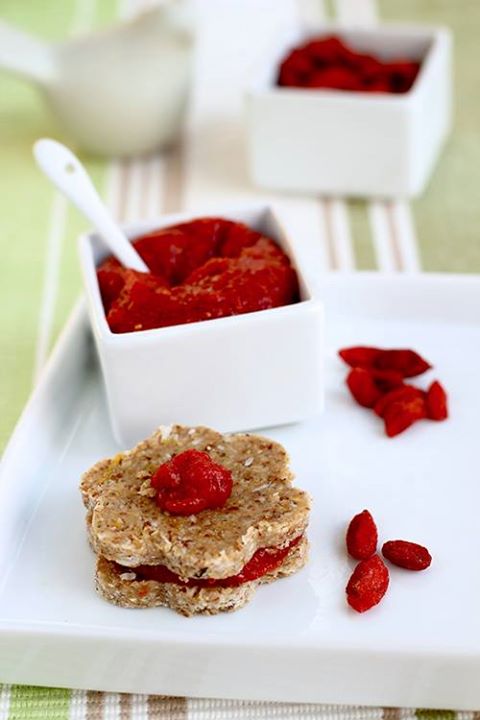 Raw Oatmeal Cookies:
0,5 cup raw oats
0,25 cup hemp seeds
1/4 cup coconut flakes
0,5 cup almonds
25g coconut butter
1 tablespoon raw coconut oil
Pinch of Himalaya Salt
Lemon peel from an organic lemon
2-3 drops lemon oil
3 tablespoons agave or yacon syrup
5-6 teaspoons sucanat or coconut sugar
In the food processor, process raw, rolled oats into a fine meal, add almonds, hemp seeds and coconut flakes, process until they are finely ground as well. Add salt, lemon peel, agave syrup and sucanat, mix well. Add melted coconut butter and coconut oil(you can use only coconut oil), continue to process until a ball is formed and everything is mixed. With your hands, form small thumbprint cookies, then place for 30 minutes in the refrigerator. Spoon raw goji jam on top and enjoy. These cookies stay fresh for 3-4 days and should be kept in the refrigerator.
😉
Raw Goji Berry Jam:
0,25 cup dried goji berries
0,25 cup dried cranberries
0,25 cup fresh orange juice
Juice from a half lemon(a huge)
2-3 tablespoons of water
1-2 tablespoons agave
4-5 fresh, organic strawberries
1-2 teaspoons psylium seed husk
Place dried berries in a bowl, add water, lemon and orange juice, let stand for 1-2 hours to soften the berries. Transfer in a high speed blender, add fresh strawberries and agave, blend till it is very smooth. Add psyllium husks, mix well and let stand for 10-15 minutes, then again blend very well. The psyllium husk acts as a thickening/gelling agent and provides the right texture, it tastes very similar to a real fruit jam, only much healthier and without tons of sugar.
Recipe source: www.blog.wagashi-net.de
Coconut Maple Granola with Cocoa Nibs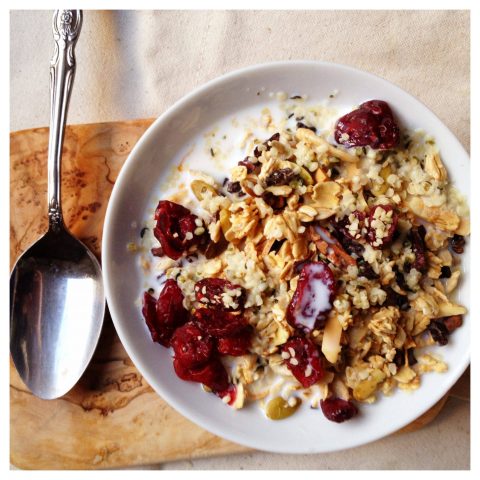 INGRESIENTS:
(4) cups slow oats
(½) cup shredded coconut
(½) cup slivered raw almonds
(½) cup raw sunflower seeds
(½) cup raw pumpkin seeds
(½) cup cocoa nibs
(½) tsp salt
(½) cup real maple syrup
1 tbsp real vanilla extract
DIRECTIONS:
Preheat oven to 250 degrees. Combine all dry ingredients together in a large mixing bowl. Add vanilla and maple syrup and mix well with your hands – don't be shy! Bake in a deep baking pan (you can also use a cookie sheet) and bake about one hour, or until dry. Make sure to mix the mixture a few times while it cooks to prevent burning and promote even cooking.
Serve with almond milk or soy yoghurt, and some added hemp seeds, cranberries (as shown) or with any other real ingredient you desire. This will keep in a container or glass jar indefinitely and the recipe can easily be doubled – and you'll likely be making it often!
Recipe Source: http://amp.gs/lEup
Deliciously tasty & vegan overnight oats in a jar 🙂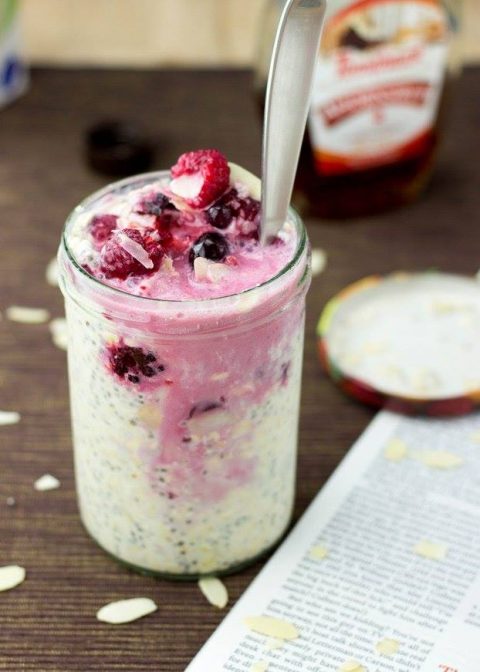 Ingredients:
1 clean jar with lid
½ cup rolled oats (about half the jar)
2 tsp chia seeds
2-3 tbsp soy yogurt (vanilla is delicious)
1 cup almond milk
1 tbsp maple syrup
1 tbsp almonds, chopped
½ cup fresh or frozen raspberries
Instructions:
1. Put the oats, chia seeds, yogurt and the almond milk into a jar. Stir until everything is mixed together nicely. Pro tip: If you have a big enough jar you can also just close it and shake. Boom!
2. Then off it goes into the fridge for the night (or for at least six hours).
3. The next morning add a little more almond milk to loosen up the mix.
4. Next, just mix in the raspberries, syrup and chopped almonds and voilá – breakfast is ready!
Bón appetité
Recipe Source: www.hurrythefoodup.com
Cranberry Almond Spinach Salad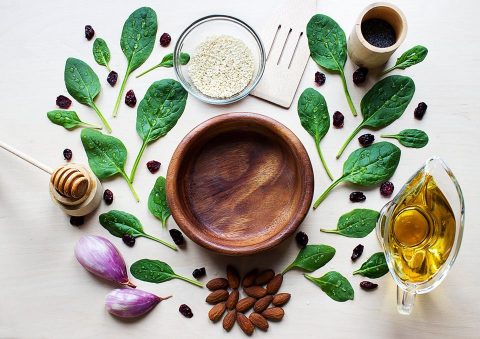 Ingredients:
Salad:
16oz baby spinach
1 cup almonds , toasted
1 cup dried cranberries Sesame Seed Dressing:
1/4 cup white wine vinegar
2 Tbsp apple cider vinegar
3 Tbsp white sugar
1/2 cup olive oil
3 Tbsp honey
1 Tbsp finely minced shallot
2 Tbsp sesame seeds , toasted
1 Tbsp poppy seeds (optional)
Instructions:
For the dressing:
In a bowl or jar whisk together white wine vinegar, apple cider vinegar and sugar until the sugar has dissolved. Stir in olive oil, honey, shallot, sesame seeds (your sesame seeds should look more golden than mine – I didn't toast mine long enough) and optional poppy seeds until mixture is well blended. For the salad:
Add spinach, almonds and cranberries to a salad bowl. Drizzle dressing over salad and toss. Serve immediately after adding dressing.
Recipe source: adapted from Allrecipes
Acai Berry & Beet RawVegan Cheesecake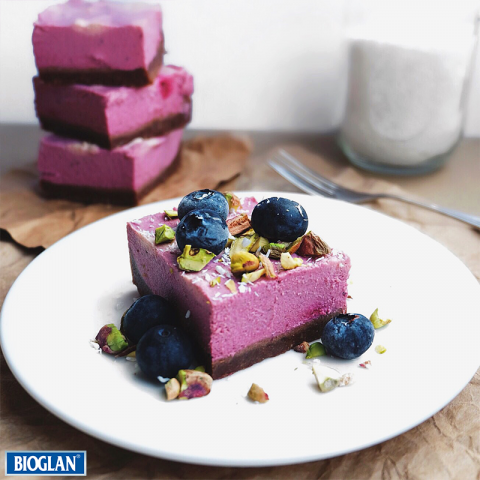 INGREDIENTS:
For the Cacao-walnut crust:
1 cup raw walnuts
½ raw almonds
8-10 medjool dates, pitted
¼ cup coconut sugar
¼ cup organic coconut oil
2 tablespoons organic cacao powder
¼ teaspoon sea salt
For the Acai and Mixed Berry Cheesecake Filling:
1 ½ cups raw cashews (soaked in water for at least 4 hours and drained)
1 cup frozen mixed berries (thawed)
½ cup maple syrup (or 1/3 agave nectar for fully raw version)
1/3 cup organic coconut oil
Juice of 1 lemon juice
1 tablespoon organic accai berry powder
½ teaspoon organic beetroot powder
½ teaspoon vanilla extract
DIRECTIONS:
For the Cacao-walnut crust:
1. Place walnuts and almonds in a food processor and blend into a coarse meal.
2. Add remaining ingredients and blend until well combined. It should come together in the food processor and stick together pinched with fingers.
3. Spray an 8×8 square pan with nonstick spray and line with plastic wrap hanging over the sides for easy removal later. The spray helps the plastic wrap from moving. Press the crust onto pan evenly using hands.
4. Freeze to set, while filling is being made.
For the Acai and Mixed Berry Cheesecake Filling:
1. In a high-speed blender or food processor, add all ingredients, except thawed mixed berries, accai berry powder, organic beetroot powder. Blend until smooth.
2. Scoop put 3 tablespoons in a small bowl and set aside for swirling.
3. Add remaining ingredients and blend until well combined and completely smooth.
4. Pour over the prepared crust.
5. Take remaining cheesecake filling that has been set aside, dot using teaspoon all over cheesecake and pull with a toothpick to make swirls.
6. Place in freezer for 2-4 hours to set or overnight.
Enjoy!!!
Recipe Source: http://www.bioglan.com.au/acai-berry-beet-raw-vegan-cheese…/
Warm Rye Berry, Roasted Pumpkin & Kale Salad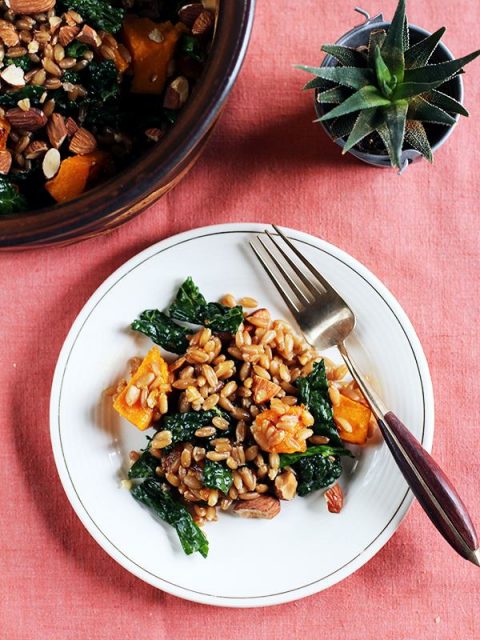 Ingredients:
1 cup rye berries
½ teaspoon salt
2 ½ cups pumpkin, peeled and cut into ½-inch cubes
½ tablespoon grapeseed oil
2 tablespoons rice vinegar
1 tablespoon yellow miso paste
1 teaspoon maple syrup
2 tablespoons walnut oil
3 cups kale (about ½ bunch), stems removed, cut into bite-size pieces
¼ cup almonds, roughly chopped
Directions:
Cook the rye berries and salt according to your pressure cooker directions. (I used the water and timing guidelines for brown rice and my rye berries came out perfectly cooked.) If you don't have a pressure cooker, combine the rye berries, salt and 3 ½ cups water in a heavy pot. Bring to a boil, lower heat, cover and let simmer for 1 hour, or until tender.
Meanwhile, preheat the oven to 400°F. Place the pumpkin on a sheet pan and toss with the grapeseed oil. Roast for 20 minutes, stirring halfway through baking.
In a small bowl, whisk together the rice vinegar, miso paste and maple syrup until smooth. Slowly whisk in the walnut oil. Place the kale in a large bowl and toss with 2 tablespoons of the dressing. Massage the dressing into the kale, until the leaves are soft and pliable. Add the cooked rye berries, the pumpkin and the remaining dressing and toss to coat. Sprinkle the almonds over the top and serve warm or at room temperature.
Enjoy!!!
Recipe source: http://amp.gs/CTPW
Vegan Cacao Fig Bliss Balls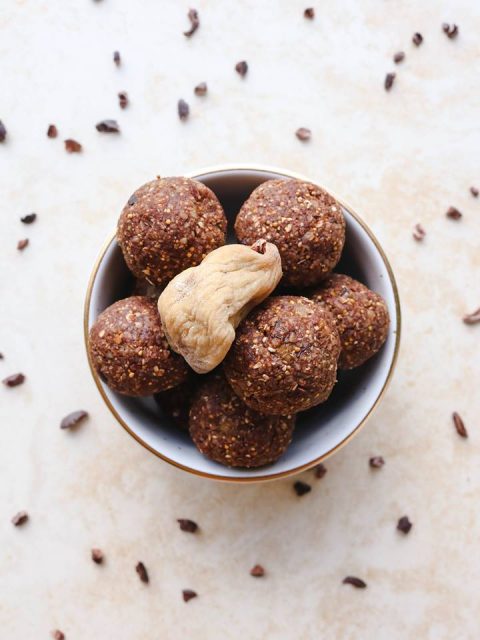 INGREDIENTS:
1 cup Dried Figs, stems removed
1 cup Almonds
¼ cup Cacao Powder (Or Cocoa, Carob)
1 tsp Vanilla Extract
¼ tsp Cinnamon
Pinch of Salt
½ tbsp Cacao Nibs (or Vegan Chocolate Chips)
INSTRUCTIONS:
1. Trim the stems off of the dried figs, if there are any. Place them in a medium bowl, cover with hot water, and let sit for 5-10 minutes.
2. In the meantime, pulse the Almonds in a food processor until the form a coarse meal. Add in the Cacao Powder, Vanilla Extract, Cinnamon, and Salt.
3. Drain the Figs, then add to the food processor. Process all ingredients until a uniform, crumbly "dough" forms.
4. Transfer the mixture to a bowl, then stir in the Cacao Nibs until evenly incorporated.
5. Using a 1 tbsp measure, form the dough into even balls – mine made about 19. Note: it helps to have your hands slightly wet for this step so the mixture will not stick to them.
6. Store in an airtight container in the fridge for up to two weeks, or in the freezer for up to 3 months.
Enjoy!!!
Recipe Source: http://amp.gs/CWU8
Vanilla Cinnamon Almond Butter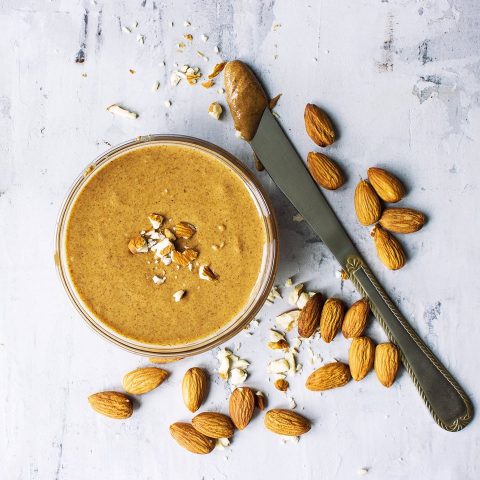 Ingredients
1½ cups almonds
1/2 teaspoon ground vanilla
1 teaspoon ground cinnamon
Instructions
Add the almonds to your food processor or high speed blender. Process until smooth and creamy like peanut butter. This may take about 15-20 minutes depending on your machine.
Add the vanilla and cinnamon, and pulse to combine ingredients. Store almond butter in a glass jar or airtight container.
Enjoy!!!