— Kosher, Raw, Sproutable, Vegan
— Whole Raw Kosher Lentils
— Spouting Grade
— High in Fiber
— Fat, Cholesterol and Sodium Free
Whole green lentils have pale or mottled green beans that are small and have a somewhat peppery flavor. The beans retain their shape after cooking quite well. Therefore, they are perfect for salads and other side dishes. They are also fast to prepare since you do not have to presoak it.
Green Lentils Health Benefits
If you want to add a cholesterol-lowering fiber to your diet, you should definitely try our whole green lentils. This product also provides unique benefits by preventing blood sugar levels from rising right after a meal. Some people call green lentils a nutritional giant because a cup of cooked lentils contains 230 calories. Other remarkable health benefits include the following:
Green lentils are rich in both soluble and insoluble dietary fibers. The former helps you get cholesterol out of your body, while the latter increases stool bulk and prevent diverticulosis and bowel syndrome.
The fiber in lentils also helps your body get slow-burning energy while stabilizing blood sugar levels. It is remarkable that a high fiber diet even reduces the amount of the most dangerous form of cholesterol – the very-low-density lipoprotein – by more than 10%.
Eating more green lentils significantly reduces the risk of death from heart disease. This is partly due to a large amount of magnesium and folate. Magnesium helps your body prevent heart attacks, and folate regulates the methylation cycle.
By eating green lentils, you increase iron and create hemoglobin and critical enzyme systems for metabolism. Having enough iron is especially important for women as they often experience iron deficiency during pregnancy.
These small green beans contain a significant amount of folate that promotes brain development.
How to Sprout Lentils at Home
Yields approximately 3 Cups (1/2 lb.) of Sprouts. Prep 3 Tablespoons of lentils, then transfer into a bowl or into your Sprouter. Add 2-3 times as much cool (60°-70°) water. Mix lentils up to assure even water contact for all.
Allow lentils to soak for 6-12 hours. Empty the lentils into your Sprouter (if necessary). Drain off the soak water. Rinse thoroughly with cool (60°-70°) water. Drain thoroughly! Set your Sprouter anywhere out of direct sunlight and at room temperature (70° is optimal) between Rinses. Ensure sufficient air-circulation is provided.
Always be sure to Drain very thoroughly. The most common cause of inferior sprouts is inadequate drainage. Rinse and Drain again every 8-12 hours for 3 days.
Enjoy your home-made sprouts!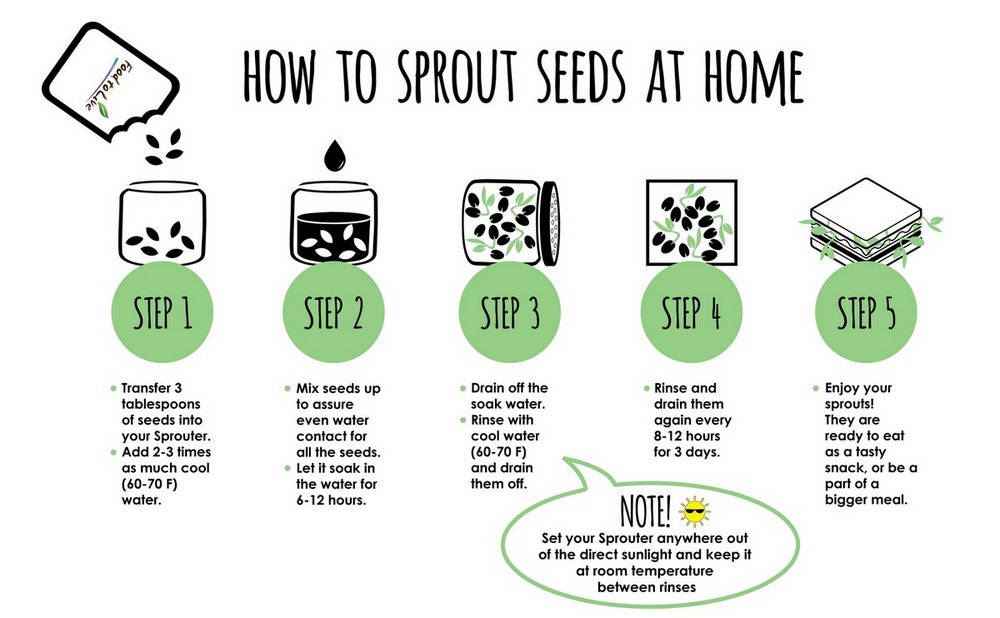 Cooking Instructions
Ingredients:
1 cup green lentils
2 cups of water
Kosher salt
Freshly ground black pepper
Directions:
Rinse lentils in a fine mesh strainer.
In a medium pot over medium-high heat, add lentils and water.
Bring to a boil then reduce heat.
Cover, and let simmer until tender, 20 minutes.
Drain excess liquid from lentils then season with salt and pepper and serve as desired.