November 04, 2021 · Written by Foodtolive Team
Vegan Crepe Rolls with Spiced Apple Filling
Savor the flavors of fall with these Vegan Crepe Rolls filled with tasty spiced apples. These dairy-free crepes are like a cozy treat, wrapping up a sweet, cinnamon-flavored apple filling. Whether you have them for breakfast or dessert, these crepe rolls are a delightful way to enjoy the season's tastes.
Prep Time: 10 min | Cook Time: 20 min | Total Time: 30 min | Servings: 11 crepes
Calories: 152 | Total Fat: 3 g | Fiber: 2 g | Sugar: 11 g | Protein: 4 g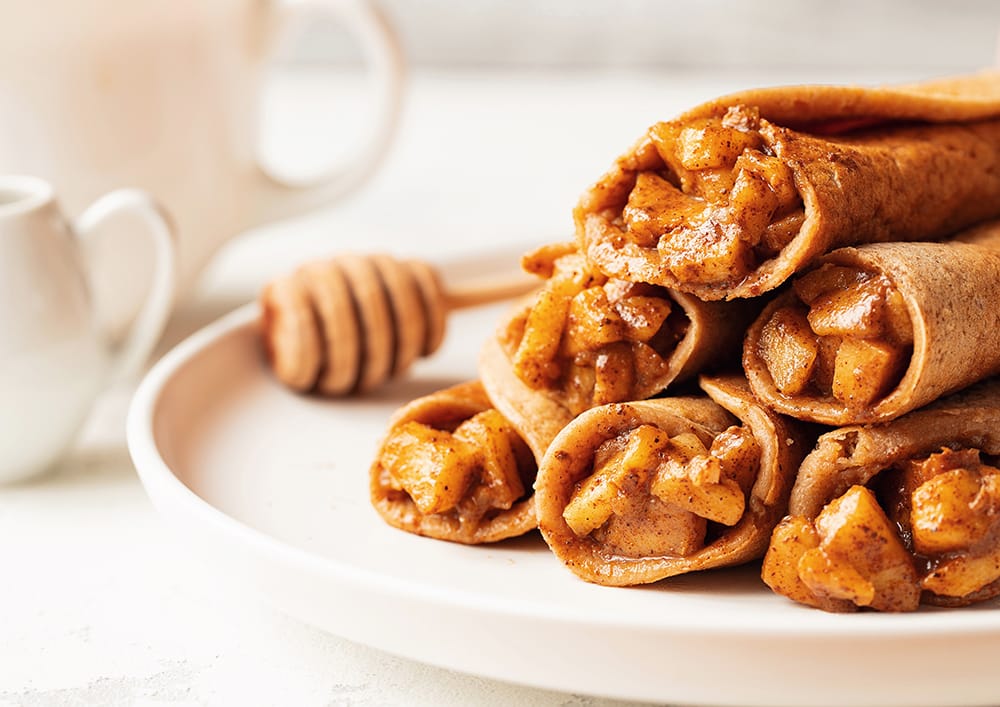 INGREDIENTS:
Crepes
Apple filling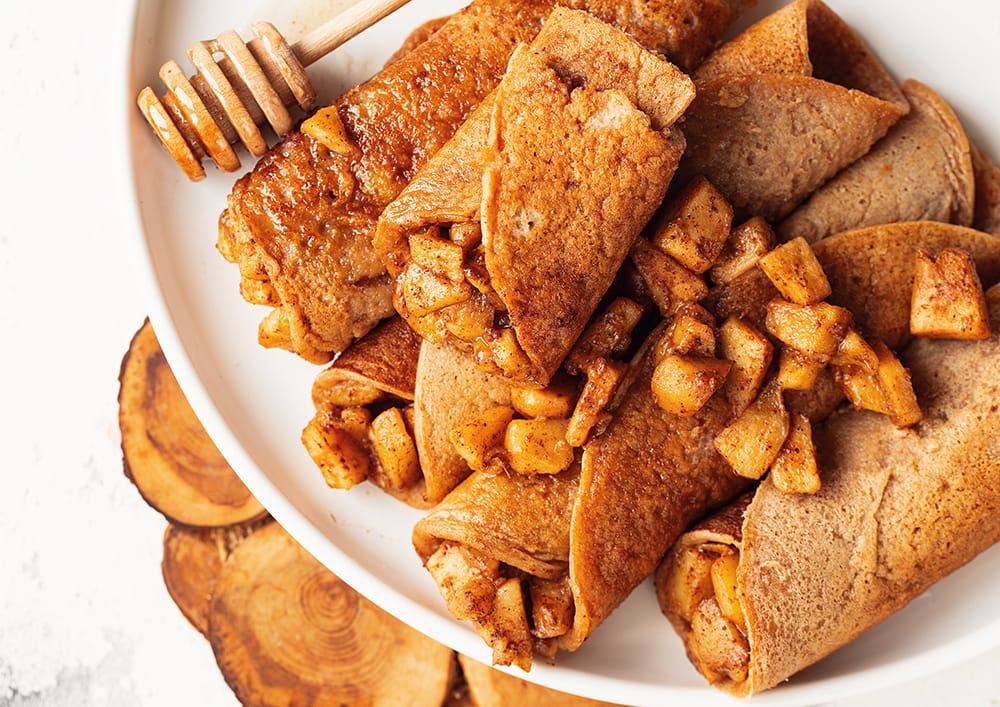 INSTRUCTIONS:
For the Crepes:
Mix all the crepe ingredients (except the oil) until it's a smooth batter.
Let the batter sit for a few minutes.
Heat a bit of oil in a non-stick skillet on medium heat.
Pour about 1/4 cup of batter in the middle of the skillet and spread it out quickly with a spoon.
Cook for 1-2 min on each side until it's lightly browned. Keep making crepes until you use up all the batter. If the batter thickens, add more milk.
For the Apple Filling:
Put all the apple filling ingredients in a skillet.
Cook it for a few minutes on medium heat until the apples are soft but still hold their shape.
Spoon a bit of the filling onto each crepe, roll them up, and serve them warm with caramel sauce or maple syrup. Enjoy!
Notes:
Instead of buckwheat flour you should be able to use rice flour or quinoa flour
Potato starch can be replaced with other starch powders such as tapioca starch, arrowroot starch or cornstarch
This recipe adapted from Ela Vegan
Video Recipe