November 04, 2021 · Written by Foodtolive Team
Apple Cinnamon Crepes
These delectable Apple Cinnamon Crepes are healthy, easy, quick, and make for the perfect eggless, dairy-free, plant-based breakfast or dessert to enjoy during the fall season.
Prep Time: 10 min | Cook Time: 20 min | Total Time: 30 min | Servings: 11 crepes
Calories: 152 | Total Fat: 3 g | Fiber: 2 g | Sugar: 11 g | Protein: 4 g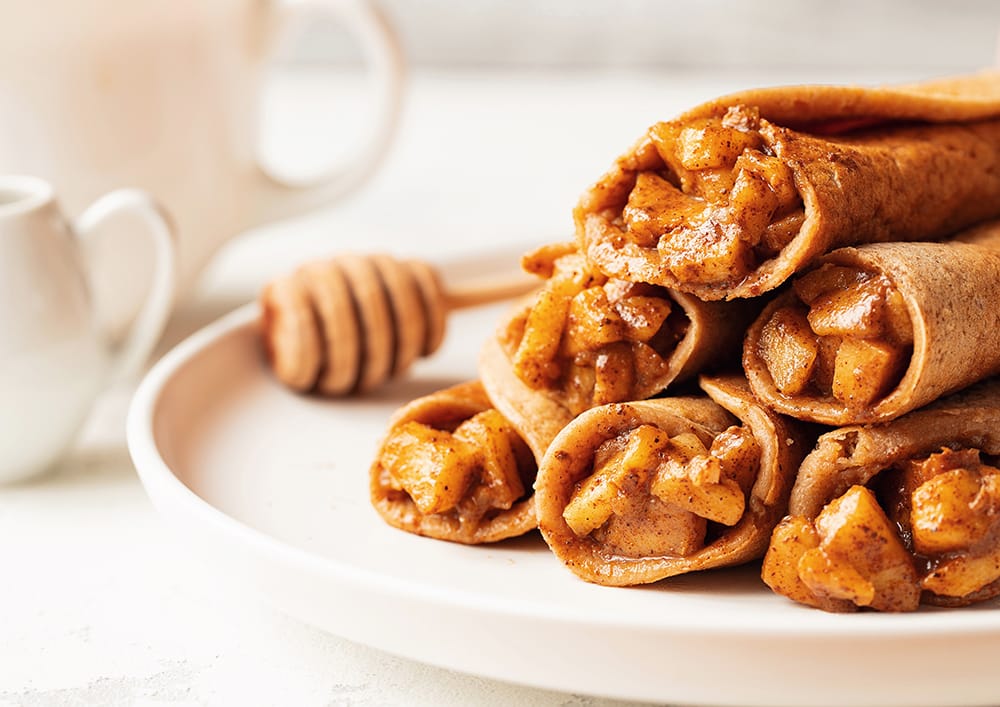 INGREDIENTS:
Crepes
Apple filling
4 apples, peeled, cored, and chopped
3 tbsp coconut sugar
2 tbsp plant-based milk
½ tsp potato starch
1 tsp cinnamon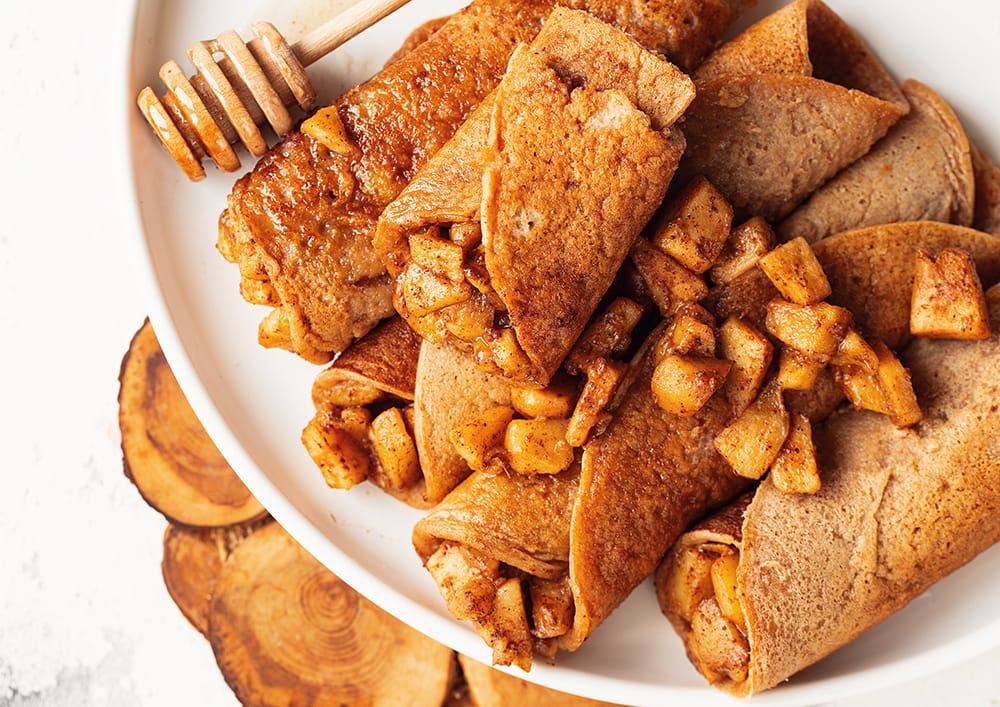 INSTRUCTIONS:
To make the crepes combine all of the ingredients (except the oil) and mix until the batter is smooth.
Let the batter rest for a few minutes. Heat a little oil in a medium-sized non-stick skillet over medium heat.
Pour about ¼ cup of the batter in the center of the skillet and immediately spread it with the back of a ladle.
Cook for about 1-2 minutes per side, or until lightly browned. Repeat the process of making crepes till the batter is finished.
Note: After a while, the batter will get thicker, so you might need to add more milk.
For the apple filling, add all ingredients to a skillet. Cook the mixture for a few minutes over medium heat till the apples get soft, yet maintain their shape.
Place a few tsp of filling onto each crepe, roll it up and serve warm with a drizzle of caramel sauce or maple syrup.
Notes:
Instead of buckwheat flour you should be able to use rice flour or quinoa flour
Potato starch can be replaced with other starch powders such as tapioca starch, arrowroot starch or cornstarch