February 25, 2020 · Written by Foodtolive Team
Vegan Matcha Souffle Pancakes
Welcome to a pancake experience like no other! Today, we're diving into the world of culinary artistry with our Vegan Matcha Souffle Pancakes. These delicate green wonders are not just a treat for your taste buds but also a feast for your eyes. Join us in the kitchen as we whisk, fold, and flip our way to pancake perfection.
Prep Time: 5 min | Cook Time: 15 min | Total Time: 20 min | Servings: 2-3 pancakes
INGREDIENTS:
1/2 cup all-purpose flour
1/2 cup coconut flour
2 tbsp powdered sugar
1 tbsp matcha powder
½ tsp salt
2 tsp baking powder
1 tsp baking soda
1 tbsp coconut oil
1 tsp vinegar
1 cup plant-based milk
Maple syrup/ powdered sugar/ seasonal fruits and berries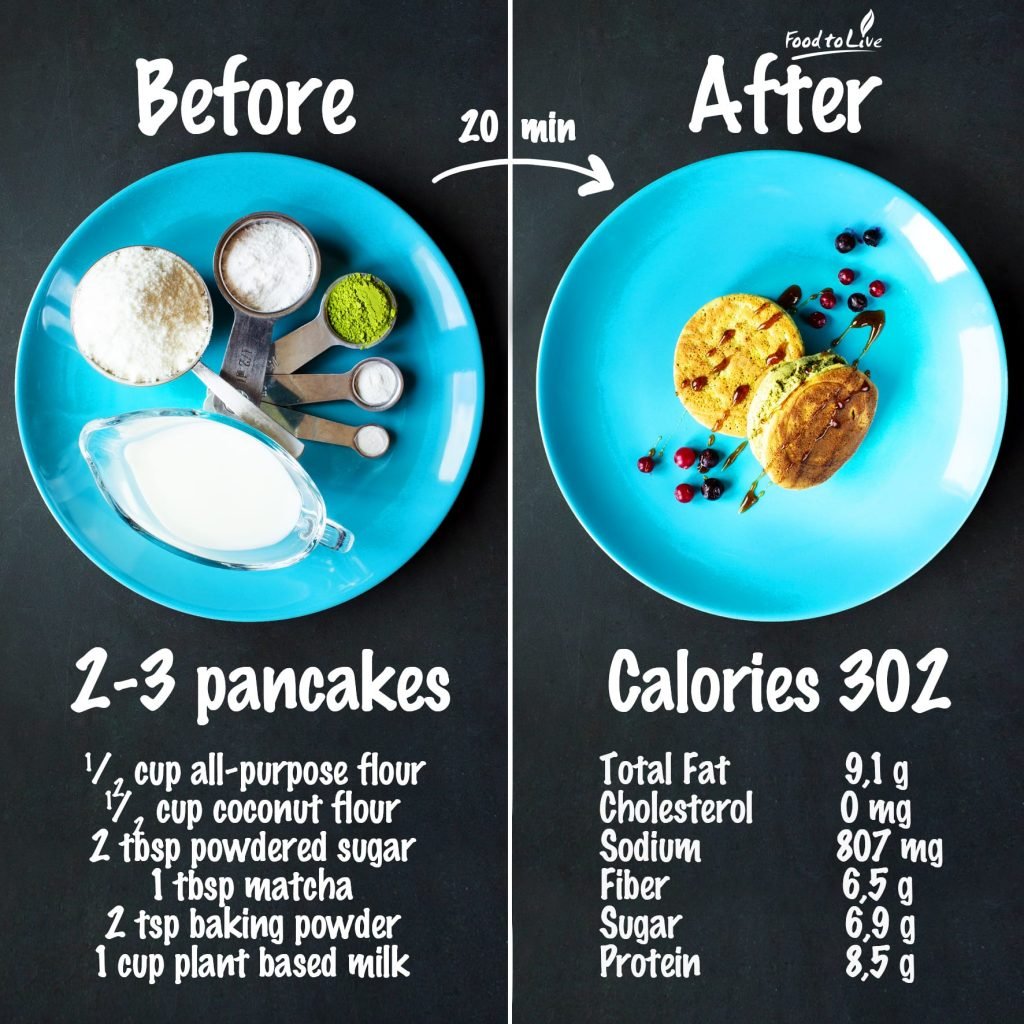 INSTRUCTIONS:
In a bowl, mix two types of flour, powdered sugar, matcha, salt, baking powder, and baking soda until everything is well combined.
Make a hole in the dry mixture and add oil and vinegar. Slowly pour in the milk while whisking until the batter becomes smooth.
Heat a large pan on medium heat and put a bit of oil in the bottom. Place ring molds in the pan. Spoon half of the batter into one mold, and the other half into the other mold. Cover the pan with a lid and let them cook for 8 to 10 min.
Use a spatula to carefully flip the pancakes. Cover the pan again and cook for another 3 min.
Take the pancakes out of the molds and place them on a plate.
Serve immediately with maple syrup and your favorite fruits or berries. Enjoy your Vegan Matcha Souffle Pancakes!
This recipe inspired by Mary's Test Kitchen
Video recipe: