April 19, 2019 · Written by Foodtolive Team
Incredibly Moist Vegan Carrot Cake
Enjoy a delicious vegan twist on the classic carrot cake with this Vegan Carrot Cake recipe. It's incredibly moist and flavorful, just like the traditional version, but it's entirely plant-based, meaning it doesn't contain any eggs or dairy.
Prep Time: 5 minutes | Cook Time: 45 minutes | Total Time: 50 minutes | Servings: 9
INGREDIENTS:
2 cups chopped carrots
3 cups all-purpose flour
2 cup granulated sugar
1 tbsp vanilla powder
1 tsp salt
1 tsp ground cinnamon
2 tsp baking soda
1 cup walnuts + more for garnish
2/3 cup vegetable oil
2 cup of cold water
2 tbsp apple cider vinegar
2 tsp vanilla extract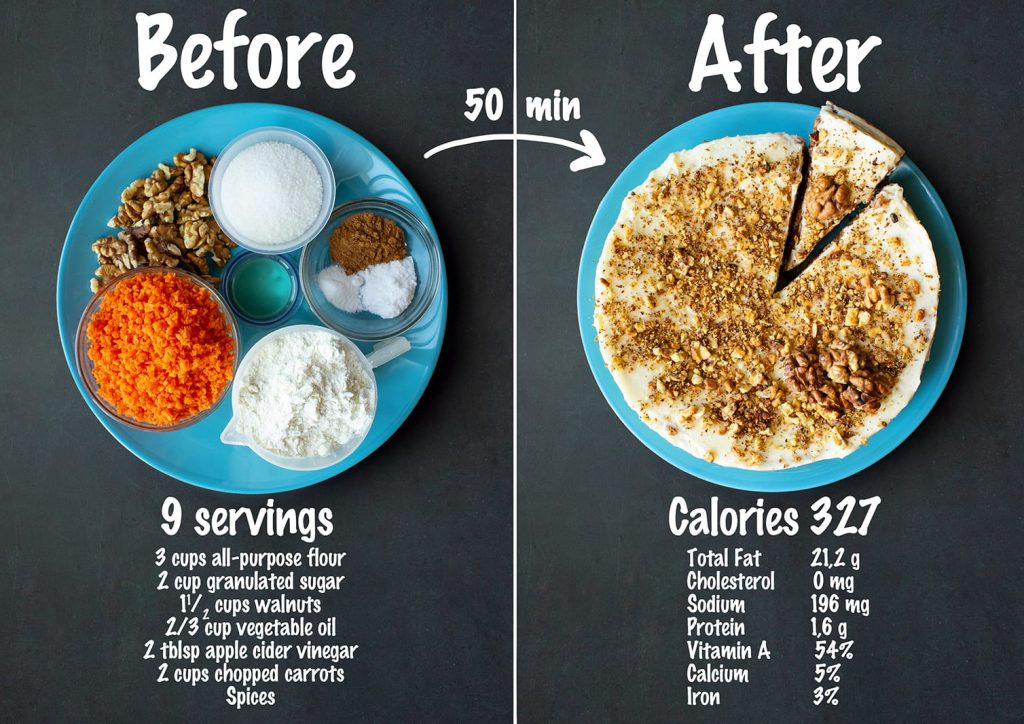 Easy Vegan Cream Cheese Frosting
4 tbsp vegan cream cheese
1/2 cup vegan butter
2 cups powdered sugar
INSTRUCTIONS:
Preheat your oven to 350°F and prepare two round cake pans by greasing them or using parchment paper.
In a large bowl, mix together the flour, sugar, vanilla powder, salt, cinnamon, and baking soda. Set this aside.
Toast the walnuts on a baking pan for about 5 minutes, then chop them. Add half of the chopped walnuts to the flour mixture.
In another bowl, combine the vegetable oil, water, vinegar, and vanilla extract.
Shred the carrots in a food processor and add them to the oil mixture. Stir well.
Pour the carrot mixture into the flour mixture and stir until combined.
Pour the batter into your prepared cake pans and bake for 35 min or until a toothpick comes out clean when inserted in the middle.
Let the cakes cool for about 10 minutes, then remove them from the pans and allow them to cool completely.
To make the Vegan Cream Cheese Frosting, mix vegan cream cheese and vegan butter until fluffy. Gradually add powdered sugar until you reach the desired consistency.
Spread frosting on one cake layer, top with chopped walnuts, place the second layer on top, and frost the top and sides. Garnish with more chopped walnuts. Enjoy!
This recipe slightly adapted from Namely Marly
Video Recipe