October 25, 2022 · Written by Foodtolive Team
Halloween Chocolate Cake Pops
Get ready for a spooktacular treat! These homemade chocolate cake pops are a delight, crafted from scratch with rich chocolate cake, creamy vanilla buttercream frosting, and a sprinkle of Halloween magic. Simple to create and a joy to decorate!
Prep Time: 30 min | Cook Time: 35 min | Chilling Time: 3 hours | Total Time: 4 hours 5 min | Servings: 20 cake pops
Calories: 269 | Total Fat: 11.7g | Cholesterol: 14.2g | Sodium: 129.1mg | Sugar: 23.5g | Protein: 3.7g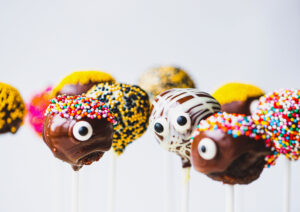 INGREDIENTS:
For the chocolate cake:
¾ cup pastry flour
½ cup cacao powder

¾ tsp baking powder

½ tsp baking soda

¼ tsp salt

2 large eggs, at room temperature

¾ cup granulated sugar

⅓ cup vegetable oil

2 tsp pure vanilla extract

½ cup buttermilk, at room temperature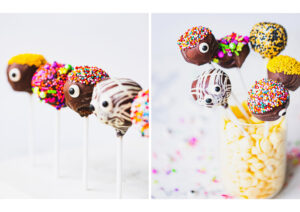 For the buttercream frosting:
½ cup unsalted butter, softened to room temperature

1 cup powdered sugar

2 tbsp milk

1 tsp pure vanilla extract
For the cake pops:
8 oz cacao paste wafers

white chocolate chips

Halloween sprinkles

candy eyeballs

cake pops sticks or lollipops sticks

cake pops stand or styrofoam block or regular cup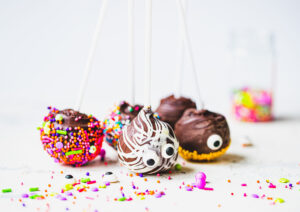 INSTRUCTIONS:
Preheat the oven to 350°F (177°C). Grease a 9-inch pan (round or square) or 9-inch springform pan.

Make the cake: whisk the flour, cacao powder, baking powder, baking soda, and salt together in a large bowl until thoroughly combined. Set aside. In a medium bowl, whisk the eggs, granulated sugar, oil, and vanilla together until combined. Pour half of the wet ingredients into the dry ingredients. Then half of the buttermilk. Gently whisk for a few seconds. Repeat with the remaining wet ingredients and buttermilk. Stir until just combined.

Pour the batter evenly into the prepared pan. Bake for 30-35 minutes or until a toothpick inserted in the center comes out clean. Allow the cake to cool completely in the pan set on a wire rack.

Make the frosting: with a handheld or stand mixer, beat the butter on medium speed until cream. Add powdered sugar, milk, and vanilla extract. Beat until smooth.

Scoop out the cake into a large bowl and crumble it with your hands. You can also transfer it into a

blender

and give it a few pulses to create the perfect crumbs.

Add in the frosting and mix until incorporated and smooth.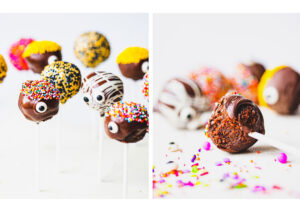 Shape the mixture into 1 to 1.5 inch size balls.

Make the cake pops: melt ¼ cup of the cacao paste wafers (see notes) and dip ½-inch of each cake pop stick into the cacao paste and stick into a ball. Repeat with all remaining cake pops. Place the cake pops on a parchment-lined baking sheet and refrigerate for 2 hours.

Melt the rest of the cacao paste wafers in a tall, narrow cup or measuring cup. Dip each cake pop in cacao paste, coating it completely.

Add some sprinkles to cover cake pops. Let your imagination run wild! Make mummy cake pops using melted white chocolate chips or monster cake pops using candy eyeballs.

Place the cake pops upright into a cake pop stand or a styrofoam block.

Place into the refrigerator and allow the coating to set completely, approximately one hour. Store cake pops at room temperature for up to 2 days or in the refrigerator for up to one week.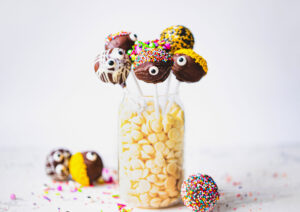 NOTE:
Melt the cacao paste wafers in the microwave in 30 second intervals and stir well for an equal amount of time between each interval until it's completely melted. Our cacao paste wafers are raw and unsweetened (with lots of nutrients) so you can add 1 tbsp maple syrup to make the coating more sweet. But we love the combination of the bitter taste of cacao paste with the sweet taste of cake.
This recipe adapted from Ahead Of Thyme
Video Recipe