October 26, 2020 · Written by Foodtolive Team
Halloween Orange Velvet Ghost Cupcakes
Boo! Make your Halloween a little spookier with these easy orange velvet ghost cupcakes with marshmallow frosting! The perfect treat for your party!
Prep Time: 5 min | Cook Time: 25 min | Total Time: 30 min | Servings: 12 cupcakes
INGREDIENTS:
For the Orange Velvet Cupcakes:
¼ cup softened butter
¾ cup of sugar
1 egg
¼ tsp orange gel food coloring
½ cup buttermilk
½ tsp salt
½ tbs white vinegar
½ tsp bicarbonate of soda
For the Marshmallow Frosting:
1 cup powdered sugar
3 egg whites
Pinch of cream of tartar
Pinch of salt
Black candy sprinkles (for eyes)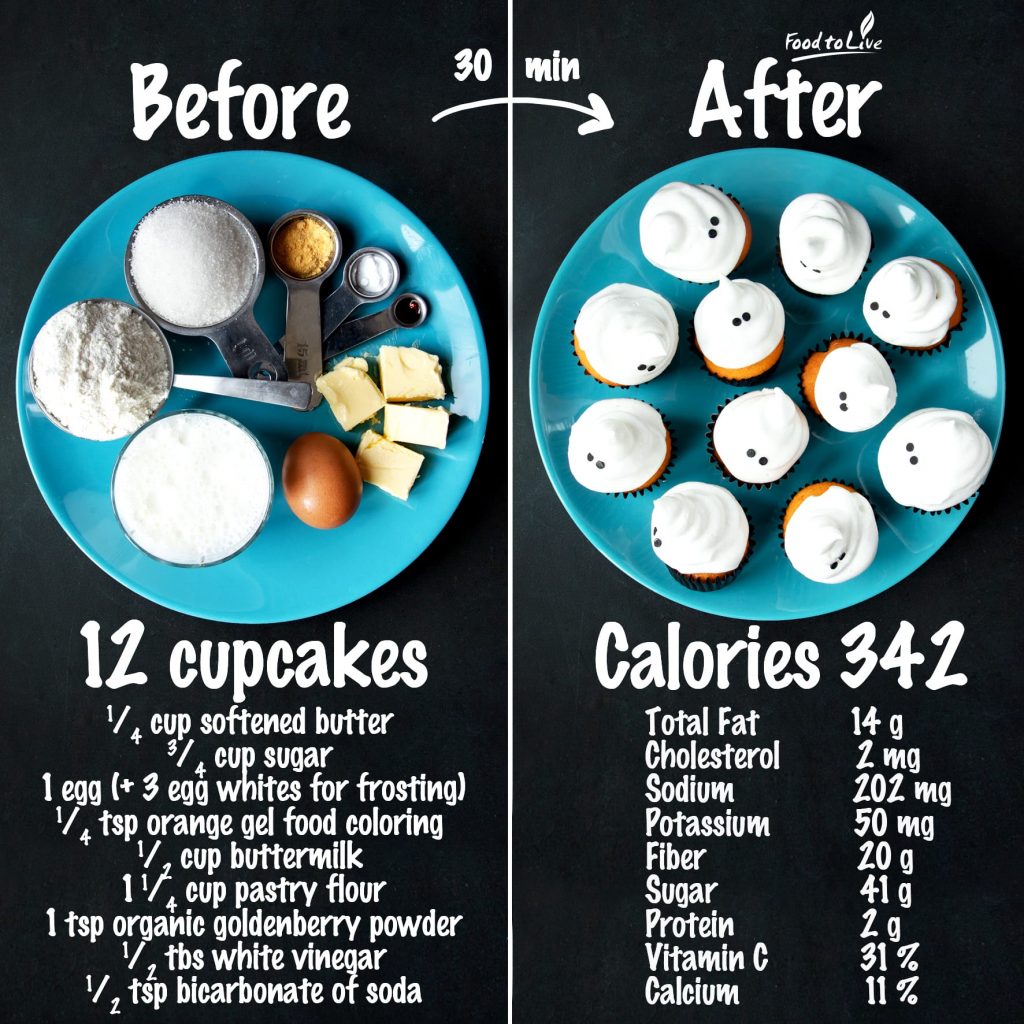 INSTRUCTIONS:
Orange Velvet Cupcakes:
Preheat oven to 350 degrees (F) and line 12 cupcake tins with paper cupcake cases.
Beat together butter and sugar for 5 min.
Add orange food coloring and egg and beat well.
Add buttermilk, flour, salt, and goldenberry powder and mix well.
Fold in vinegar.
Add the bicarbonate of soda and mix well.
Pour batter into cupcake tins and bake for 18 min until a skewer comes out clean.
Allow cupcakes to cool in the tin for 10 min, then completely cool on wire rack.
Marshmallow Frosting:
Beat egg whites with cream of tartar and salt until soft peaks form.
Keep whisking, carefully pour the powdered sugar into egg whites.
Continue beating the frosting until it is cool and billowy, roughly 5 min.
Pipe frosting immediately on to orange velvet cupcakes with a piping bag.
Use black candy sprinkles to create eyes on marshmallow frosting.