December 24, 2022 · Written by Foodtolive Team
Christmas Chocolate Orange Madeleines
Buttery rich chocolate French madeleines with ​​a punch of citrus flavor! Dip them in white chocolate and add holiday sprinkles for the perfect Christmas treat!
Prep Time: 10 min | Cook Time: 10 min | Total Time: 20 min | Servings: 20 madeleines
Calories: 130 | Total Fat: 7 g | Cholesterol: 30 mg | Sodium: 15 mg | Sugar: 10 g | Protein: 1 g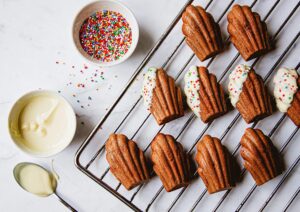 INGREDIENTS:
For the madeleines: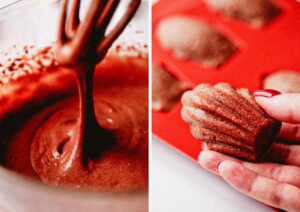 For the chocolate glaze:
8 oz white chocolate
Christmas sprinkles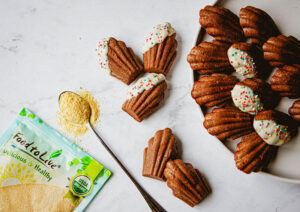 INSTRUCTIONS:
Preheat your oven to 375°F (190°C).
In a bowl, whisk together eggs, sugar, and salt until well combined. Add vanilla and whisk again.
Gradually whisk in the flour, cocoa, and baking powder. Then, gently fold in the melted, slightly cooled butter. Mix until just combined, being careful not to overmix.
Stir in the orange powder. Spoon the batter into your buttered madeleine pan and bake for 8-10 min.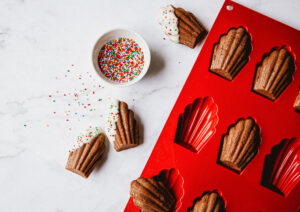 Allow the madeleines to cool in the pan on a wire rack for a few minutes. Then, carefully remove them from the pan and let them cool further.
For the ganache, melt white chocolate in a double boiler over medium-low heat. Dip each madeleine halfway into the chocolate and place them back on the wire rack. Sprinkle with sprinkles.
Allow the chocolate to harden completely, and then you can enjoy your delicious treats!
Store your madeleines in an airtight container for 1-2 days.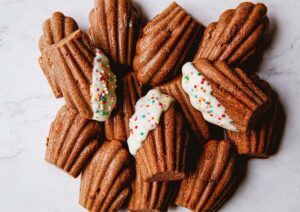 Find more Christmas recipes in our previous posts:
This recipe adapted from Olive & Mango
Video Recipe