December 21, 2016 · Written by Foodtolive Team
Easy Vegan Christmas Cookies and Cakes: Cook with Your Kids
Christmas is the time for family and there is hardly a better bonding activity than cooking together. This holiday would be the perfect time for you to teach your kids that healthy foods can be delicious as well. Our collection of easy vegan Christmas cookies and cakes recipes would help you with this.
Top 3 Easy Vegan Christmas Cookies

Vegan Gingerbread Men Cookies
The gingerbread men cookies are one of the symbols of the winter holiday season, so making them is a must for every family. They are not only delicious and easy to make, but also a great fun to decorate. Our special recipe is gluten, egg, and dairy-free.
Ingredients:
½ cup softened coconut oil
3 tablespoons blackstrap molasses
1/3 cup maple syrup
2 ½ cups flour blend (gluten-free)
2 teaspoons ground ginger
½ teaspoon vanilla extract
1/8 teaspoon cloves
1 teaspoon cinnamon
¼ teaspoon nutmeg
1 pinch of salt
Instructions:
Mix all ingredients save for flour in a large bowl using a mixer. Soften the oil and whip it a bit before adding the sweeteners and spices.
Add flour and mix the dough carefully. Knead thoroughly and add flour until it stops being sticky.
Shape the dough into several balls and flatten them.
Use gingerbread men cookie cutters to cut out your cookies.
Bake in a preheated oven (350F) on thin baking sheets lined with parchment paper for about 12 minutes.
Cool the cookies for 10 minutes so that they harden a bit.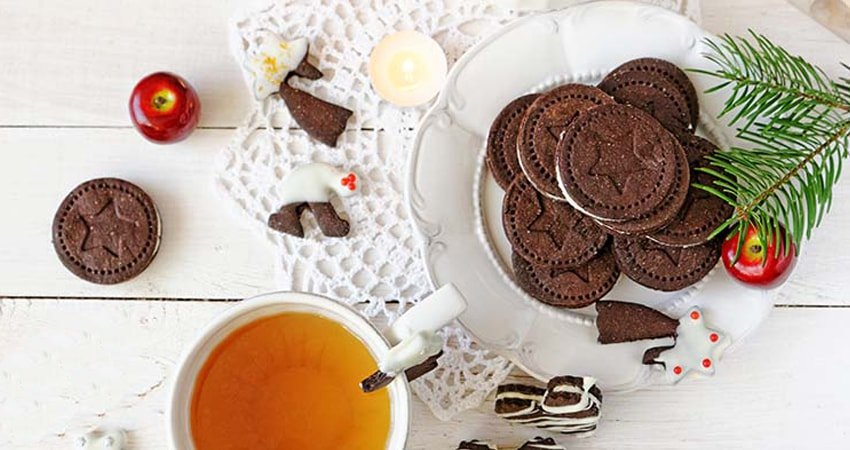 Chocolate Sandwich Cookies
Among all the easy vegan Christmas cookies, your kids are sure to love these the most as they are chocolaty and sweet. They are also much better health-wise and actually more delicious than Oreos. To make them fit the holiday theme, we suggest adding candy canes to the frosting.
Ingredients (cookies):
½ cup unsweetened cocoa powder
2 ¼ cups flour
1 cup plant-based buttery spread
1 ¼ cups sugar
¼ cup non-dairy milk
2 teaspoons vanilla extract
1 teaspoon baking soda
Instructions (cookies):
Sift and mix flour, baking soda, and cocoa powder.
Mix the rest of the ingredients in a separate bowl. Use a mixer or blender.
Add the dry ingredients and mix by hand.
Split the dough in half and roll each part into plastic wrap, forming two cylinders.
Put in the fridge for two hours before cutting into disks about ¼ inches thick.
Bake in a preheated oven at 350F for 5 minutes.
Cool the cookies before adding frosting.
Ingredients (frosting):
2 candy canes
1 tablespoon plant-based buttery spread
3 tablespoons water (warm)
2 cups powdered sugar
5 drops peppermint oil
Final Instructions:
Use a mixer to whip together all ingredients except for candy canes.
Crush candy canes in a blender.
Spread the frosting on a cool cookie and put another one on top.
Press two cookies together lightly, so only a bit of frosting shows.
Sprinkle the frosting with crushed candy canes.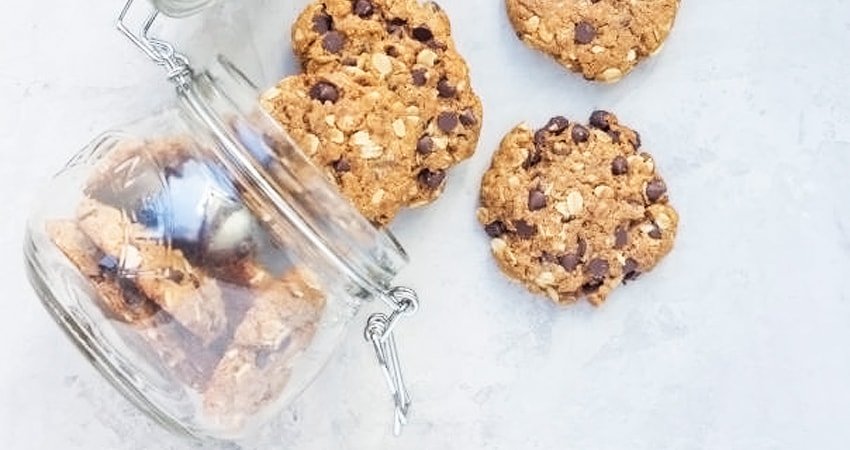 Dates, Pecans, Chocolate, and Oatmeal Vegan Cookies
If you are looking for the healthiest easy vegan Christmas cookies, this is the recipe you need. This treat packs a nutritional punch, and your kids are sure to love them. In fact, you should be ready to cook them not only during the holidays, as little ones would definitely ask for more.
Ingredients:
¾ cup flour (gluten-free)
2 cups rolled oats
1 ¾ cups pecans (halves)
5 tablespoons coconut oil
2 tablespoons almond milk
1/3 cup diced dates
¼ cup chocolate chips
1 teaspoon baking soda
½ cup brown sugar
½ cup maple syrup
½ teaspoon cinnamon
½ teaspoon sea salt
2 teaspoons vanilla extract
Instructions:
Roast pecans for 10 minutes at 325F and let cool.
Chop pecans and 1 cup of oats in a food processor. Don't overdo it as they must be coarsely chopped instead of powdery. This will prevent the mix from becoming too oily due to the oil in the nuts.
Mix the oatmeal+pecan mixture with oats, flour, sugar, salt, baking soda, and cinnamon.
Melt the coconut oil and combine it with maple syrup, vanilla extract, and almond milk.
Combine the dry and wet ingredients, mixing thoroughly.
Add chopped dates and chocolate chips to the dough. You can toss the dates in flour to prevent them from sticking together.
Form small balls from the dough (use a teaspoon) and put them on a baking sheet covered with parchment paper. Flatten them a bit.
Bake at 350F for 12 minutes and let cool for 15 more.
Two Most Delicious Vegan Christmas Cake Recipes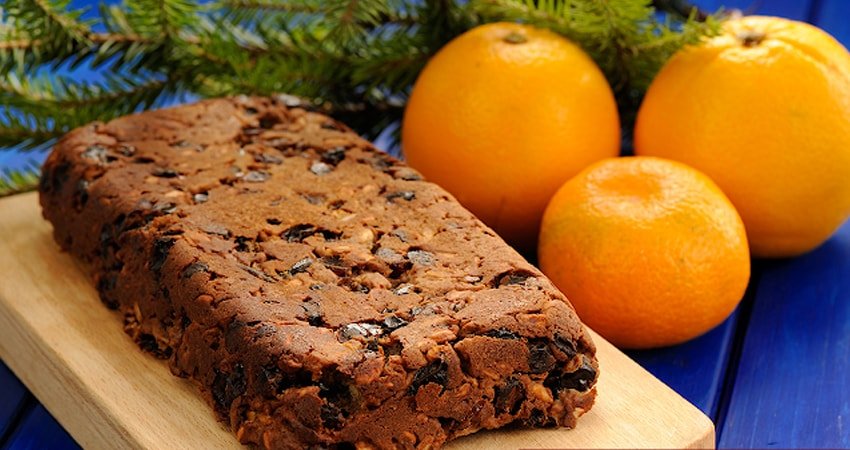 Traditional Vegan Christmas Fruitcake
Trying out the easy vegan Christmas cookies recipes with your kids is great fun, but it's the cake that truly makes a child's day, or dinner in this case. Luckily, the vast majority of vegan cakes are so simple to make that your children would be able to learn how to do this even if they are very young. They'll just need your supportive guidance. This traditional fruitcake recipe is very healthy and tastes amazing.
Ingredients:
12 oz mixed dried fruits
8 oz dates
4 oz dried apricots (chopped)
3 oz mixed nuts
3 oz white flour
3 oz wholemeal flour
2 teaspoons baking powder
4 tablespoons rum
4 tablespoons orange juice
1 cup water
Spices to taste
Sponsored by Food to live
Instructions:
Pour the water into a small saucepan and add the dates. Boil for 5 minutes.
Mash the dates and add the rest of the ingredients.
Mix thoroughly and put the dough into a greased cake tin.
Bake in a preheated oven at 340F for about one and a half hour.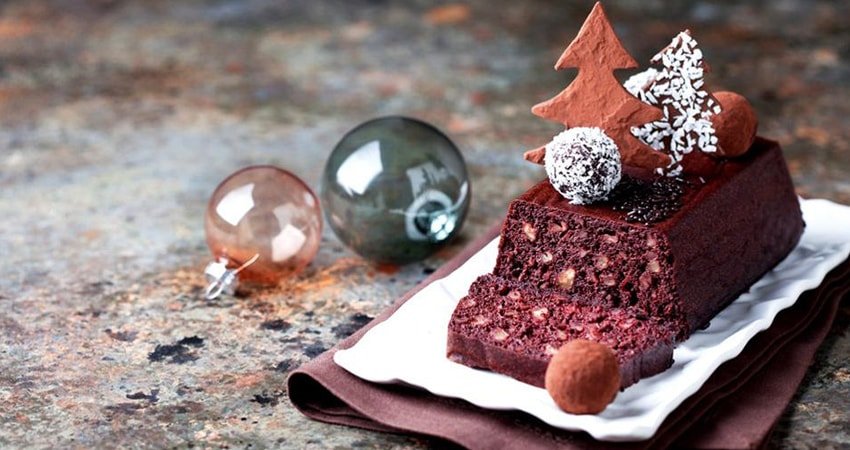 Chocolate Christmas Vegan Cake
There can be no holiday spirit without a chocolate cake, and this one could even fit into your 'healthy vegan recipes for kids' collection as it contains very little sugar. You can leave it as is or use the frosting from the cookies recipe above.
Ingredients:
4 oz plant-based buttery spread
8 oz wholemeal flour
¾ cup orange juice
4 oz raw cane sugar
1 teaspoon baking soda
2 tablespoons baking powder
1 tablespoon golden syrup
2 tablespoons unsweetened cocoa powder
1 tablespoon orange peel
1 pinch of salt
Chopped mixed nuts (optional)
Instructions:
Sift together flour, cocoa powder, baking powder, and salt.
Melt the buttery spread and combine it with syrup and sugar. Mix until creamy.
Add baking soda to the orange juice and stir well.
Pour the juice into the bowl with the sugary mixture and stir in the dry ingredients. Be careful and go slow to avoid clumps.
Mix in orange peel and nuts if you use them.
Bake at 250F for about 30-40 minutes. Let cool.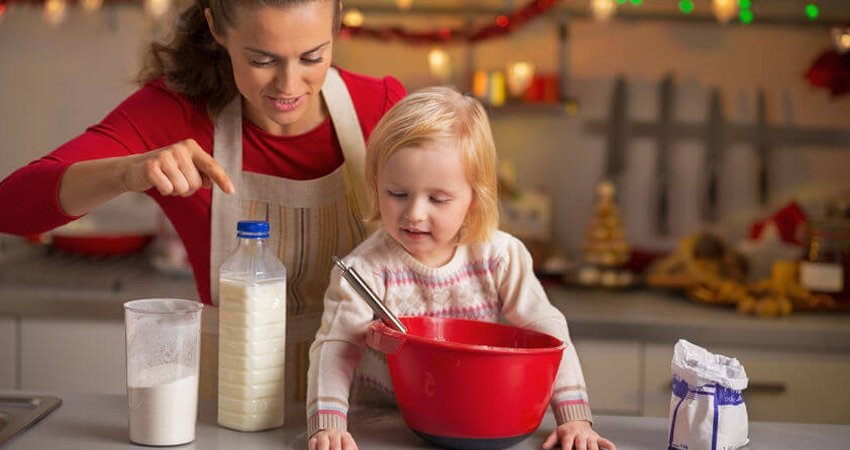 Enjoy Making Easy Vegan Christmas Cookies and Cakes Together
As you can see, all these recipes are very simple, and we are sure you and your kids would have lots of fun cooking these fantastic treats. You should also work together to come up with ideas on how to infuse these sweet delicacies with the real Christmas cheer.