December 25, 2017 · Written by Foodtolive Team
3 Healthy Winter Desserts to Enjoy This Christmas Season
Holiday season can't do without delicious sweet treats, so adding a few healthy winter desserts recipes to your collection is a must. Our ideas are low in fats, tasty, and sure to impress your guests. They are easy to make too, so everyone can enjoy them.
Top 3 Healthy Winter Desserts for Vegetarians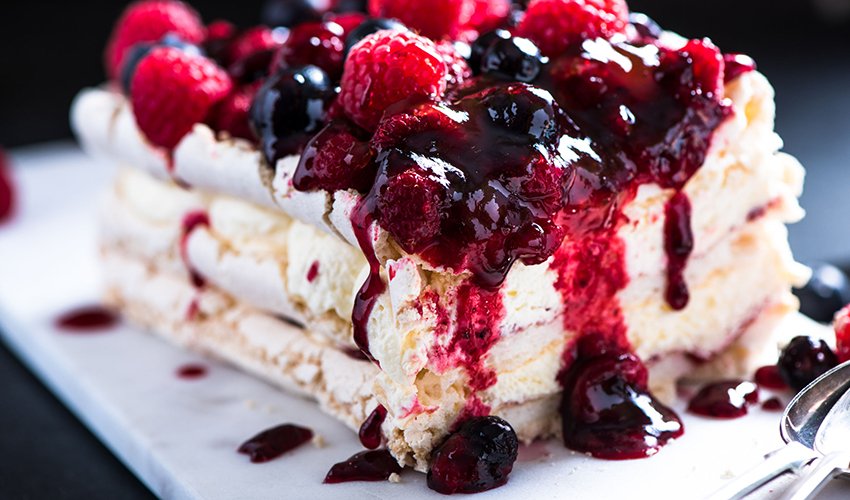 Ingredients for meringues:
4 egg whites (room temperature)
¾ cup sugar
1 teaspoon white-wine vinegar
½ teaspoon nutmeg (grated)
1 ½ teaspoons cornstarch
1 teaspoon vanilla extract
Ingredients for cranberry sauce & almonds:
1/3 cup cranberry juice
2 cups cranberries (fresh, frozen, or reconstituted dried)
1/3 cup honey
½ teaspoon almond extract
½ teaspoon ground cinnamon
1 ½ tablespoons fresh ginger (finely chopped)
1/3 cup blanched slivered almonds
2 teaspoons sugar
1 tablespoon spiced rum
Sponsored by Food to live
Additional: whipped cream (vegan or regular)
Instructions:
Preheat the oven to 225F and prepare two baking sheets lined with parchment.
Beat egg whites using an immersion blender or stand mixer for 1 minute. Then, add nutmeg and sugar. Beat until the mixture becomes smooth, shiny, and stiff.
Remove the mixer/blender and add vinegar, cornstarch, and vanilla extract. Gently mix with a spatula.
Dollop the mix onto baking sheets about 6 dollops onto 1 large sheet. They will spread, but not much.
Put both baking sheets into the oven, one near the bottom and one near the top. Swap them halfway through (top to bottom and front to back). Bake for 1 ½ hours.
Do not open the oven when done the baking! Leave meringues there for 30 minutes
While meringues are baking, make sauce by combining all ingredients in a saucepan. Bring to a boil and let simmer for about 10 minutes stirring occasionally.
Toss almonds in rum and sugar and roast them in an oven for about 7 minutes, stirring every 30 seconds or so to prevent burning. You can do this while meringues cool.
Although time-consuming, these pavlovas are sure to become one of your family's favorite healthy winter desserts. Serve with whipped cream, topped with sauce and almonds.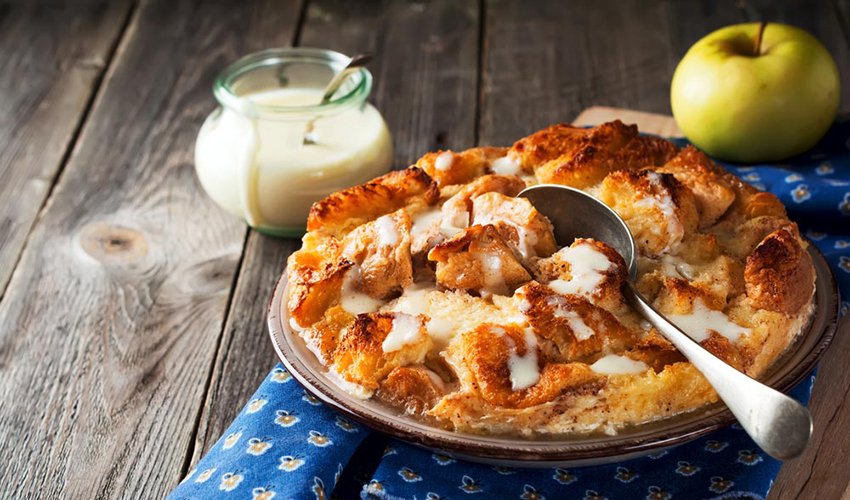 Ingredients:
½ loaf whole-wheat bread
1 ½ cup applesauce
1 ½ cup coconut milk
2 eggs
1 apple (diced, unpeeled)
1 tablespoon ground cinnamon
1 teaspoon nutmeg (grated)
½ cup raisins
½ cup walnuts
Instructions:
Combine eggs, coconut milk, applesauce, nutmeg, and cinnamon in a bowl and whisk together a little until combined.
Add bread (cut in cubes), walnuts, apples, and raisins.
Transfer to a casserole dish, cover, and put in the fridge for an hour.
Bake for 40-50 minutes at 350F.
It's one of the easy and healthy winter desserts that are best served cold, so leave it in the fridge overnight.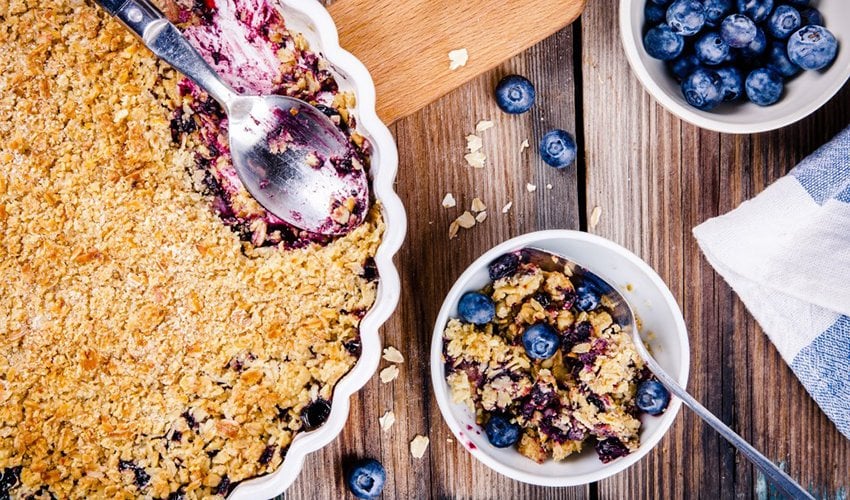 Pecan, Oats, and Blueberry Crisp
Ingredients:
Instructions:
Combine pecans, oats, coconut, almond meal, cinnamon, and salt in a bowl.
Add olive oil and honey. Mix thoroughly.
Grease a baking dish and put blueberries into it.
Top with the pecan and oats mixture.
Bake at 350F for 25-35 minutes.
Find more amazing healthy winter desserts in our previous posts: