February 12, 2021 · Written by Foodtolive Team
Chocolate Raspberry Heart Cups
Nothing makes Valentine's Day dinner sweeter than a decadent dessert like these Chocolate Raspberry Heart Cups. They are tart and sweet, with an amazingly colorful center.
Prep Time: 15 min | Cook Time: 0 min (+ 15 min for freezing) | Total Time: 30  min | Servings: 8 cups
INGREDIENTS: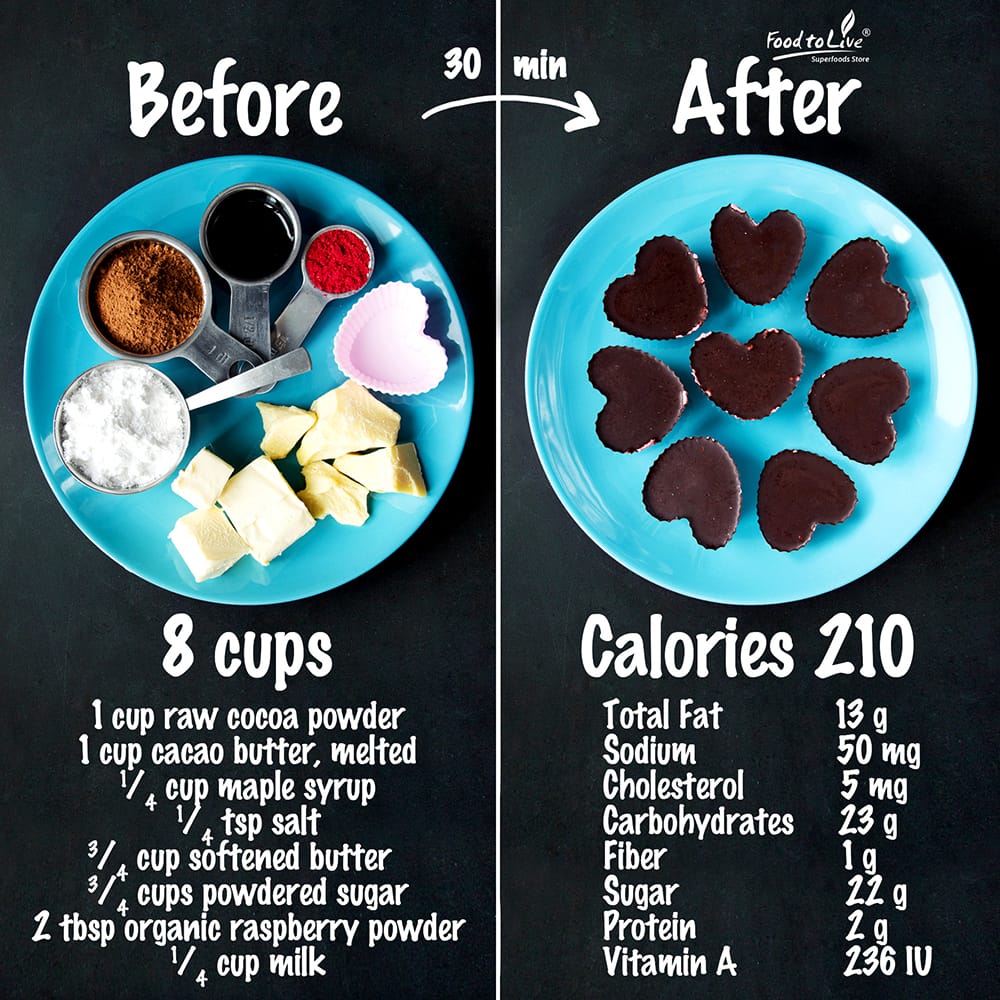 INSTRUCTIONS:
Use a double boiler to melt the cacao butter on low heat. Then add the maple syrup and salt and stir well.
Sift the cacao powder into the liquid ingredients and mix until thoroughly combined.
Carefully pour some melted chocolate into the molds and tilt it on all sides to make sure they are well covered. Put the molds in the freezer for 5-10 minutes. The chocolate will harden quickly. Note: If the chocolate coating is too thin, you can add a second layer and put the molds back in the freezer otherwise the cups won't be strong enough when biting into them and will 'explode'.
Add the butter (make sure the butter is at room temperature for about 15 – 20 min before starting – it shouldn't be runny or melted, but it should be malleable), powdered sugar, raspberry powder, and milk to a food processor and blend until creamy.
Add some raspberry filling to the middle of each chocolate cup.
Finally, cover the filling with more chocolate so that you create completely coated cups. Put back in the freezer for 5-10 minutes.
Remove the molds and enjoy them right away or store them in the fridge.