October 27, 2019 · Written by Foodtolive Team
Dark Chocolate Halloween Cookies
Let's make a spooky and tasty treat! These Dark Chocolate Halloween Cookies have a super soft and black-as-night dark chocolate cookie base that is studded with colorful Vegan "M&M's" Chocolate Candies.
Prep Time: 10 min | Cook Time: 10 min | Total Time: 20 min | Servings: 15 cookies
INGREDIENTS:
1/2 cup (112g) Vegan Butter
1 cup (200g) Brown Sugar
1 cup (125g) All-Purpose Flour
2/3 cup (56g) Cacao Powder
1 tsp Baking Soda
1 tsp Baking Powder
1/4 tsp Salt
3.5 oz (100g) Vegan Dark Chocolate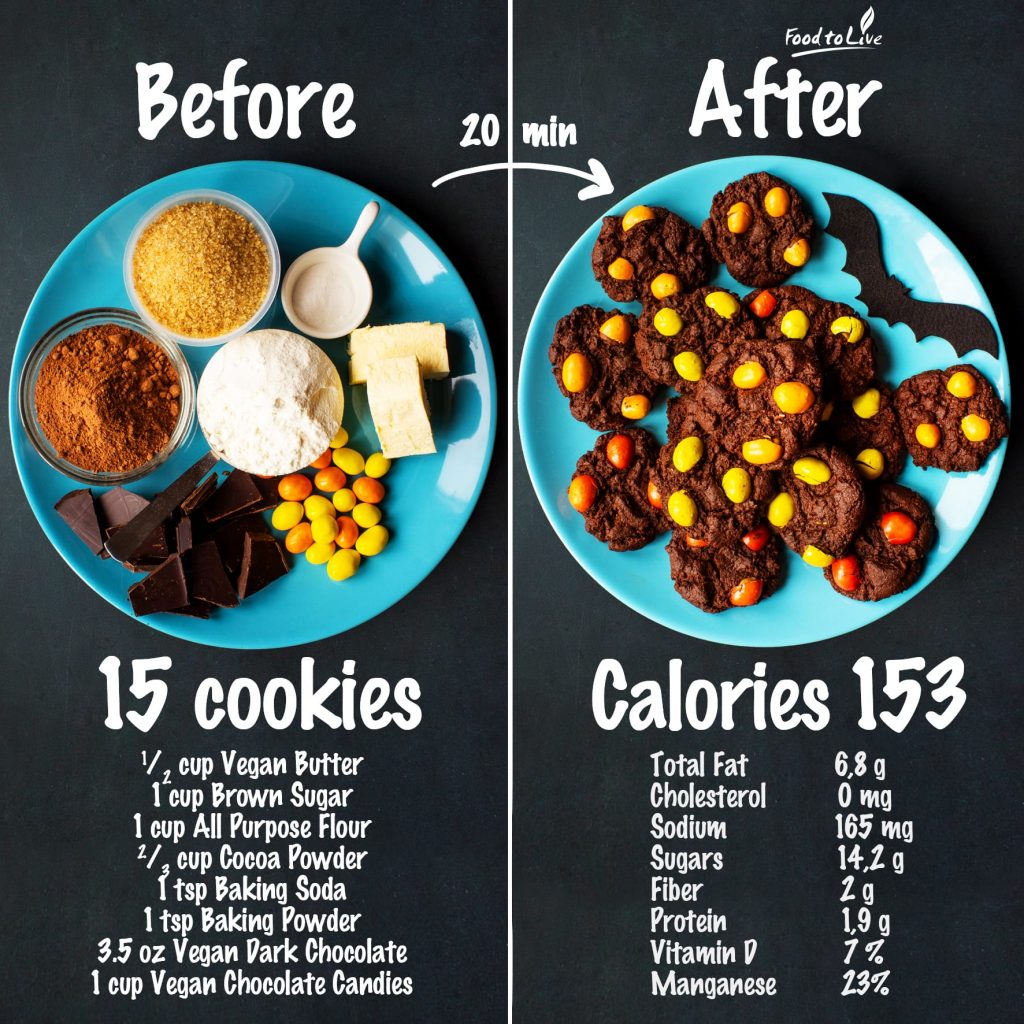 INSTRUCTIONS:
In a mixing bowl, cream together the melted vegan butter and sugar. Add the melted dark chocolate and mix well.
In a separate bowl, add the flour, cacao powder, baking soda, baking powder, and salt. Mix together well.
Gradually add the dry ingredients to the wet ingredients and mix well.
Line cookie baking sheet with parchment paper.
Use an ice cream scoop to scoop the dough onto the cookie sheets. Don't press them down, just leave them like that.
Gently press "M&M's" onto the cookies before baking so that bright candy shows!
Bake in a 350° (F) oven for 8-10 minutes, or until the cookies are done/firm around the edges when pressed. They will still be soft in the middle and just a little puffed up.
Remove from oven and cool cookies in the pans for 5 minutes, then transfer to a wire rack to finish cooling.