February 23, 2019 · Written by Foodtolive Team
The Best Vegan Brownies Ever
These vegan brownies are fudgy, chewy, and uber chocolatey. Plus they're quick and easy, and made with everyday ingredients!
Prep Time:10 min | Cook Time: 30 min | Total Time: 40 min | Servings: 9
INGREDIENTS:
6 oz vegan chocolate (170 g)
2 tablespoons ground flaxseed
6 tablespoons water
1 cup brown sugar
½ cup vegan butter, melted
1 teaspoon vanilla extract
¾ cup all-purpose flour
¼ cup of cocoa powder
1 teaspoon baking powder
½ teaspoon salt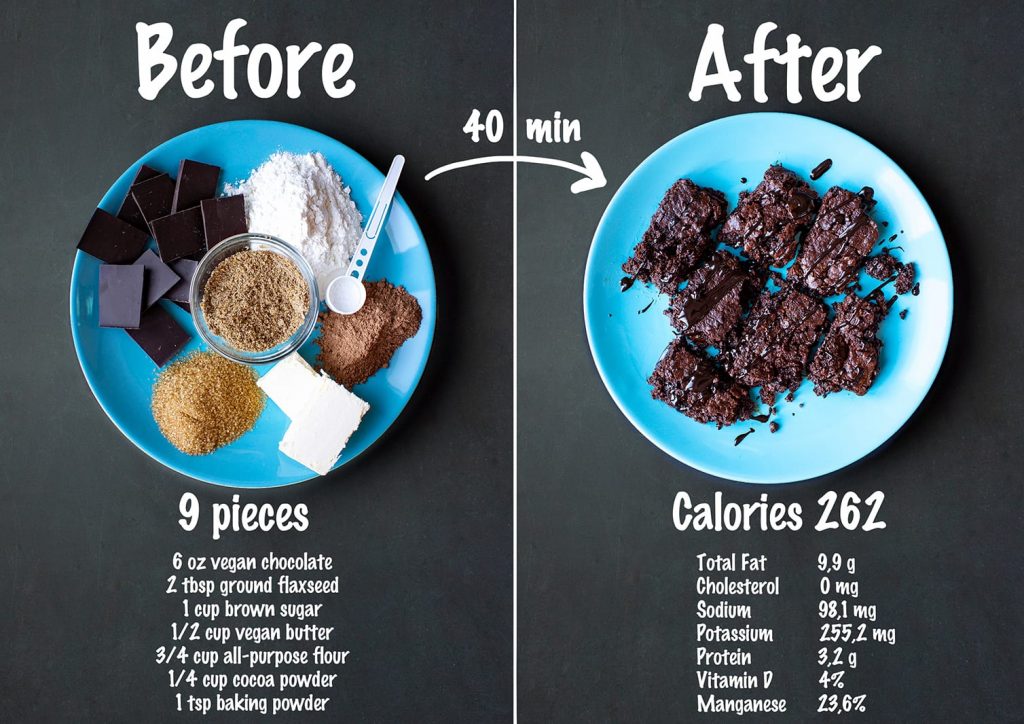 INSTRUCTION
Preheat the oven to 350°F (180°C). Line an 8-inch square baking dish with parchment paper.
Chop the chocolate into ½-inch (1 ¼ cm) pieces. Set aside half and melt the other half in a microwave-safe bowl for 45 seconds.
Make the flax egg: combine the ground flaxseeds with the water in a small bowl and mix with a fork. Set aside for at least 10 minutes to gel.
In a medium bowl, add the brown sugar and vegan butter and whisk until smooth. Then add the vanilla, flax eggs, and melted chocolate and whisk until well-combined.
Sift in the flour, cocoa powder, baking powder, and salt and fold with a spatula until all ingredients are combined. Be careful not to overmix. Then, stir in the reserved chocolate pieces.
Pour the batter into the baking dish and smooth the top with a spatula.
Bake for 30 minutes, until a fork inserted in the center, comes out clean. Let cool for at least 20 minutes.
Slice into 9 equal-sized pieces and serve.
Enjoy!