October 25, 2021 · Written by Foodtolive Team
Black Velvet Whoopie Pies
Make Halloween wicked delicious with these Black Velvet Whoopie Pies pop with Jack-O-Lantern orange fillings! The easy recipe uses basic pantry ingredients.
Prep Time: 15 min | Cook Time: 10 min | Total Time: 25 min | Servings: 18 cookies or 9 whoopie pies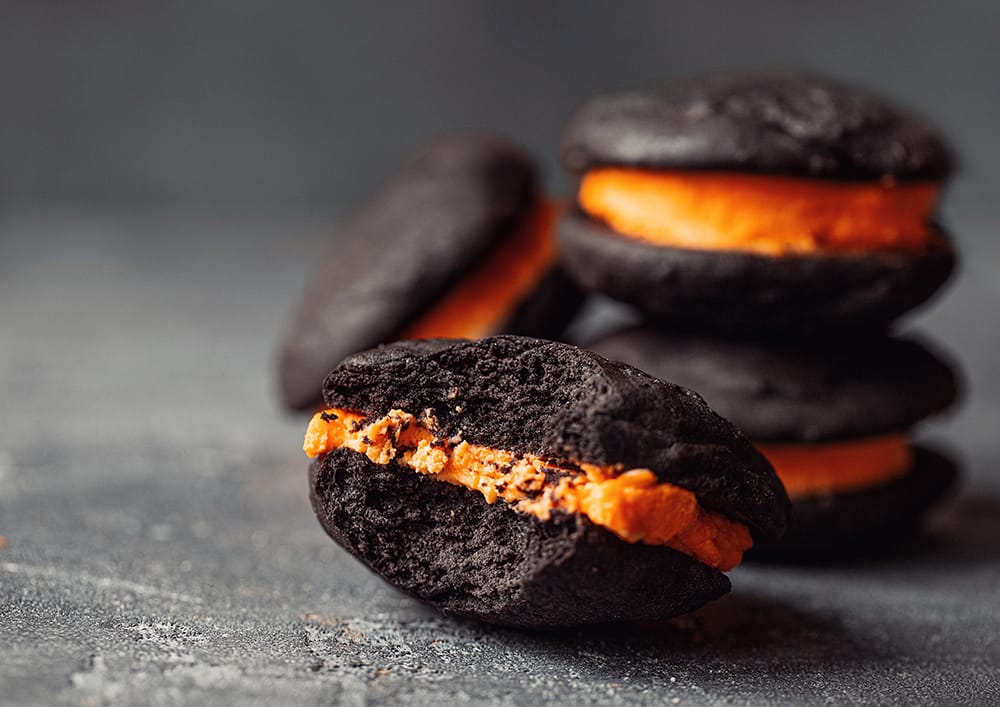 INGREDIENTS:
For the whoopie pies:
3 tbsp cocoa powder
1/2 tsp baking soda
1/4 tsp salt
1/2 cup butter (at room temperature)
1/3 cup granulated sugar
1 egg
1 tsp vanilla extract
1/2 cup buttermilk
3 tbsp black gel food coloring
For the filling:
4 oz cream cheese
1/4 cup butter (at room temperature)
1 tsp vanilla extract
3 tbsp powdered sugar
a few drops of orange gel food coloring
INSTRUCTIONS:
Preheat oven to 350 F. Line baking sheet with parchment or silicone baking mat. Set aside.
In a medium bowl whisk flour, cocoa powder, baking soda, and salt together; set aside.
In a large mixing bowl beat butter on medium for 30 sec. Add in the sugar, and beat until well-combined.
Beat in egg and vanilla extract.
Alternate adding flour mixture and buttermilk, mixing after each addition just until combined. Stir in black gel food coloring.
Spoon 1 tbsp of batter, spacing cookies about 2 inches apart on the prepared baking sheet.
Bake 7-12 min, or until cookies are set. Let cool for 5 min on the baking sheet. Remove to a wire rack to finish cooling.
For the filling beat cream cheese and butter until smooth.
Add vanilla and slowly add powdered sugar until you reach your desired consistency. Stir in orange gel food coloring.
Top cooled cookie with cream cheese filling, and then place another cookie on top. Repeat with remaining cookies and filling.