October 25, 2021 · Written by Foodtolive Team
Black Velvet Whoopie Pies
Turn your Halloween into a wickedly delicious affair with these Black Velvet Whoopie Pies bursting with vibrant Jack-O-Lantern orange fillings! You can whip up these tasty treats using basic ingredients you probably already have in your kitchen.
Prep Time: 15 min | Cook Time: 10 min | Total Time: 25 min | Servings: 18 cookies or 9 whoopie pies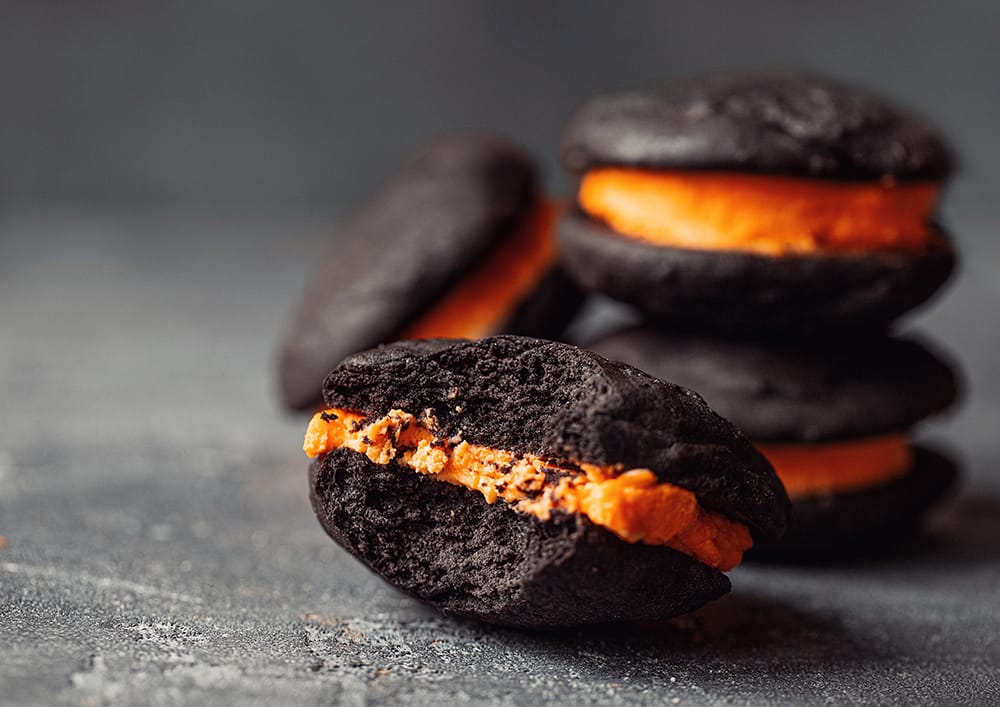 INGREDIENTS:
For the whoopie pies:
3 tbsp cocoa powder
1/2 tsp baking soda
1/4 tsp salt
1/2 cup butter (at room temperature)
1/3 cup granulated sugar
1 egg
1 tsp vanilla extract
1/2 cup buttermilk
3 tbsp black gel food coloring
For the filling:
4 oz cream cheese
1/4 cup butter (at room temperature)
1 tsp vanilla extract
3 tbsp powdered sugar
a few drops of orange gel food coloring
INSTRUCTIONS:
Preheat your oven to 350°F and line a baking sheet with parchment paper.
In a bowl, whisk together flour, cocoa powder, baking soda, and a pinch of salt. Set aside.
In another bowl, beat butter, sugar, egg, and vanilla until well combined.
Gradually add the dry mixture to the wet one, alternating with buttermilk. Stir in black food coloring.
Spoon 1 tbsp of batter onto the baking sheet, spacing them 2 inches apart.
Bake for 7-12 min until set. Cool for 5 min, then transfer to a wire rack.
For the filling, mix cream cheese, butter, vanilla, powdered sugar, and orange food coloring.
Spread filling on one cookie, top with another. Repeat with remaining cookies and filling.
Enjoy your Halloween Whoopie Pies!
This recipe adapted from I AM BAKER
Video Recipe