October 18, 2022 · Written by Foodtolive Team
Top 3 Kid-Friendly Halloween Drinks
If you are looking for Halloween drink recipes for kids, look no further! Here, we have some healthy, kid-friendly, colorful, and spooky drinks to keep up the Halloween "spirit" at your kid's party. Insanely easy to make and ready in less than 10 minutes.
Hocus Pocus Witches Brew
Prep Time: 5 min | Cook Time: 0 min | Total Time: 5 min | Servings: 2
Calories: 146 | Total Fat: 1.6g | Cholesterol: 0g | Sodium: 21mg | Sugar: 17.1g | Protein: 0.6g
Surprise your Halloween guests with this magic, color changing bubbling drink! It looks so artificial, but couldn't be more natural! Add some dry ice for an awesome 'bewitching' effect!

INGREDIENTS:
1 tbsp simple syrup

½  tsp edible glitter

2 cups sparkling water

2 tbsp lemon juice

ice cubes

dry ice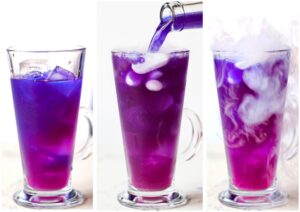 INSTRUCTIONS:
In a bottle or cocktail shaker

combine

butterfly pea flower powder, simple syrup, edible glitter, and sparkling water

. Give it a good shake.

Fill glasses with ice and pour 2/3 of the way with butterfly pea mixture.

Slowly pour in lemon juice, and watch your cocktail turn from vibrant blue into a deep purple!

Add a small chunk of dry ice (be careful, see notes) to get that amazing spooky effect.

Serve immediately while the dry ice is bubbling away. At this point, your guests can take some fun photos and videos.

Enjoy your drink when the dry ice disappears completely from the glass (in about 5 minutes).
Notes:
Do not swallow dry ice or touch it with bare skin.
Dry ice is the solid form of carbon dioxide. As it melts it turns into a gas, which makes the smoking effect. Dry ice is safe for using in drinks, as long as you avoid swallowing and use tongs during handling. A 1-inch chunk will settle to the bottom of drinks and disappear in about 5 minutes. You can sip the top of the drink, or for maximum safety wait until the dry ice disappears completely from the glass.
This recipe inspired by So Yummy
Jack O'Lantern Floats
Prep Time: 10 min | Cook Time: 0 min | Total Time: 10 min | Servings: 2
Calories: 445 | Total Fat: 12g | Cholesterol: 3mg | Sodium: 129mg | Sugar: 27g | Protein: 5.6g
These Jack O'Lantern Floats are a sweet and spooky twist on a classic! Made with Fanta orange soda, macadamia nut ice cream, and gummy kabobs they're the perfect, easy treat to impress kids and adults alike this Halloween!
INGREDIENTS:
For the floats:
For the gummy kabobs:
gummy candy (eyes, teeth, worms, etc.)

bamboo

skewers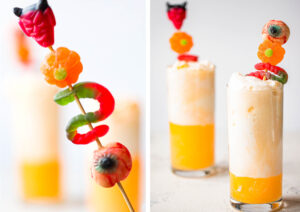 INSTRUCTIONS:
To make gummy kabobs, soak the skewers in water for a minute. Take one skewer and shake off excess water. Place a larger gummy at the bottom, about 2 inches from the end. Stack additional gummies on top. When about half-inch from the top, add a larger gummy to cover the sharp point. 

Add two scoops of ice cream to each glass.

Pour Fanta over ice cream.

Top with gummy kabob and enjoy!
Notes:
Optionally you can decorate your glasses with Jack O'Lantern face using black tape.
This recipe adapted from Salty Canary
Dairy-Free Chocolate Freakshake
Prep Time: 10 min | Cook Time: 0 min | Total Time: 10 min | Servings: 2
Calories: 270 | Total Fat: 7.1g | Cholesterol: 3mg | Sodium: 226mg | Sugar: 31.6g | Protein: 2.8g
Celebrate Halloween with this faBOOlous healthy Chocolate Freakshake recipe! Make them creepy or cute with candy eyeballs, and a fun sprinkle mix.
INGREDIENTS:
For the freakshake:
½ frozen banana

3 tbsp cocoa powder

3 tbsp maple syrup

2 cups almond milk

½ cup ice cubes
For the decorating:
chocolate chips

Halloween sprinkles

cookie straw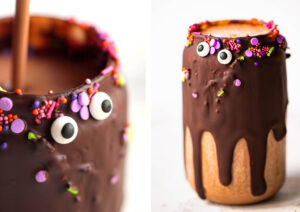 INSTRUCTIONS:
In a high speed blender, add all freakshake ingredients and blend until thick and creamy. 

Decorate glasses with melted chocolate, sprinkles, and candy eyes.

Pour in the freakshake, top with cookie straw, and enjoy!
Video Recipe