July 06, 2018 · Written by Foodtolive Team
Vegetarian Shepherd's Pie
Get ready to savor the goodness of Vegetarian Shepherd's Pie. It's a cozy dish with veggies, tasty gravy, and creamy mashed potatoes that's perfect for a satisfying meal.
Prep Time 10 minutes | Cook Time 45 minutes | Total Time 55 minutes | Servings 6
INGREDIENTS:
1 cup cooked lentils
1 garlic clove
1 onion
1 tbsp olive oil
2 carrots
2 stalks celery
8 oz mushrooms
3/4 tsp salt
1 tsp dried thyme
1/3 tsp chili paprika
Freshly cracked pepper
1 tbsp tomato paste
1 tbsp flour
1 cup vegetable broth
1 cup frozen peas
4 cups mashed potatoes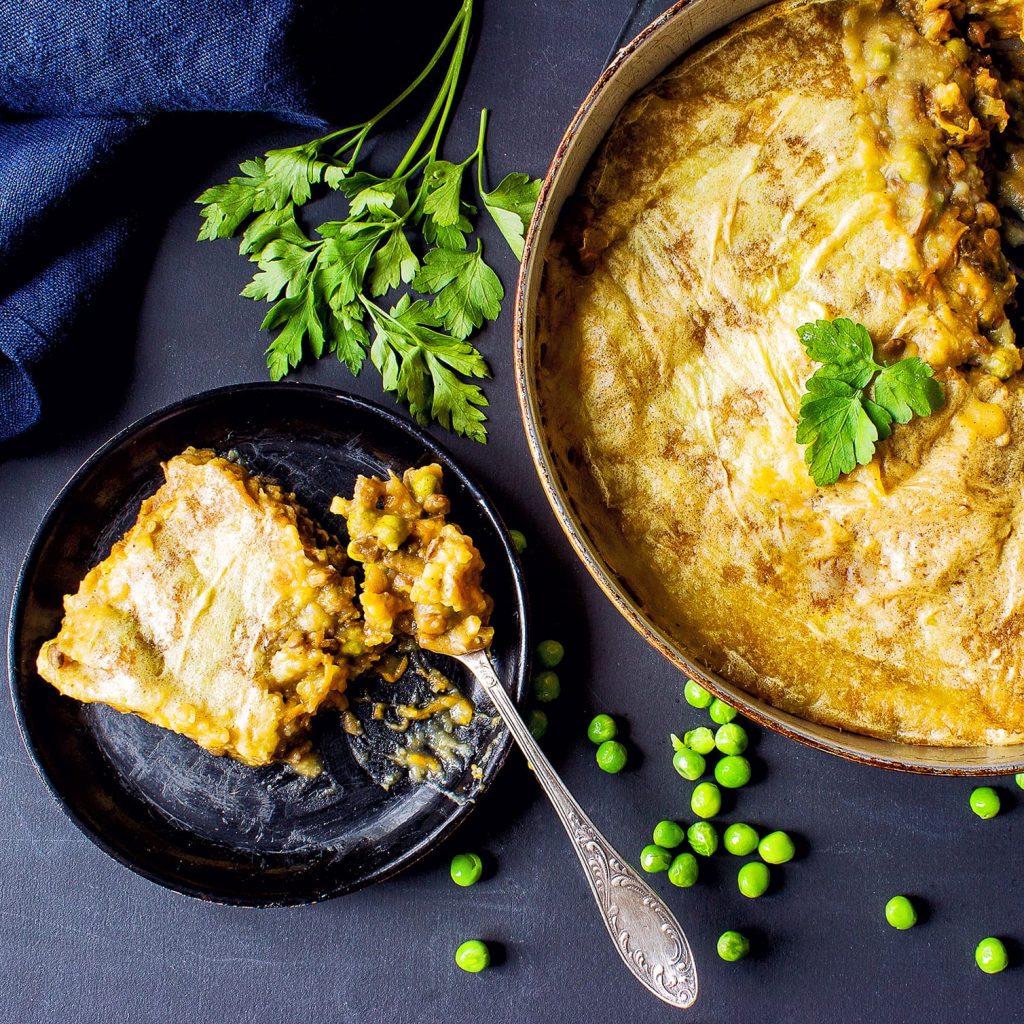 INSTRUCTIONS:
Preheat your oven to 400°F (200°C).
Start by mincing the garlic and chopping onion. Heat the olive oil in a large ovenproof skillet over medium heat. Add the garlic and onion and sauté for about 2-3 min until they become fragrant.
While the garlic and onion are cooking, dice the carrots, celery, and mushrooms. Add them to the skillet with the sautéed garlic and onion.
Season the vegetables with salt, dried thyme, chili paprika, and freshly cracked pepper. Sauté for another 5-7 min, or until the vegetables have softened.
Stir in the tomato paste and flour, ensuring that the vegetables are well coated.
Pour in the vegetable broth and stir until the mixture thickens. This should take about 2-3 min.
Add the cooked lentils and frozen peas to the skillet, stirring until everything is well combined. Cook for an additional 2-3 min.
Remove the skillet from the heat and evenly spread the mashed potatoes on top of the lentil and vegetable mixture. You can use a fork to create a decorative pattern on the potato topping.
Place the skillet in the preheated oven and bake for 20-25 minutes or until the top is golden brown and the filling is bubbling.
Once done, remove the vegetarian shepherd's pie from the oven and let it cool for a few minutes before serving. Enjoy your hearty and delicious meal!
This recipe slightly adapted from Budget Bytes
Video Recipe