July 06, 2018 · Written by Foodtolive Team
Vegetarian Shepherd's Pie
Take advantage of this vegetarian shepherd's pie powerhouse squad of lentils, green peas, carrots and spices for a healthy and yummy treat. It's loaded with fiber and protein that you get from meat-based version but without the infamous saturated fats.
Prep Time 10 minutes | Cook Time 45 minutes | Total Time 55 minutes | Servings 6
INGREDIENTS:
1 cup cooked lentils
2 cloves garlic
1 yellow onion
1 Tbsp olive oil
2 carrots
2 stalks celery
8 oz. button mushrooms
3/4 tsp salt
1 tsp dried thyme
1/3 tsp chili paprika
Freshly cracked pepper
1 Tbsp tomato paste
1 Tbsp flour
1 cup vegetable broth
1 cup frozen peas
4 cups mashed potatoes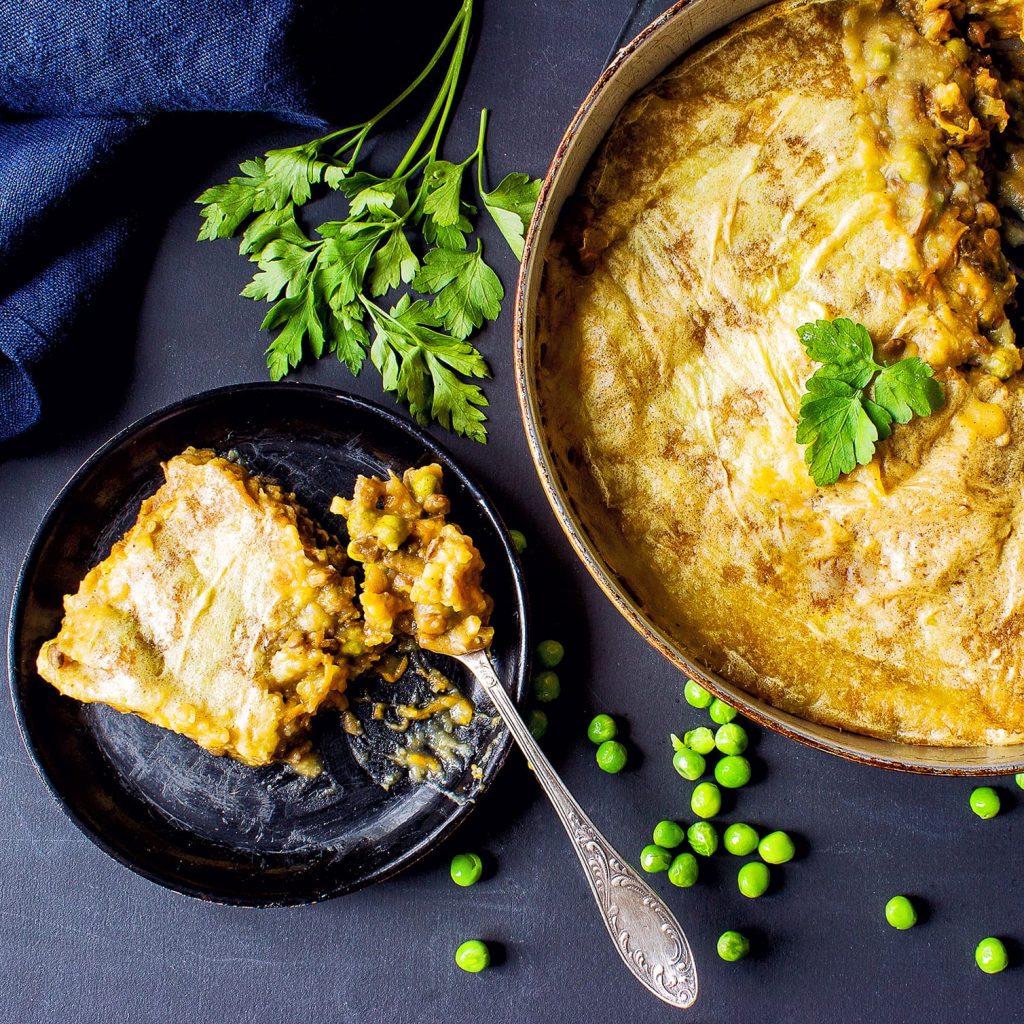 INSTRUCTIONS:
Mince the garlic and dice the onion. Sauté the onion and garlic with olive oil in a large skillet over medium heat until the onions are soft and transparent.
Peel and dice the carrots, dice the celery, and slice the mushrooms. Add the carrots and celery to the skillet and continue to sauté until the celery begins to soften slightly.
Finally, add the mushrooms, salt, thyme, chili paprika, and freshly cracked pepper to the skillet. Continue to sauté until the mushrooms have fully softened. Add the tomato paste and flour to the skillet. Stir and cook the vegetables with the flour and tomato paste.
Add the vegetable broth to the skillet, stirring to dissolve the flour and tomato paste from the bottom of the skillet. Stir in the cooked lentils and frozen peas, and allow to mixture to heat through.
Preheat the oven to 400ºF. Pour the vegetable mixture into a casserole dish. Spread the mashed potatoes out over the surface of the vegetables and gravy. Use your spoon to make a decorative pattern in the mashed potatoes, if desired.
Bake the shepherd's pie in the fully preheated oven for 15 minutes.