March 22, 2020 · Written by Foodtolive Team
Hearty Vegan Split Pea Soup
Take a delicious culinary adventure with this vegan split pea soup recipe. This hearty, plant-based soup is a comforting mix of flavors and textures that will warm your soul. Get ready to enjoy a bowl of wholesome goodness that's perfect for any day.
Prep Time: 20 min | Cook Time: 1 hour 15 min | Total Time: 1 hour 35 min | Servings: 4
INGREDIENTS:
2 cups dried green split peas
1 tbsp oil
1 onion, chopped
3 cloves garlic, chopped
1 tsp smoked paprika
1/2 tsp dried thyme
1/2 tsp marjoram
1/4 tsp black pepper
5 cups vegetable broth
2 medium potatoes, peeled and cubed
1 large carrot, chopped
Salt, to taste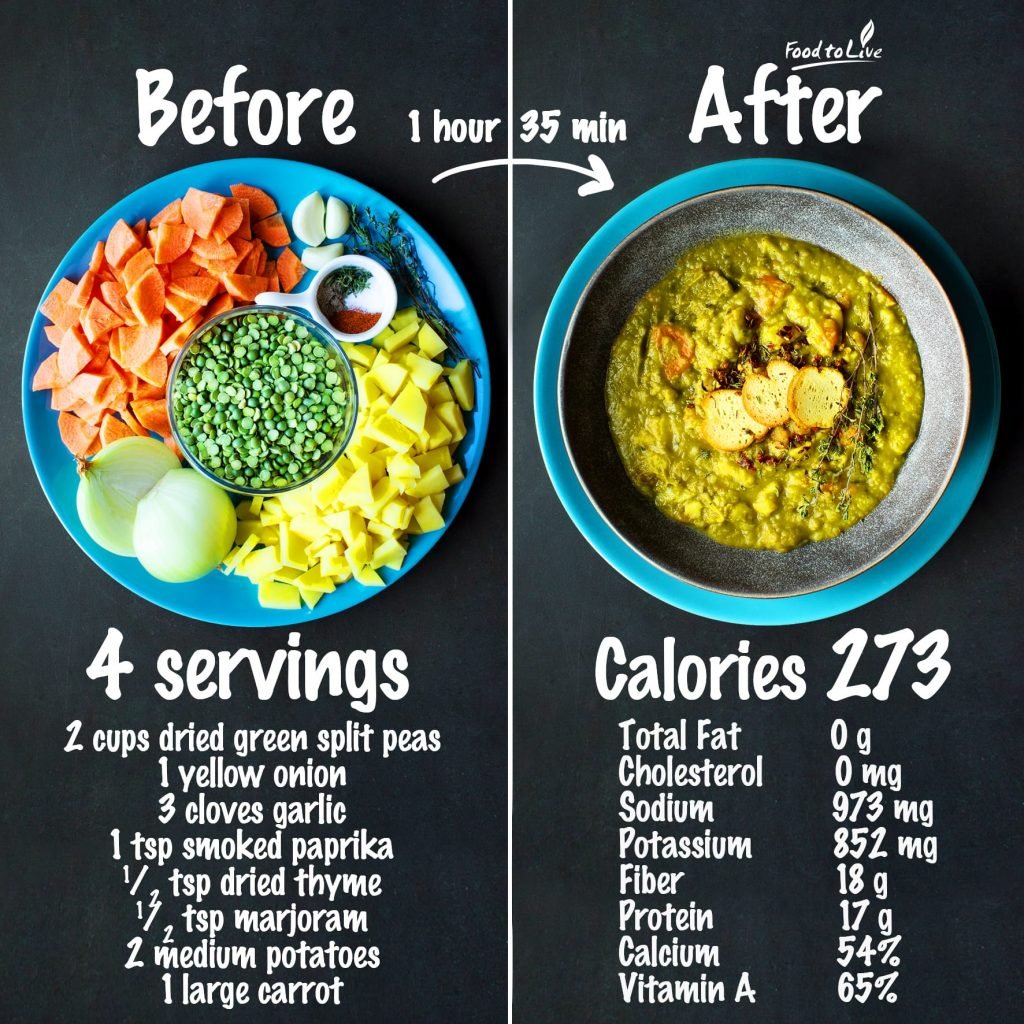 INSTRUCTIONS:
Begin by rinsing the split peas and setting them aside.
In a large pot over medium heat, heat the oil and sauté the chopped onion until it turns translucent.
Add the garlic, smoked paprika, thyme, marjoram, and black pepper, and sauté for another two minutes.
Now, add the split peas and vegetable stock to the pot. Turn up the heat to bring it to a boil, then reduce to low, cover with a lid, and let it simmer for about 60 min. You'll know it's ready when the peas are tender and starting to break apart.
Next, add the potatoes and carrots to the soup. Bring it to a simmer once more and let it cook for about 10 min, or until the potatoes are tender.
Season with salt to your liking, top with croutons, and enjoy!
This recipe adapted from Karissa's Vegan Kitchen
Video Recipe