October 06, 2019 · Written by Foodtolive Team
Butternut Squash Soup with Sage and Thyme
Indulge in the warm and comforting flavors of Butternut Squash Soup with Sage and Thyme. This creamy, aromatic soup is a delightful blend of roasted butternut squash, fragrant sage, and earthy thyme. Perfect for those cozy evenings or special occasions, it's a savory bowl of goodness that will warm both your heart and your taste buds.
Prep Time: 10 min | Cook Time: 40 min | Total Time: 50 min | Servings: 6
INGREDIENTS:
2 tbsp dairy-free butter
1 large onion, chopped
3 cloves garlic, chopped
1 tsp dried sage
2 small butternut squash, peeled, seeded, and diced
4 cups vegetable broth
1 tsp salt
1/2 tsp ground black pepper
2 sprig fresh thyme + more for garnish
pumpkin seeds, for garnish
coconut cream, for garnish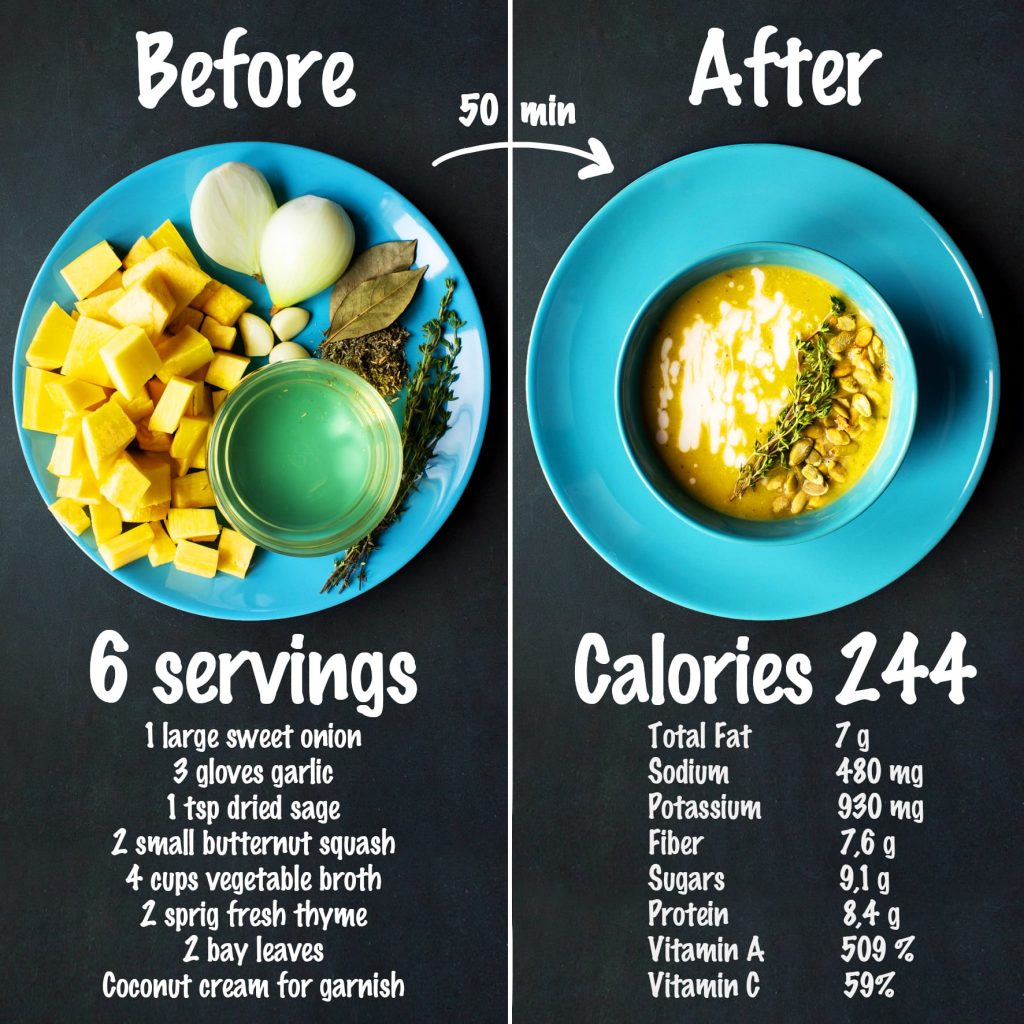 INSTRUCTIONS:
In a large pot, melt the butter over medium heat until it's foamy.
Add the onion and cook for 3-4 min until it's soft and slightly brown.
Stir in the garlic for 1-2 min until it smells nice, then add the sage for 1 more minute.
Put in the squash, broth, salt, and pepper. Also, add the thyme and bay leaf.
Turn up the heat until it boils, then lower it and let it simmer, covered, for 30 min or until the squash is soft.
Take out the bay leaf and thyme. Use a blender to mix everything until it's smooth. If it's too thick, add a bit of water or broth to get the consistency you want. Taste and add more salt, pepper, or sage if needed.
Serve it in bowls with a swirl of coconut cream or heavy cream, some fresh sage or thyme leaves, and a sprinkle of pumpkin seeds. Enjoy!
This recipe adapted from Our Salty Kitchen
Video Recipe