October 06, 2019 · Written by Foodtolive Team
Butternut Squash Soup with Sage and Thyme
Butternut squash velvety soup with sage and thyme is a seasonal nutritional powerhouse.
Prep Time: 10 min | Cook Time: 40 min | Total Time: 50 min | Servings: 6
INGREDIENTS:
2 tbsp dairy-free butter
1 large sweet onion, chopped
3 cloves garlic, chopped
1 tsp dried sage
2 small butternut squash, peeled, seeded, and diced
4 cups vegetable broth
1 tsp sea or kosher salt
1/2 tsp cracked black pepper
2 sprig fresh thyme + more for garnish
2 bay leaves
pumpkin seeds for garnish
coconut cream for garnish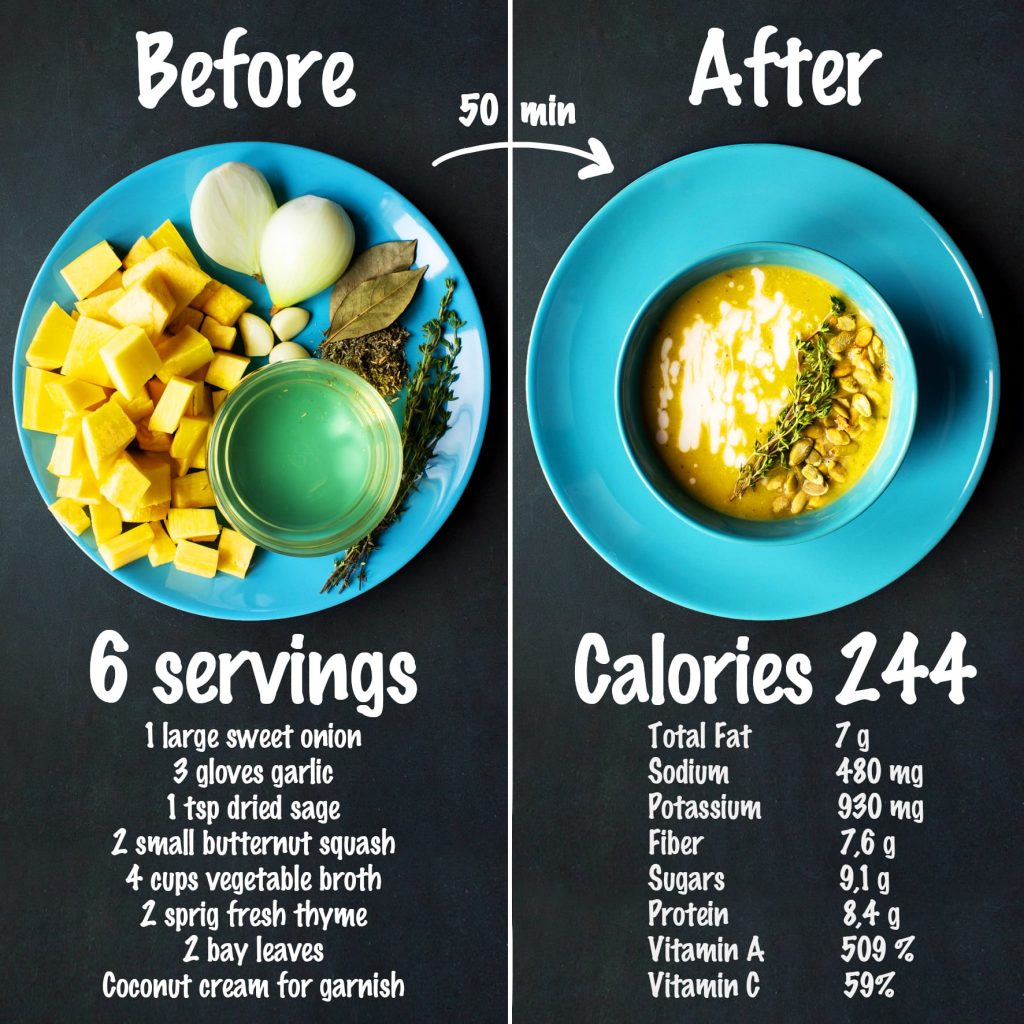 INSTRUCTIONS:
Using a 6-quart dutch oven, heat the butter over medium until it foams. Add the onion and cook, stirring occasionally, until soft and browning around the edges, 3-4 minutes.
Add the garlic to the pot and cook, stirring continuously, until fragrant, 1-2 minutes. Sprinkle the sage over the onions and garlic and cook, stirring continuously, for about 1 minute.
Add the squash, broth and salt and pepper to taste and stir all ingredients. Add thyme and bay leaf, increase heat to medium-high and bring the liquid to a boil. Then, lower the heat to medium-low and simmer, covered, for 30 minutes or until the squash is soft.
Discard the bay leaf and thyme. Blend all ingredients with a handheld stick blender. If the consistency is too thick, add water or broth 1 tbsp at a time until desired consistency is reached. Taste for seasoning and add additional salt, pepper, or sage.• Ladle into soup bowls, garnish with coconut cream or heavy cream, additional fresh sage or thyme, and pumpkin seeds. Serve immediately.