November 11, 2019 · Written by Foodtolive Team
Fall Favorites: 5 Must-Try Vegan Recipe Ideas
Autumn is the best time to experience some of the best-tasting seasonal foods like squash, pumpkin, cranberries, and more!
While all the traditional treats are tempting, there are plenty of other fall favorites to keep you on track and feeling great.
Get inspired by these five must-try vegan recipe ideas.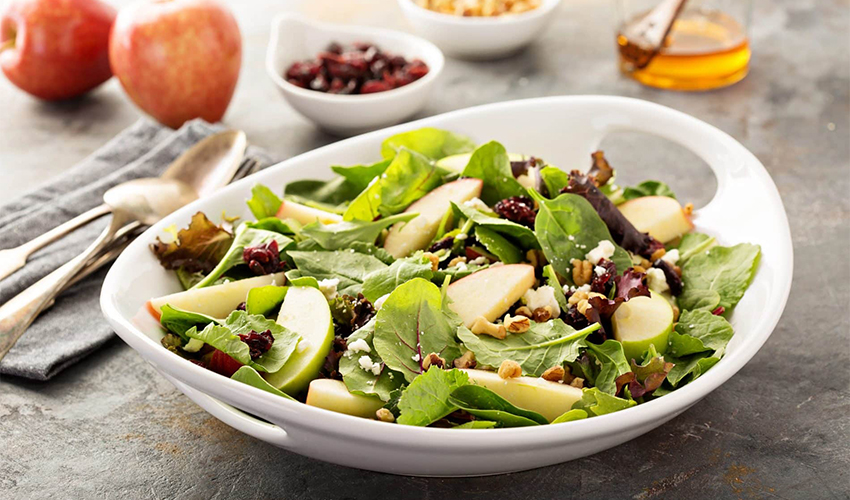 Green Salad with Apples and Dried Cranberries
Enjoy this green salad with apples and dried cranberries as a side or as the main course.
Prep time: 10 minutes | Cook time: 5 minutes | Total time: 15 minutes | Yield: 6 servings
Ingredients for Salad:
6 cups of assorted greens
1 red apple
1 green apple
1 cup of walnuts, roughly chopped
⅓ cup vegan feta cheese, crumbled
⅓ cup dried cranberries
Ingredients for Dressing Option #1:
1 cup apple juice
4 tablespoons apple cider vinegar
2 tablespoons blue agave nectar
½ teaspoon salt
¼ teaspoon black pepper
¼ cup oil
Ingredients for Dressing Option #2:
½ cup unsweetened almond milk
¾ cup vegan mayonnaise, or 1 cup for a thicker dressing
⅓ cup coconut or granulated sugar
2 tablespoons white wine or balsamic vinegar
1 teaspoon dijon mustard
1-2 tablespoons poppy seeds
To Make Salad:
Chop apples into thin slices, or ½" pieces.
Mix the greens, apples, walnuts, feta, and cranberries in a large bowl.
Pour preferred dressing option and toss well.
To Make Dressings:
Add ingredients to a blender. To keep them from sticking to the blender bowl, add them in the order they are listed.
Blend on high until thoroughly combined, about 45 seconds.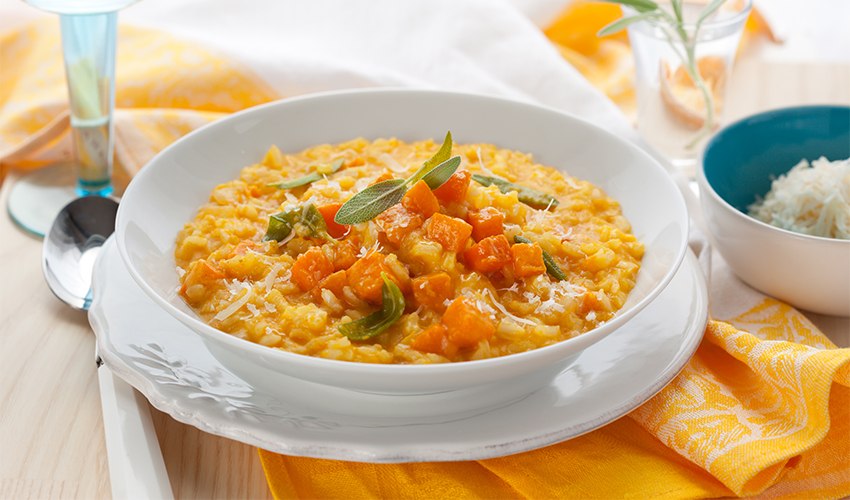 Creamy Pumpkin Risotto
Pumpkin is one of the healthiest foods of the season, and this creamy pumpkin risotto is an easy recipe when you want more of it in your diet.
Butternut squash can also be used as a substitute for the pumpkin or added for additional depth and flavor.
Total time: 40 minutes | Yield: 4-5 servings
Ingredients:
½ medium pie pumpkin or butternut squash, or 1 cup pumpkin puree
1 tablespoon olive oil
⅓ diced onion
1 cup Arborio rice
¼ cup dry white wine
3 ½ cups vegetable broth
¼ cup nutritional yeast or vegan parmesan
Salt to taste
To Make the Pumpkin/Squash:
Preheat the oven to 450°F.
Slice the pumpkin in half, place on a baking sheet lined with parchment paper, and bake until the flesh is soft, about 40 minutes.
When the timer ends, scoop the insides of the pumpkin in a bowl and remove any seeds. Use a fork to mash.
To Make the Risotto:
While the pumpkin is in the oven, prep the risotto.
Heat the oil in a shallow saucepan or skillet over medium heat. Then, add the onion and cook until slightly brown.
Add the rice and stir for 1 minute.
Add the wine to the saucepan and cook until it is absorbed by the rice, making sure to stir often.
Pour 1 cup of vegetable broth in the pan, cooking until completely absorbed by the rice. Stir often, then repeat with 1 more cup of stock. Make sure the liquid is absorbed and stir frequently.
Repeat step 5 until the rice reaches a fluffy and creamy consistency. It is okay if you don't use all of the vegetable broth before the rice reaches this point.
Turn the heat down to a simmer and add the pumpkin or squash.
Add the nutritional yeast and salt to taste, then stir.
Let sit for 5-10 minutes before serving.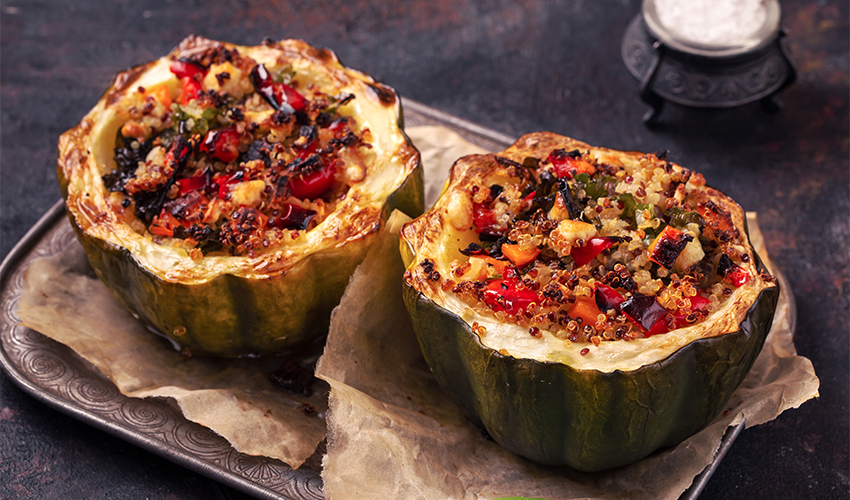 Quinoa-Stuffed Acorn Squash
It has plenty of fruits and vegetables for a nutritious meal, and the protein from the quinoa will help satisfy hunger throughout the day.
Prep time: 25 minutes | Cook time: 30 minutes | Total time: 55 minutes | Yield: 6 servings
Ingredients:
¾ cup quinoa
1 ½ cups vegetable broth
3 medium acorn squashes
1 small onion, finely chopped
1 stalk of celery, finely chopped
1 large apple, chopped
8 ounces cremini mushrooms, diced
½ cup cranberries, fresh or frozen
3 garlic cloves, minced
2 tablespoons olive oil
1 teaspoon sage
1 teaspoon thyme
½ teaspoon cinnamon
1 teaspoon salt
Pepper to taste
Optional: 2 tablespoons maple syrup
To Make the Roasted Squash:
Preheat oven to 425°F.
Take each squash and slice a thin layer off of the bottom, forming a flat base for the squash to stand. Careful not to cut too much, or it will make a hole.
If the stems poke out, cut them off. Then, cut the squash in half horizontally.
Remove the seeds and membranes.
Lay the squash cut-side up on a baking sheet lined with parchment paper. Brush with olive oil and season with a dash of salt and pepper. If desired, brush with maple syrup.
Roast the squash until tender, about 35-45 minutes.
To Make the Stuffing:
Meanwhile, add the quinoa and vegetable broth to a medium pot. Bring to a boil, then lower heat and simmer. Cover and cook until quinoa absorbs the liquid and appears fluffy, about 15-20 minutes. Fluff with a fork and remove from heat.
Heat 2 tablespoons of oil over medium heat in a large pan, then saute the onion, celery, and apples until tender, about 5-6 minutes.
Add mushrooms, cranberries, garlic, sage, thyme, cinnamon, salt, and pepper and saute until mushrooms and cranberries are tender, about 7-9 minutes. Use vegetable broth or white wine to prevent food from sticking to the pan.
Remove the pan from heat and add the quinoa. Mix well and add seasoning to taste.
Fill the stuffing with squash once it is ready. Place in the oven and bake until the quinoa is golden brown and crispy, about 10-15 minutes. For a crispier top, drizzle oil over the top of the stuffing.
Apple Pie
This vegan-friendly apple pie is so delicious and easy. No one will be able to tell that it's vegan, and will be a favorite at your next holiday dinner or potluck.
Cook time: 1 hour | Yield: 6 servings
Ingredients for Crust:
2 ½ cups all-purpose flour, with more for dusting
1 tablespoon sugar
1 teaspoon kosher salt
1 cup vegan butter, cubed and chilled
6 tablespoons of ice water
Ingredients for Filling:
7 granny smith apples
2 cups sugar, plus 1 teaspoon, divided
1 lemon, zested
½ lemon, juiced
5 tablespoons cornstarch
1 tablespoon melted coconut oil, plus 1 teaspoon, divided
½ teaspoon salt
4 teaspoons cinnamon, divided
To Make the Crust:
Mix the flour, sugar, and salt in a large bowl
Add the cubed butter one at a time. Use a fork to work it into the flour mixture until it breaks down into dime-sized pieces.
Slowly add the ice water, mixing just until the dough can press together.
Separate the dough in half, then mold it into discs. Wrap in plastic wrap and chill for 1 hour.
To Make the Filling:
Peel and core the apples and cut into thin slices.
Place slices in a large bowl and add 2 cups of sugar, lemon zest and juice, cornstarch, 1 teaspoon coconut oil, salt, and 3 teaspoons of cinnamon. Mix until the apples are evenly coated, then set aside.
To Make the Pie:
Preheat the oven to 350 ̊F.
Dust a little bit of flour on a flat surface and roll dough discs to about 1 inch thick. Place one round into a greased 8-inch pie dish and carefully press the bottom and sides.
Trim the extra dough from the edges and prick the entire bottom of the crust with a fork.
Scoop the apples into the bottom crust and cover with the other dough round. Trim the extra dough from the edge and crimp the top and bottom of the crust together using a fork.
Brush the top crust with the last tablespoon of coconut oil. Sprinkle with last of the sugar and cinnamon, then slice 4 small slits in the top crust.
Bake until the crust becomes golden brown, about 1 hour.
Remove from oven and let stand for 10 minutes, then slice and serve.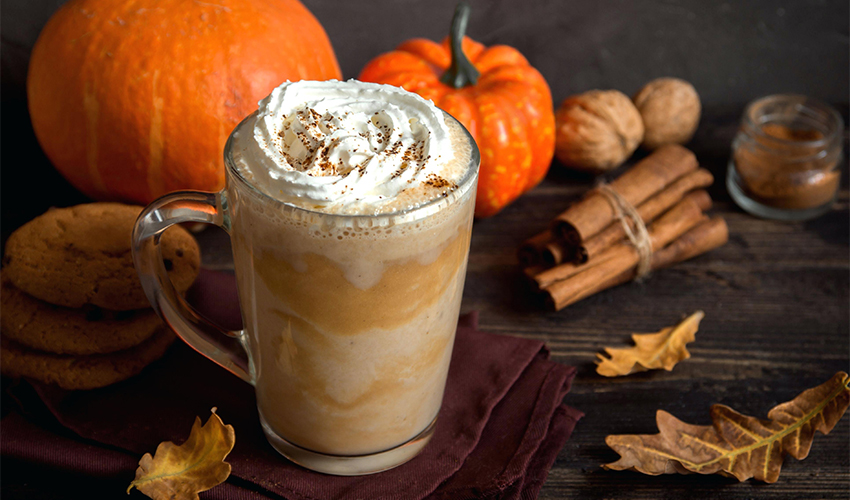 Pumpkin Spice Latte
Skip the coffee shop line and the sugar with this quick and easy vegan-friendly pumpkin spice latte recipe. You'll feel like your very own barista, all from the comfort of home!
Prep time: 5 minutes | Cook time: 5 minutes | Total time: 10 minutes | Yield: 2-3 servings
Ingredients:
2 cups unsweetened nut milk
¼ cups pumpkin puree
3-4 tablespoons maple syrup
2 tablespoons vanilla extract
¼-½ teaspoon pumpkin pie spice to taste
⅔ cup dark roast hot coffee
Optional: ¼ cup full-fat coconut milk
To Make:
With a fork or whisk, mix the nut milk, pumpkin puree, coconut milk, maple syrup, and vanilla extra in a medium saucepan over medium heat
Warm mixture until steam rises from the edge of the pan, about 5 minutes.
Remove the saucepan from the heat and add the pumpkin pie spice and brewed coffee.
Stir quickly until the mixture becomes frothy. Use an immersion blender for extra foam.
Pour and top with extra pumpkin pie spice if desired.
Fall in Love with Food To Live
There's much more where that came from! Check out the Food To Live blog for more tasty fall treats to keep you happy and healthy all season long.
And don't forget, the Shop has all your favorite snacks and ingredients all-year-round, so be sure to see what's in store for you!