December 16, 2019 · Written by Foodtolive Team
Wholesome Tri-Color Quinoa Salad with Roasted Vegetables
Indulge in a delicious and healthy meal with our Wholesome Tri-Color Quinoa Salad. It's a flavorful mix of quinoa and roasted veggies, bringing you a satisfying and nutritious dish in no time!
Prep Time: 10 min | Cook Time: 30 min | Total Time: 40 min | Servings: 4-6
INGREDIENTS:
1 cup tri-color quinoa
3 cups of water
8 oz brussels sprouts, cut in half
1/2 butternut squash, peeled and cubed
1 small red onion, peeled and chopped
1/3 cup walnuts, roughly chopped
1/4 cup dried cranberries
2 tbsp olive oil, divided
Salt & freshly ground black pepper, to taste
2 tsp fresh lemon juice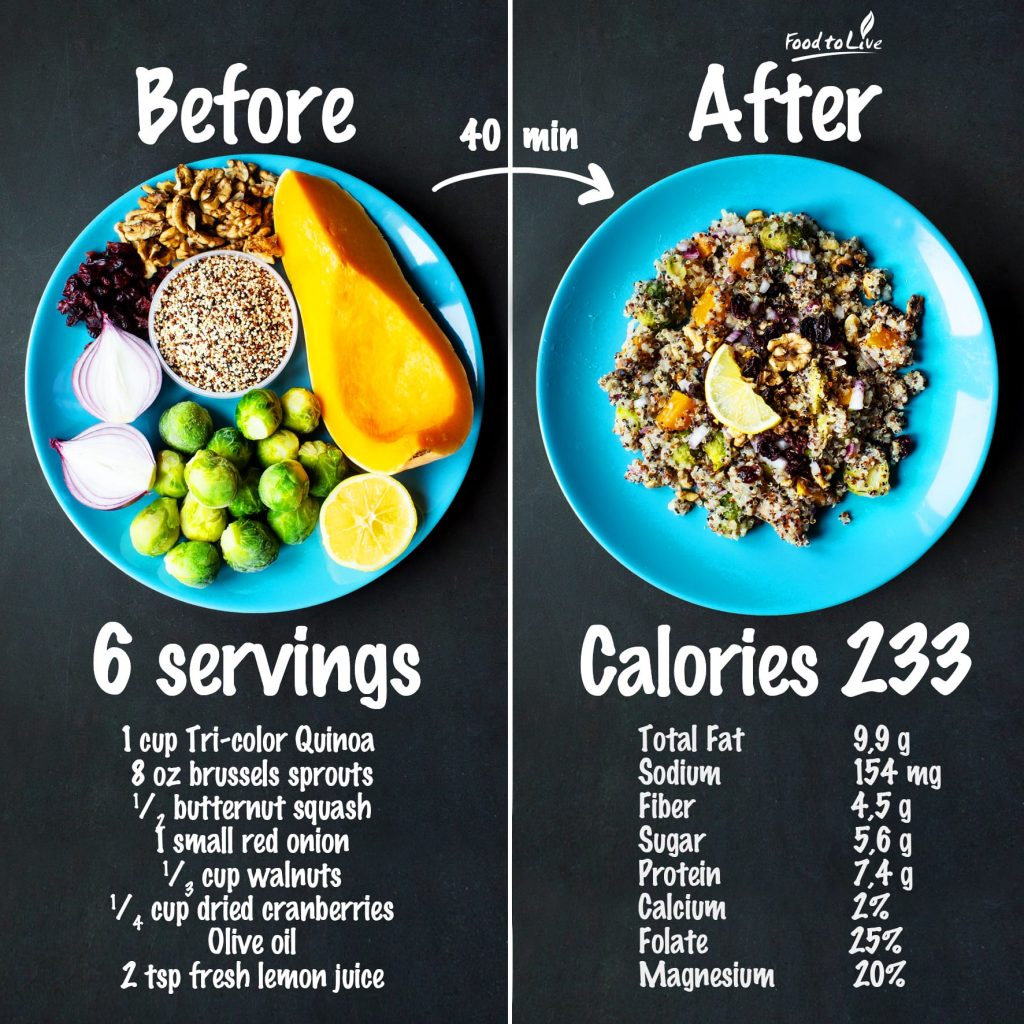 INSTRUCTIONS:
Preheat your oven to 425 degrees F.
In a saucepan, combine quinoa and water. Put it on high heat and bring it to a boil, then reduce the heat and let it simmer for around 30 min until the liquid is all absorbed.
While the quinoa is cooking, lay out your peeled and chopped veggies on a baking sheet. Drizzle them with some olive oil, and sprinkle on salt and pepper. Roast these veggies until they're tender and have a lovely golden brown color. This usually takes about 20-30 min, depending on your oven. Give them a gentle toss from time to time while roasting.
Once your quinoa is cooked, drain off any extra liquid and fluff it up with a fork. Add in your roasted veggies, red onion, walnuts, and dried cranberries. Drizzle some more olive oil and lemon juice over everything, and give it all a good toss to mix it up. Your tasty quinoa salad is ready to enjoy!
This recipe adapted from Cait's Plate
Video Recipe