August 23, 2019 · Written by Foodtolive Team
Simplest Marinara Sauce Ever
Discover the joy of Italian cooking with this Simplest Marinara Sauce Ever. This recipe is incredibly easy, delivering the authentic taste of homemade marinara sauce to elevate your favorite dishes. Whether it's pasta night or pizza time, you'll love the simplicity and deliciousness of this sauce.
Prep Time: 5 min | Cook Time: 25 min | Total Time: 30 min | Servings: 2 cups
INGREDIENTS:
1/4 cup olive oil
3 cloves garlic, minced
1 small onion, finely chopped
1 can whole peeled tomatoes
1 bay leaf
3 tbsp tomato paste
Fresh basil leaves, chopped
1 tsp dried oregano
1/4 tsp chili pepper flakes, optional
1/2 tsp salt, to taste
1/2 tsp ground black pepper, to taste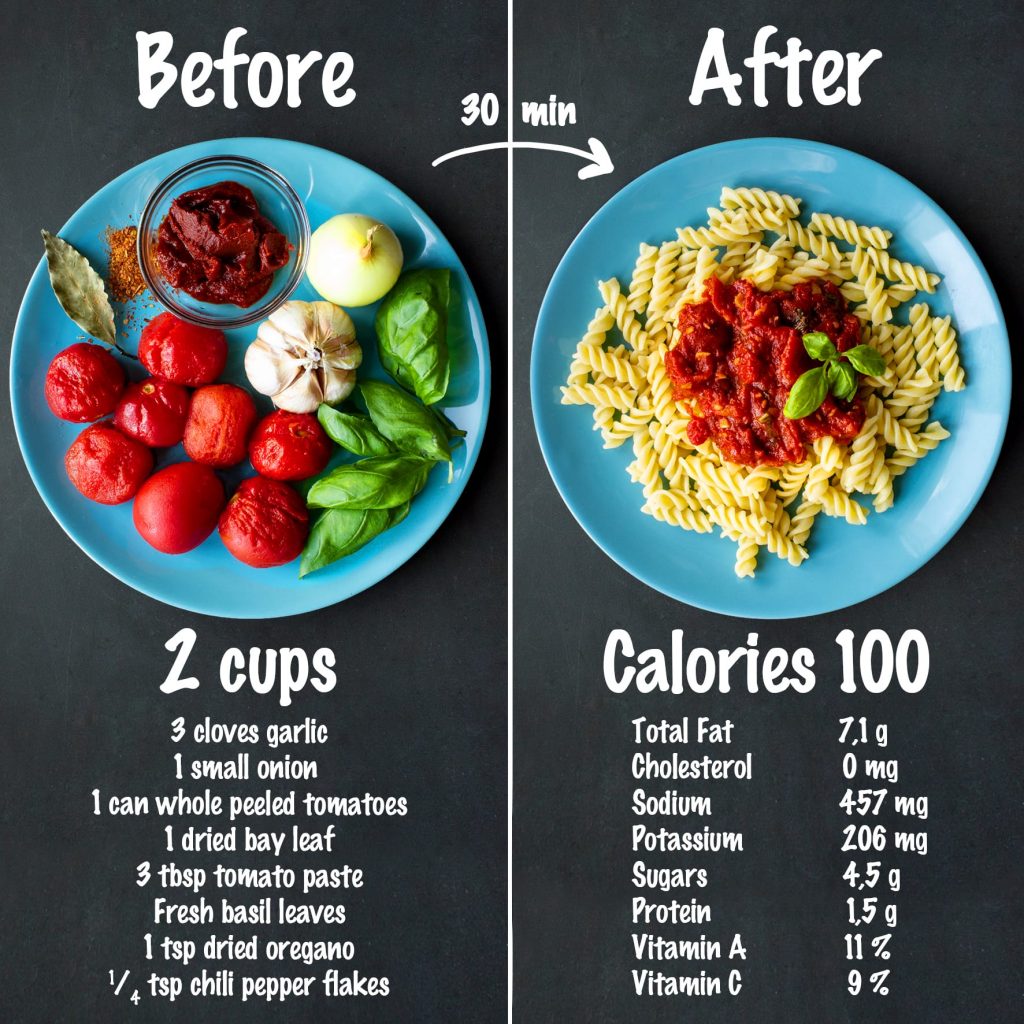 INSTRUCTIONS:
In a saucepan, heat the olive oil over medium heat.
Add the minced garlic and chopped onion. Sauté for about 2-3 min or until the onion becomes translucent and the garlic is fragrant.
Pour the entire can of whole peeled tomatoes into the saucepan. Use a wooden spoon to break them into smaller pieces.
Add the bay leaf, tomato paste, chopped fresh basil, dried oregano, and optional chili pepper flakes (if you want some heat).
Season the sauce with salt and ground black pepper to taste.
Reduce the heat to low, cover the saucepan, and let the sauce simmer for about 20-30 min, stirring occasionally.
Taste the sauce and adjust the seasonings if needed.
Once the sauce has thickened and the flavors have melded together, remove the bay leaf.
Serve your homemade marinara sauce over pasta, pizza, or your favorite Italian dishes. Enjoy!
This recipe adapted from Sweet Simple Vegan
Video Recipe