September 08, 2018 · Written by Foodtolive Team
Savory Mushroom and Walnut Bolognese
Savor the flavors of this mushroom and walnut spicy bolognese with its natural, all-plant ingredients. It offers a healthier spin on the classic Italian version, providing satisfaction without the heaviness and loads of wholesome goodness.
Prep Time 5 minutes | Cook Time 35 minutes | Total Time 40 minutes | 6 Servings
INGREDIENTS:
2 tbsp olive oil
1 red onion, finely chopped
2 large garlic cloves, finely chopped
3 cups cremini mushrooms, sliced
1 cup walnuts, finely chopped
1 can peeled chopped tomatoes
1 tsp dried oregano
1 tsp dried basil
1 tsp paprika powder
1/4 tsp dried chili flakes, optional
sea salt & black pepper to taste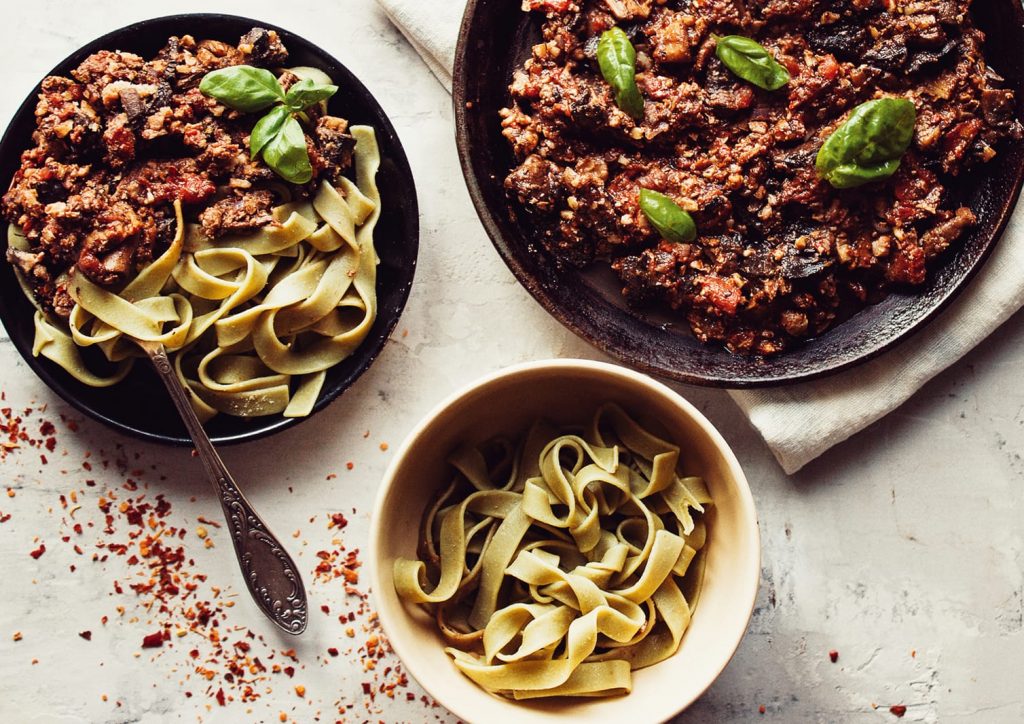 INSTRUCTIONS:
Heat olive oil in a pot or wide saucepan over medium heat.
Add chopped onion and garlic, then sauté for 2-3 min.
Add cremini mushrooms to the mix and cook for about 6-8 min. During this time, the mushrooms will release their moisture.
Once the mushroom mixture has dried up and is fairly dry, add all the herbs and spices.
Add the canned peeled tomatoes and give everything a good mix.
Allow the mixture to simmer over medium-low heat for 20 min, occasionally stirring.
Toss in the chopped walnuts and cook for an additional 5 min.
Remove from heat and serve with cooked pasta. Enjoy!
This recipe slightly adapted from CocoonCooks
Video Recipe