November 03, 2018 · Written by Foodtolive Team
Fall Harvest Stew with Pumpkin and Apple
Warm up your autumn days with this delightful Fall Harvest Stew. Packed with the comforting flavors of pumpkin and apple, this stew is a celebration of the season's bounty. Perfect for cozy gatherings or a comforting weeknight meal.
Prep Time 15 minutes | Cook Time 35 minutes | Total Time 50 minutes | 4 servings
INGREDIENTS:
1 tbsp extra virgin olive oil
1 onion, diced
4 cloves garlic, finely minced
1 cup spinach, chopped
1 can (14 oz) tomatoes, diced
2 cups pumpkin purée
4 cups vegetable broth
1 apple, peeled and diced
1 tsp paprika powder
1/2 tsp dried oregano
1 tsp salt
1/4 tsp black pepper, freshly ground
1/4 tsp red pepper, optional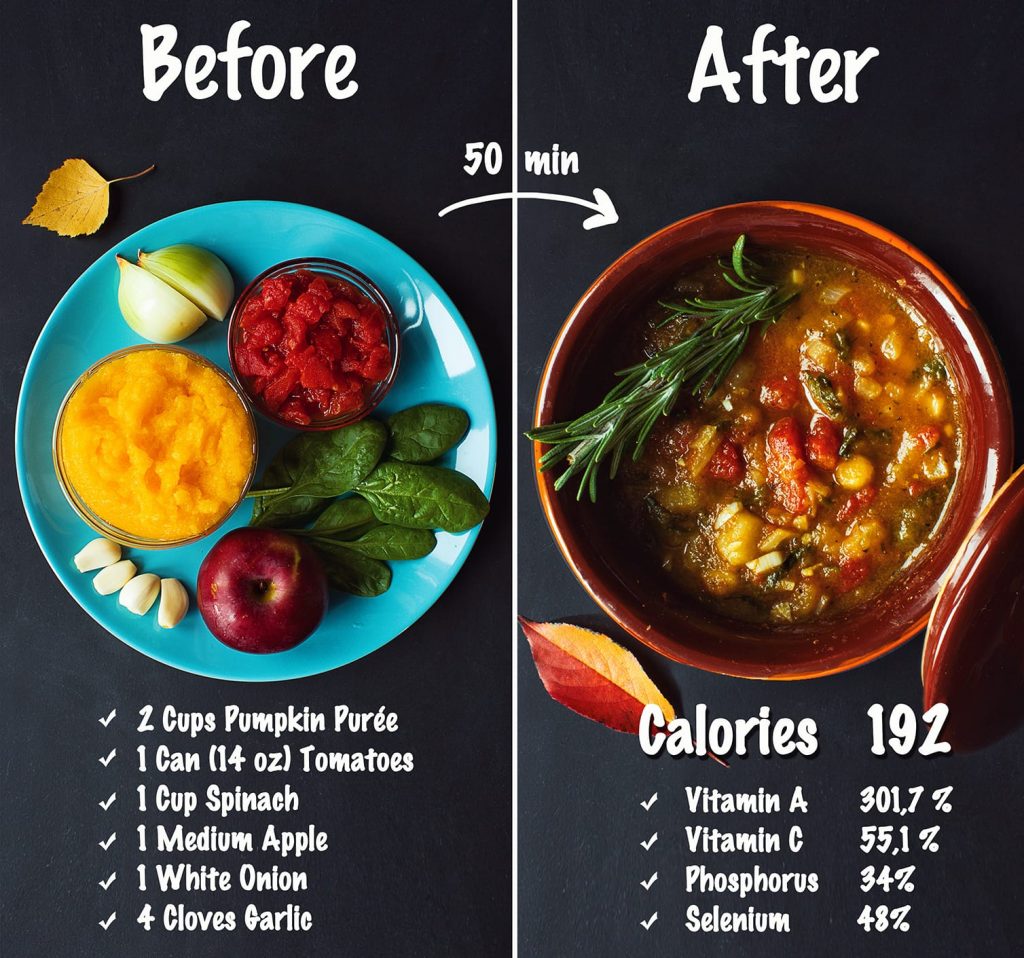 INSTRUCTIONS:
In a large pot, warm up the olive oil over medium-low heat. Add the diced onions and sauté until they become soft and translucent, which should take a few minutes.
Next, stir in the garlic and let it infuse for about a minute.
Add the chopped spinach to the mix and stir it in with the garlic and onions for another minute or so.
Now, it's time to add the canned tomatoes, pumpkin purée, diced apples, and all those wonderful spices. Give everything a good whisk until it's all beautifully blended. Taste the stew and adjust the spices to your liking.
Lower the heat to a gentle simmer, pour in the vegetable broth, and let the stew bubble away for approximately 30 min.
Once done, remove the stew from the heat, ladle it into your favorite bowls, and savor every spoonful of this heartwarming delight. Enjoy!
This recipe slightly adapted from Well And Full
Video Recipe