March 19, 2021 · Written by Foodtolive Team
Cranberry Bean Pasta Fagioli
Introducing Cranberry Bean Pasta Fagioli, a hearty and flavorful Italian soup that combines tender cranberry beans with pasta for a comforting and nutritious meal.
Prep Time: 20 min (+ 8 hours for soaking) | Cook Time:  2 hours | Total Time: 2h 20 min | Servings: 4
INGREDIENTS:
5 tbsp extra-virgin olive oil
4 cloves garlic, smashed
1 small onion, roughly chopped
1/4 tsp red pepper flakes, or more to taste
1 tsp dried rosemary
4 canned whole tomatoes, crushed by hand
1 cup dried cranberry beans, soaked overnight
3 cups vegetable broth
2 cups small pasta, such as shells or ditalini
1 bunch kale, chopped
1/2 cup grated parmesan, and more for topping
Fresh parsley, roughly chopped
Freshly ground black pepper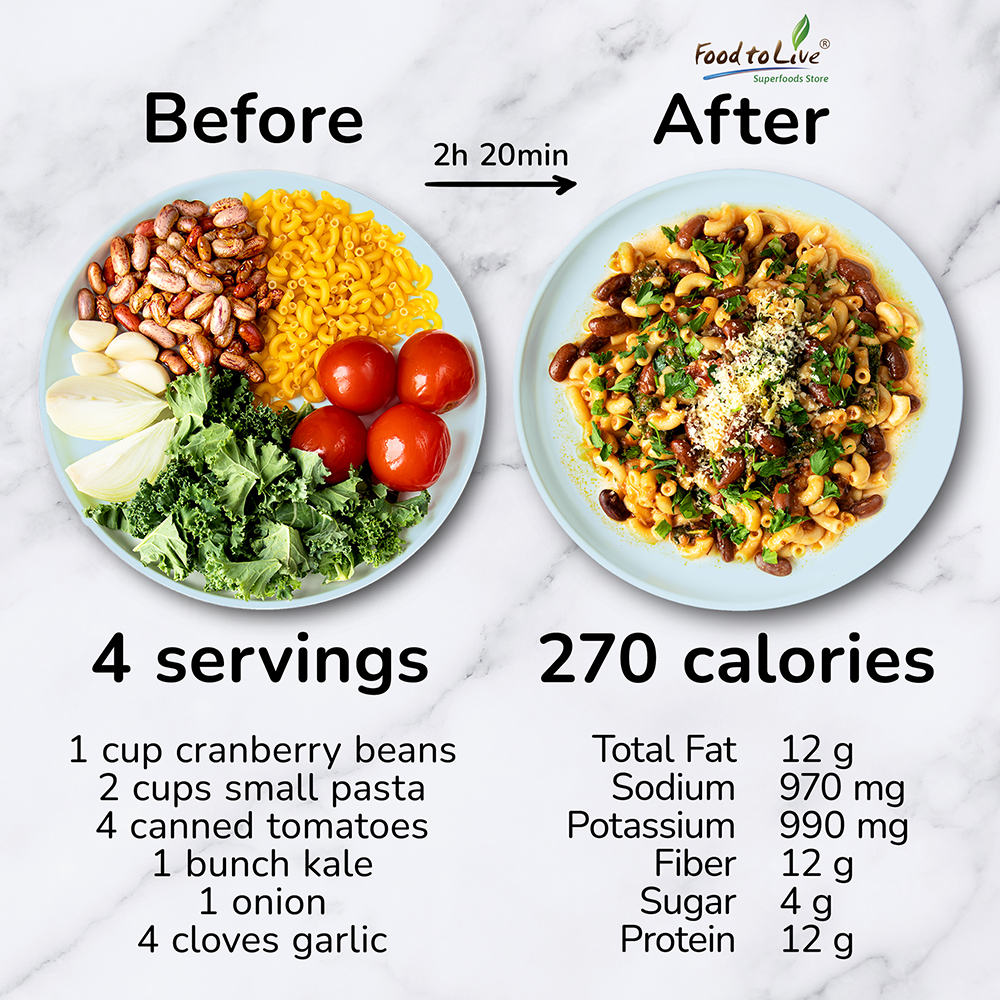 INSTRUCTIONS:
Heat olive oil in a big pot on medium heat. Add garlic, onion, red pepper flakes, and rosemary. Cook for 2 min.
Stir in tomatoes and cook for 2 more min. Sprinkle with salt.
Add beans, vegetable broth, and bay leaves. Cover and bring to a boil. Then, lower the heat and simmer for 1.5 to 2 hours until beans are tender.
Uncover and bring to a boil. Add pasta and cook for about 8 min until it's slightly firm. Add kale and grated parmesan, cook for another 5-6 min until tender. If it's too thick, add some water.
Remove the bay leaves. Season with salt and freshly ground black pepper.
Serve it hot, garnished with fresh parsley and grated parmesan. Enjoy!
This recipe adapted from Food Network
Video Recipe