March 19, 2021 · Written by Foodtolive Team
Cranberry Bean Pasta Fagioli
Somewhere between a thick soup and a loose pasta, this comforting dish is a staple in many parts of Italy. It's hearty, healthy, and flavorful. You will love this easy one-pot vegetarian dinner!
Prep Time: 20 min (+ 8 hours for soaking) | Cook Time:  2 hours | Total Time: 2h 20 min | Servings: 4
INGREDIENTS:
5 tbsp extra-virgin olive oil
4 cloves garlic, smashed
1 small onion, roughly chopped
1/4 tsp red pepper flakes, or more to taste
1 tsp dried rosemary
4 canned whole tomatoes, crushed by hand
1 cup dried cranberry beans, soaked overnight
3 cups vegetable broth
2 cups small pasta, such as shells or ditalini
1 bunch kale, chopped
1/2 cup grated parmesan, and more for topping
Fresh parsley, roughly chopped
Freshly ground black pepper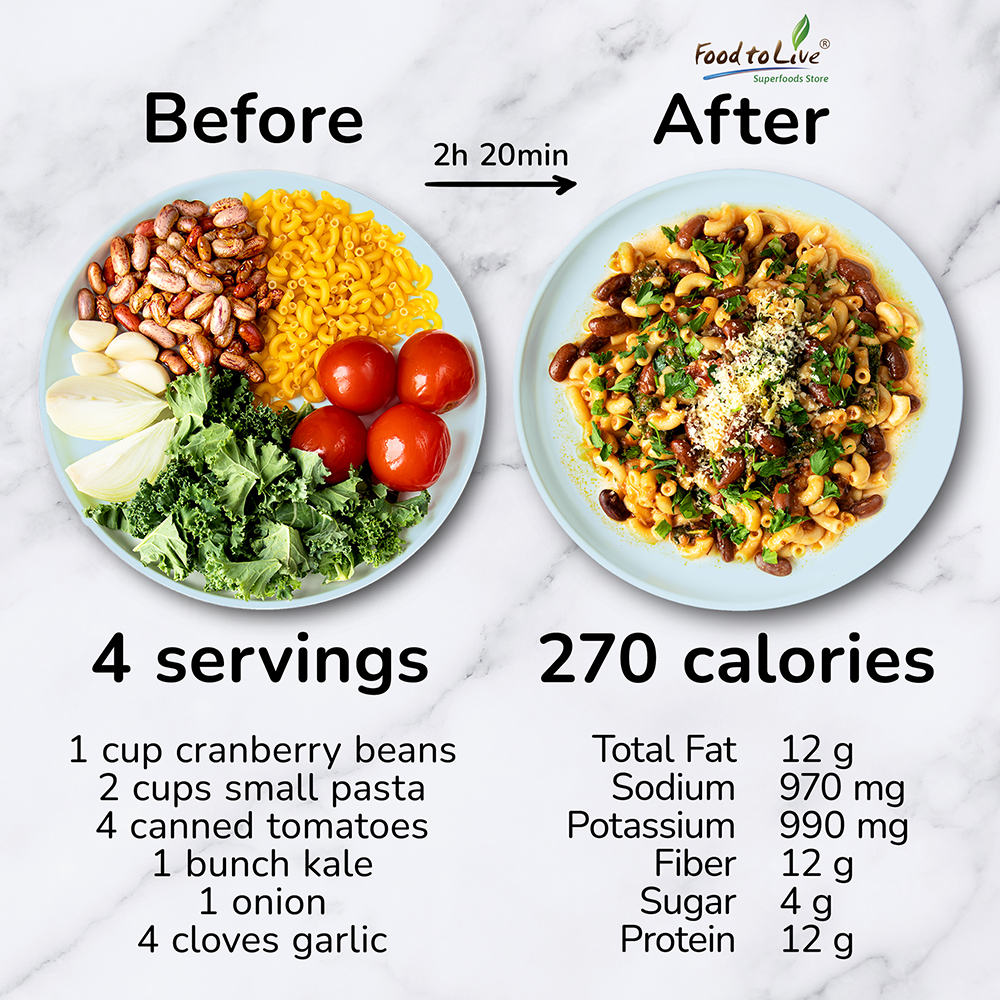 INSTRUCTIONS:
Heat olive oil in a large pot over medium heat. Add the garlic, onion, red pepper flakes, rosemary and cook for 2 minutes.
Stir in the tomatoes and cook for 2 more minutes; season with salt.
Add the beans, vegetable broth, and bay leaves. Cover and bring to a boil, then reduce the heat to low and simmer until the beans are tender, 1 hour 30 minutes to 2 hours.
Uncover the pot and bring the mixture to a boil over high heat. Add the pasta and cook until al dente, about 8 minutes. Add the kale, grated parmesan, and cook, stirring occasionally, until tender, 5 to 6 more minutes. (The consistency should be thick and creamy; thin with water, if necessary.)
Remove the bay leaves. Add some freshly ground black pepper and salt to taste.
Serve warm with fresh parsley and grated parmesan.