December 01, 2019 · Written by Foodtolive Team
Cozy Autumn Black Bean Soup
The perfect black bean soup recipe! It's healthy, easy, super flavorful, and comforting.
Prep Time: 10 min (+8 hours for soaking) | Cook Time: 50 min | Total Time: 1-hour | Servings: 4
INGREDIENTS:
2 cups dried black beans, soaked and rinsed
1/2 tbsp olive oil
1 large onion, chopped
2 carrots, chopped
3 cloves garlic, finely chopped
1 tbsp ground chili powder
1 tsp dried basil
1 tsp dried oregano
2 bay leaves
1/2 tsp sea salt
1/2 tsp ground black pepper
4 cups vegetable broth
for serving: chopped fresh cilantro or parsley and lime wedges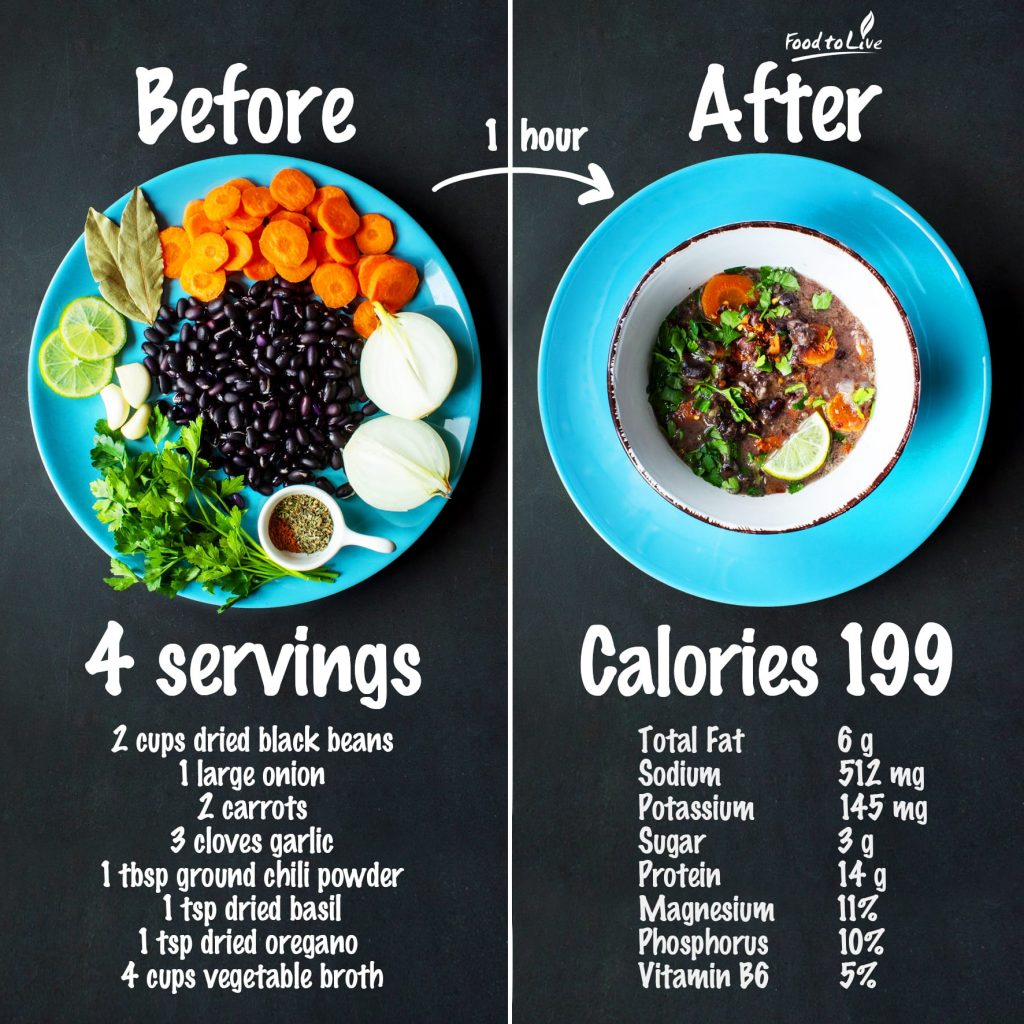 INSTRUCTIONS:
Soak the beans overnight or about 8-12 hours. Drain and rinse.
In a large soup pot, heat oil over medium heat. Add onions, carrots, and garlic. Cook, stirring frequently until onions are translucent and starting to brown about 10 minutes.
Add all the other ingredients to the pot, except the lime and parsley. Stir to make sure everything is combined. Bring mixture to a boil before reducing the heat to medium and letting the soup simmer for about 40 min, or until the beans are tender and creamy. Remove bay leaves.
At this point, you can either keep the beans whole or puree using an immersion blender or traditional blender to your desired texture.
Taste soup and season with additional salt and pepper, if needed. Spoon soup into bowls for serving and garnish with lime wedges and parsley.