January 11, 2019 · Written by Foodtolive Team
Hearty Red Lentil Soup
Prep Time: 10 minutes | Cook Time: 20 minutes | Total Time: 30 minutes | 6 Servings
INGREDIENTS:
1 tsp coconut or olive oil
1/2 yellow onion, chopped
2-3 medium carrots, chopped
1 stalk of celery, chopped
3 cloves garlic, minced
1 tbsp fresh ginger, minced
1/2 tsp cumin powder
1/2 tsp turmeric powder
1/2 tsp pepper, freshly ground
Sea salt, to taste
1 can tomatoes
6 cups vegetable stock
1 cup red split lentils, soaked
1 cup spinach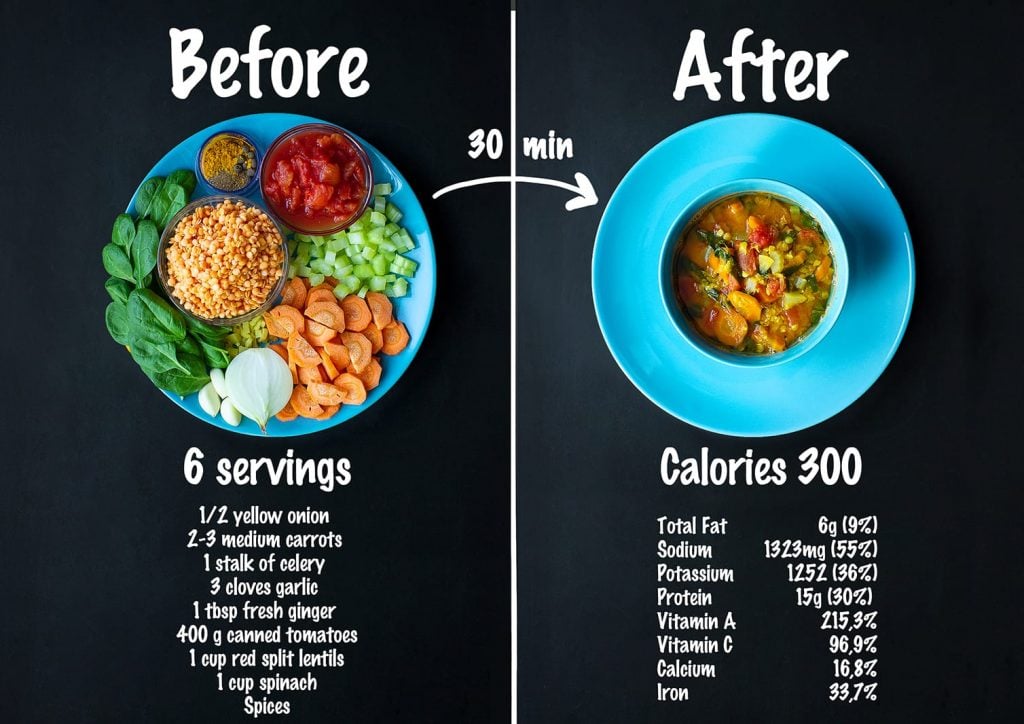 INSTRUCTIONS:
In a large pot, heat the oil over medium heat. Sauté the onion and garlic until they're soft and fragrant, which takes a few minutes.
Add the carrots and celery, cooking for another couple of minutes. Stir in the spices to coat the vegetables.
Pour in the tomatoes and vegetable stock, then crank up the heat to bring the soup to a boil. Once it's boiling, toss in the lentils, then reduce the heat to medium-low and let it simmer for about 20-25 min until the carrots are tender.
Turn off the heat and gently stir in the spinach. Your delicious soup is ready to enjoy!
This recipe slightly adapted from Occasionally Eggs
Video Recipe