January 27, 2020 · Written by Foodtolive Team
A Taste of Comfort – Homemade Pinto Beans Chili
Welcome to our kitchen, where we're serving up a steaming bowl of comfort! Join us as we dive into the heartwarming world of Homemade Pinto Beans Chili. This recipe is all about flavor, warmth, and that feeling of home.
Prep Time: 10 min (+8 hours for soaking) | Cook Time: 30 min | Total Time: 40 min | Servings: 4
INGREDIENTS:
1 tbsp olive oil
1 medium onion, chopped
2 cloves garlic, minced
1 red bell pepper, chopped
1 stalk celery, chopped
1/2 tsp Italian seasoning
3 medium tomatoes, chopped
2 cups organic pinto beans, cooked
1 cup vegetable broth
1/2 tsp cumin seeds
1/2 tsp smoked paprika
3/4 tsp sea salt
1 tsp chili powder
Green onion for serving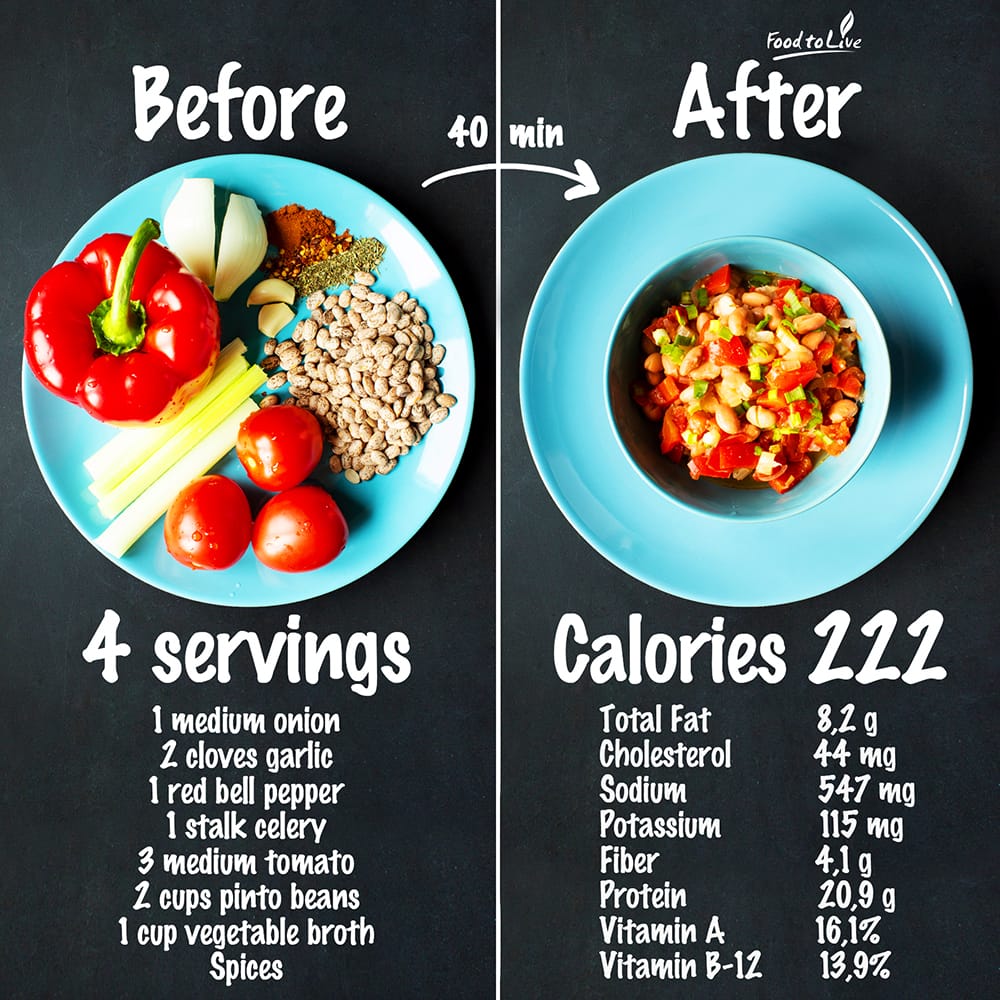 INSTRUCTIONS:
In a medium pot, warm some oil over medium heat. Toss in the onion and sauté until it turns soft, which should take about 2 min.
Add the garlic, bell pepper, and celery to the pot, and continue to stir and cook for an additional 2 min.
Now, introduce the fragrant Italian seasoning, tomatoes, pinto beans, vegetable broth, cumin, smoked paprika, a pinch of salt, and the chili.
Cover the pot, and bring everything to a rolling boil. Then, reduce the heat to a gentle simmer and let it cook for 20-25 min, or until your chili reaches the desired thickness.
Before serving, don't forget to sprinkle some freshly chopped green onions as a flavorful garnish. Enjoy!
This recipe adapted from Healthier Steps
Video Recipe