September 22, 2020 · Written by Foodtolive Team
Texas Style Quinoa Bean Chili
This Texas Style Quinoa Bean Chili made with a delicious blend of warming spices, packed full of healthy vegetables and plenty of savory flavor.
Prep Time: 20 min | Cook Time: 40 min | Total Time: 1-hour | Servings: 6
INGREDIENTS:
3/4 cup organic black quinoa, rinsed
2 tbsp high heat oil
1 red onion, finely chopped
2 jalapeños, cored and finely chopped
2 bell peppers, cored and finely chopped
3 garlic cloves, minced
1/2 tbsp chili powder
2 tsp cumin seeds
1 tsp dried oregano
1 tsp smoked paprika
12 ounces diced tomatoes
4 ounces tomato sauce
1 cup corn kernels, fresh or frozen
3 cups vegetable broth
cilantro, lime juice, and sour cream for toppings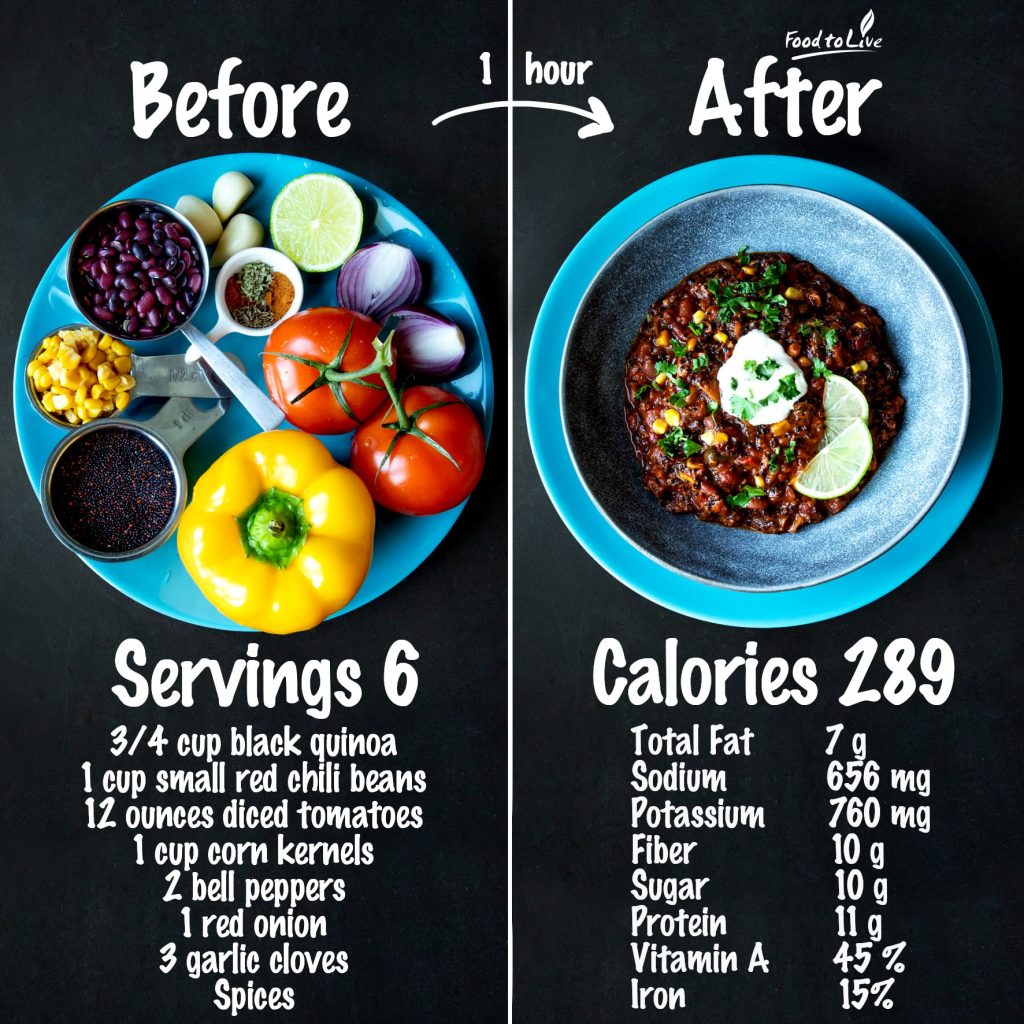 INSTRUCTIONS:
Place dry beans in a large container and cover with cold water. Soak overnight. After the beans soak, drain and rinse them off.
Heat oil in a large pot over medium heat. Add red onion, garlic and cook until soft, about 2 minutes.
Add bell pepper, jalapeño, soaked beans, and vegetable broth. Bring to a boil, then reduce to a simmer and cook for 20-25 minutes.
Add rinsed quinoa, diced tomatoes, corn kernels, tomato sauce, all spices, and salt. Simmer for another 15 minutes.
Sprinkle with lime juice. Garnish with sour cream and cilantro. Enjoy!