September 22, 2020 · Written by Foodtolive Team
Texas Style Quinoa Bean Chili
This Texas Style Quinoa Bean Chili made with a delicious blend of warming spices, packed full of healthy vegetables and plenty of savory flavor.
Prep Time: 20 min | Cook Time: 40 min | Total Time: 1-hour | Servings: 6
INGREDIENTS:
3/4 cup organic black quinoa, rinsed
1 cup organic small red chili beans, soaked overnight
2 tbsp high heat oil
1 red onion, finely chopped
2 jalapeños, cored and finely chopped
2 bell peppers, cored and finely chopped
3 garlic cloves, minced
1/2 tbsp chili powder
2 tsp cumin seeds
1 tsp dried oregano
1 tsp smoked paprika
12 ounces diced tomatoes
4 ounces tomato sauce
1 cup corn kernels, fresh or frozen
3 cups vegetable broth
cilantro, lime juice, and sour cream for toppings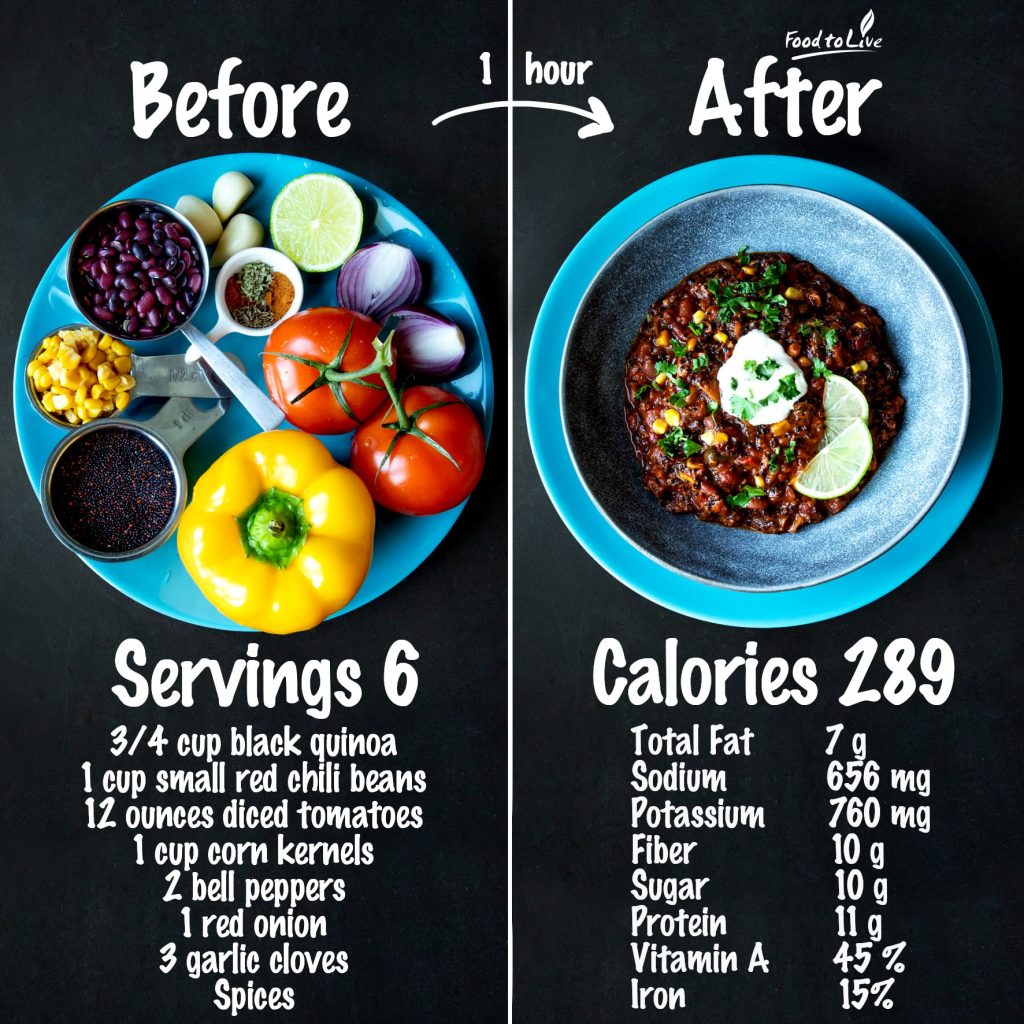 INSTRUCTIONS:
Place the dry beans in a big container and cover them with cold water. Let them soak overnight. Once they've soaked, drain and rinse them.
In a large pot, heat some oil over medium heat. Add the red onion and garlic and cook until they become soft, which should take about 2 min.
Now, toss in the bell pepper, jalapeño, the soaked beans, and vegetable broth. Bring everything to a boil, then lower the heat to a simmer and let it cook for about 20-25 min.
Add the rinsed quinoa, diced tomatoes, corn kernels, tomato sauce, all the spices, and salt. Keep it simmering for another 15 min.
Sprinkle some lime juice on top. If you like, you can garnish it with sour cream and cilantro. Enjoy your meal!
This recipe adapted from Making Thyme For Health
Video Recipe