November 25, 2019 · Written by Foodtolive Team
Four Fall Soup Recipes to Keep You Warm & Cozy
Cold temperatures and cloudy days are just around the corner. Make the most of this cozy weather with these amazing fall soups!
These soups are hearty, filling, and incredibly nutritious. Read our recipes to learn the perfect way to enjoy a chilly autumn day.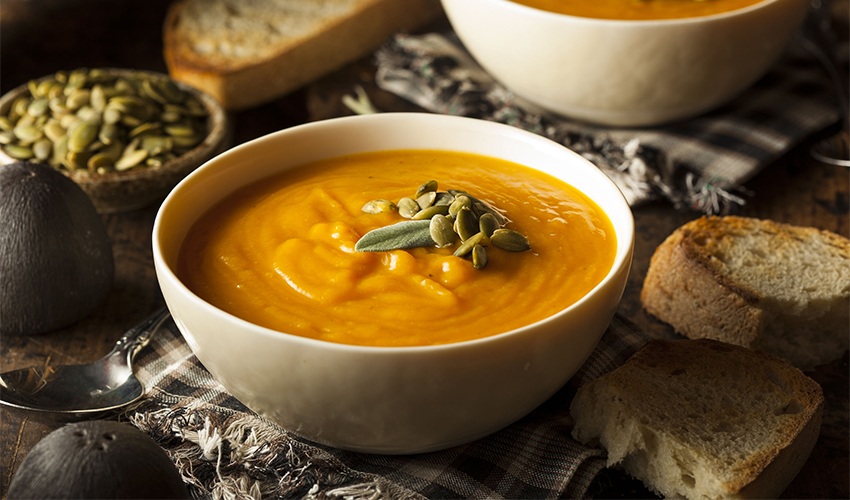 Sweet Potato Tahini Soup
Sweet potatoes and tahini are excellent sources of antioxidants, vitamins, and minerals to help keep you healthy during cold and flu season. Plus, the high fiber content in sweet potatoes promotes feelings of fullness, and tahini is an effective anti-inflammatory.
Both ingredients come together to create a sweet and savory dish that's simple, nutritious, and delicious.
The sesame brittle is optional, but it compliments the tahini flavor and adds additional texture.
Prep time: 15 minutes | Cook time: 30 minutes | Total time: 45 minutes | Yield: 2 large or 3 small servings
Ingredients
1 medium onion, diced
2 medium carrots, diced
2 medium/4 small sweet potatoes (500 grams), chopped into ½" cubes
1 teaspoon cumin
1 teaspoon coriander
½ teaspoon turmeric
2 tablespoons tahini
1 tablespoon lime juice
Chili flakes to taste
2.5 cups vegetable stock
Sesame brittle
¼ cup sesame seeds
1 tablespoon maple syrup
1 teaspoon soy sauce
½ teaspoon olive oil
Tahini drizzle
2 tablespoons tahini
1 tablespoon lime juice
1 tablespoon water
1 teaspoon maple syrup
Salt to taste
Instructions for Soup
Warm 1 tablespoon olive oil in a large pan, then add onions, carrots, and a dash of salt. Cook until vegetables soften, about 5 minutes.
Add the spices, then cook for an additional 2-3 minutes.
Add the sweet potatoes and stir until evenly coated with spice mixture.
Pour the vegetable stock in the pan and bring to a boil. Reduce the heat and cover the pan. Simmer until the sweet potatoes are soft, about 15-20 minutes.
Add the tahini and lime juice. Use an immersion blender or potato masher until you achieve a smooth texture. If needed, add ½ cup of water or vegetable stock to reach desired consistency — season with more spices to taste.
Top with sesame brittle, tahini drizzle, and top with a dash of chili flakes.
Instructions for Sesame Brittle
Preheat oven to 300°F.
In a small bowl, combine ingredients. Then, evenly lay mixture on a baking sheet lined with parchment paper.
Bake until lightly toasted and golden, about 20 minutes.
Remove from oven, let cool, then break into pieces before serving.
Instructions for Tahini Drizzle
Put ingredients in a small bowl and whisk until well mixed.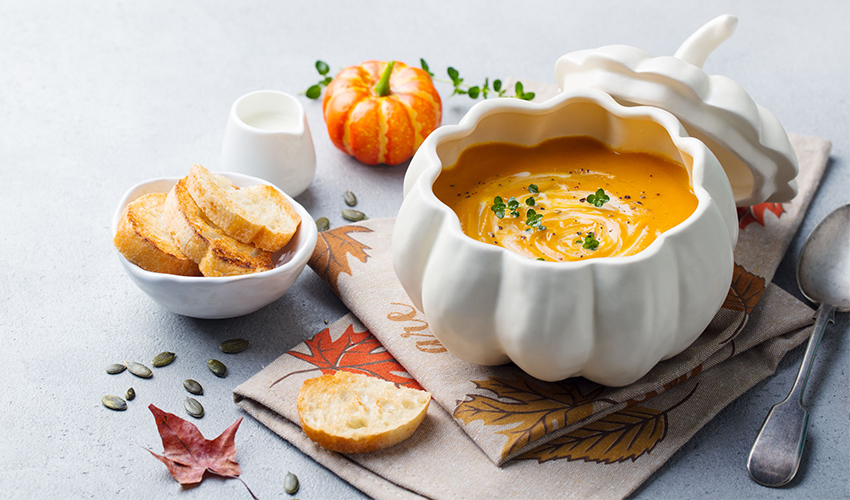 Roasted Butternut Squash Soup
This hearty and creamy soup is rich and comforting but still very healthy. Butternut squash is a low-calorie food but still has plenty of antioxidants and nutrients to protect and fuel your body.
This roasted butternut squash soup recipe is vegan, gluten-free, and sure to be a hit with everyone!
Prep time: 45 minutes (including roasting) | Cook time: 15 minutes | Total time: 1 hour | Yield: 4 servings
Ingredients for Roasted Butternut Squash
1 medium to large butternut squash
3 medium carrots
1 tablespoon olive oil
½ teaspoon dried thyme
½ teaspoon dried basil
Salt and pepper to taste
Ingredients for the Soup
1 onion, chopped
1 teaspoon crushed garlic
1 tablespoon olive oil
½ teaspoon cumin
⅛ teaspoon paprika
1 tablespoon soy sauce
14 ounces canned coconut cream
1 cup vegetable stock
Salt and pepper to taste
Instructions for Roasting the Squash
Preheat oven to 390°F.
Peel and cut the carrots and butternut squash. Put the vegetables in a bowl and mix with olive oil, salt, pepper, thyme, and basil until well-coated.
Lay on a baking tray with parchment paper and bake until roasted, about 35 minutes.
Instructions for Soup
Once the squash and carrots are roasted, heat a pot and olive oil on the stove. Add chopped onion, crushed garlic, cumin, and paprika. Saute until onions soften.
Add the roasted butternut squash and carrots to the pot and mix with vegetables and spices.
Add coconut cream, soy sauce, and vegetable stock. Simmer to blend the flavors.
Remove from heat and blend using an immersion blender or potato masher.
Serve, adding salt and pepper to taste.

Vegan Wild Rice Soup
Achieving a creamy texture without using dairy products can be challenging, but this vegan wild rice soup makes it easy.
It's high-protein and full of healthy vegetables for a well-rounded recipe that is tasty and perfect for staying warm during fall.
Cook time: 30 minutes | Total time: 1 hour | Yields: 6 servings
Ingredients
1 cup/125 grams soaked raw, unsalted cashews
4 celery stalks, chopped
1 cup (128 grams) carrots, chopped
8 ounces (225 grams) mushrooms, chopped
½ onion, chopped
4-6 cloves of garlic, chopped
64 ounces vegetable broth
1 cup (160 grams) wild rice
15 ounces (425 grams) cannellini beans
2 whole bay leaves
2 teaspoons salt
Dried thyme, to taste
Preparation for Cashews
Soak cashews overnight to soften.
Instructions for Broth
Keep 1 cup (8 ounces) of broth aside for later.
In a large pot, heat remaining vegetable broth on medium heat.
Rinse and drain the wild rice, then add to vegetable broth.
Add celery, carrots, onion, garlic, thyme, bay leaves, and salt to vegetable broth.
Keep a lid on the pot and let simmer for 30 minutes.
Instructions for Cream
Drain the soaking cashews and cannellini beans and blend.
Add the reserved cup of vegetable broth to the blender, then combine on high until smooth, about 1 minute.
Instructions for Soup
When the 30-minute timer ends, add cream mixture to the pot.
Add the mushrooms.
Replace the lid, lower the heat, and let simmer for an additional 15 minutes.
Once the timer ends, check the rice. It should be slightly chewy.
Remove bay leaves from soup and serve.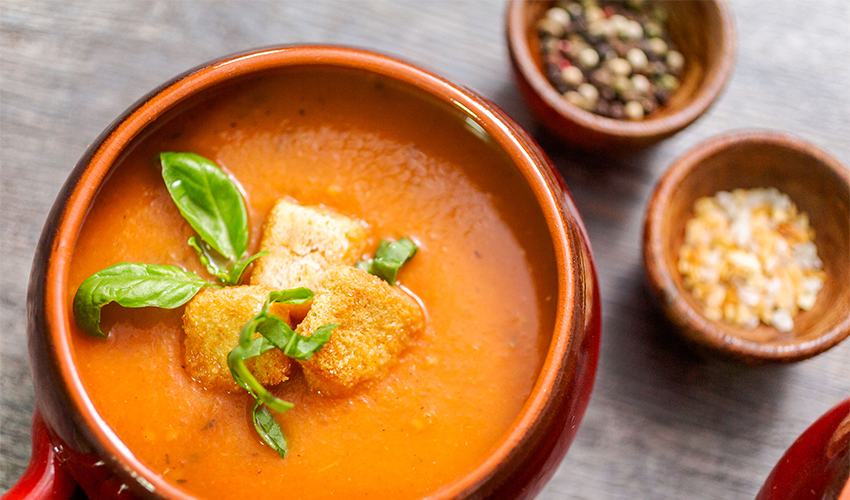 Roasted Tomato and Basil Soup
This new spin on a classic recipe is simple to make but tastes gourmet. This roasted tomato and basil soup is ideal for fall because, in addition to its many antioxidants, it has plenty of vitamin C to keep the immune system healthy all season long.
Prep time: 15 minutes | Cook time: 1 hour | Total time: 1 hour, 15 minutes | Yield: 4 servings
Ingredients for Roasted Tomatoes
2 pounds Roma tomatoes, halved and seeded
5 garlic cloves, peeled
2 small sweet onions, cut into thick slices
¼ cup olive oil
1 teaspoon salt
¼ teaspoon pepper
Ingredients for Soup
28 ounces whole peeled San Marzano tomatoes
1 cup vegetable broth
½ cup of your preferred nut milk
½ cup fresh basil
1 teaspoon fresh thyme
1 ¼ teaspoon salt
1 ¼ teaspoon pepper
Baguette (for dipping)
Instructions for Roasted Tomatoes
Preheat oven to 400°F.
Line the tomatoes, onions, and garlic in a single layer on a large baking pan with parchment paper. Use a second pan if necessary.
Drizzle olive oil over vegetables, then season with salt and pepper.
Bake for 40-45 minutes.
Instructions for Soup
As the vegetables roast in the oven, place canned tomatoes, broth, basil, thyme, and milk in a food processor and blend until smooth, about 1-2 minutes.
Add the mixture in a medium to large pot.
When vegetables finish roasting, place in the food processor with residual oil and blend until smooth.
Add vegetable mixture to the pot and let simmer for 10-15 minutes.
Add 1 ¼ teaspoon salt and ¼ teaspoon pepper.
Serve with baguette or your choice of side.
More to Love From Food To Live
Make sure to visit the Food To Live blog for more inspiration and ideas. Our one-stop-shop is a great place to find all the organic whole food ingredients you need for any recipe.