February 17, 2020 · Written by Foodtolive Team
Healthy Chickpea Rice Veggie Bowl
This cozy winter dinner includes a bowl of brown rice with tasty vegetables and a delicious tahini sauce on top.
Prep Time: 15 min (+8 hours for soaking)
 | Cook Time: 40 min | Total Time: 55 min | Servings: 3
INGREDIENTS:
1 cup of chickpeas, soaked overnight
1 sweet potato
1 cup of long-grain brown rice
5 cups of fresh spinach
1 tsp garlic powder
½ tsp cayenne pepper
½ tsp cinnamon
2 cloves of garlic
2 tsp olive oil
3 tbsp tahini
lime juice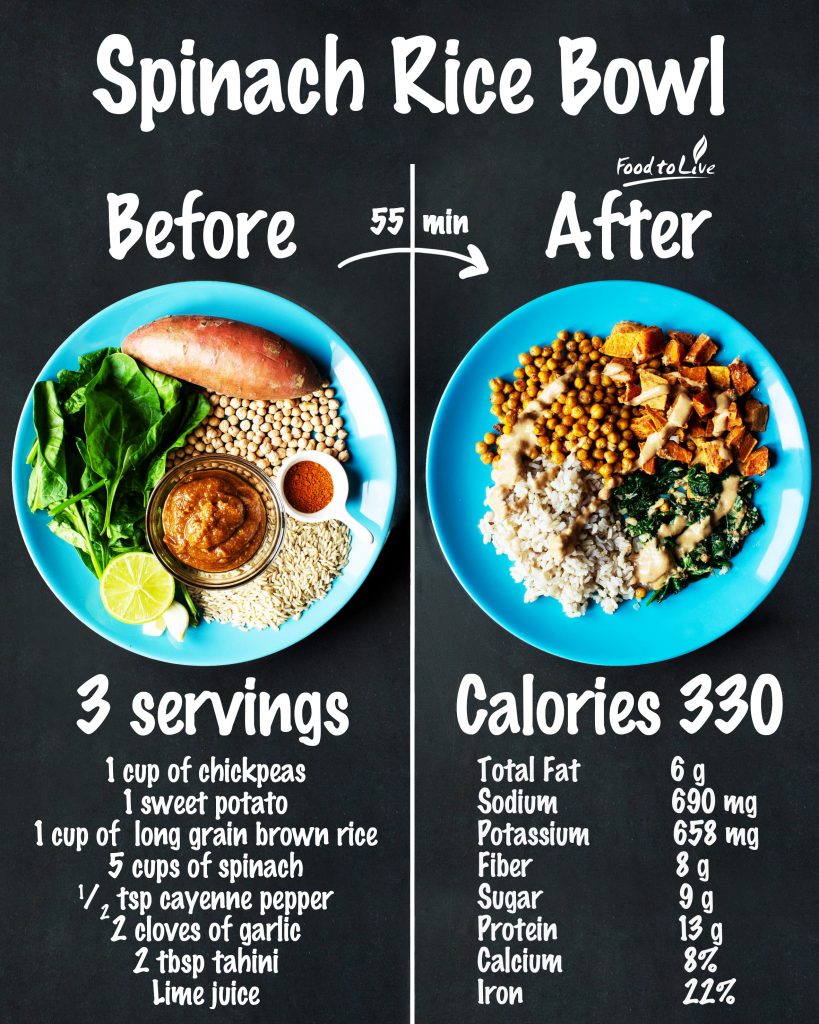 INSTRUCTIONS:
Cook brown rice by adding it to a pot with 2 cups of water and salt. Simmer for about 30 minutes until it's soft.
Preheat your oven to 180°C/350°F.
In a bowl, combine the drained chickpeas with 1 tsp of olive oil, garlic powder, cayenne pepper, and season with salt and pepper. Spread them out in a single layer on one side of a baking tray.
On the same tray, place the bite-sized sweet potato pieces. Sprinkle them with ground cinnamon and chili powder. Roast both the chickpeas and sweet potatoes in the oven for about 25-30 min or until they're tender and slightly crispy.
While the chickpeas and sweet potatoes are roasting, heat up 1 teaspoon of olive oil in a large pan. Sauté the crushed garlic for about 2 minutes until fragrant. Add fresh spinach to the pan and cook for 3-5 min or until wilted. Remove from heat.
Prepare the tahini dressing by mixing tahini and lime juice in a small bowl. Add water gradually to reach your desired dressing consistency.
In a large mixing bowl, combine the cooked brown rice, roasted sweet potatoes, roasted chickpeas, and sautéed spinach. Drizzle the tahini dressing over the top.
Gently toss everything together to ensure it's well coated with the dressing.
Serve your hearty and flavorful brown rice bowl. Enjoy!
This recipe adapted from Green Evi
Video Recipe