February 17, 2020 · Written by Foodtolive Team
Spinach Rice Bowl
This brown rice bowl with yummy veggies and a tahini sauce is the perfect comforting winter dinner.
Prep Time: 15 min (+8 hours for soaking)
 | Cook Time: 40 min | Total Time: 55 min | Servings: 3
INGREDIENTS:
1 cup of chickpeas, soaked overnight
1 sweet potato
1 cup of long-grain brown rice
5 cups of tightly packed fresh spinach
1 tsp garlic powder
½ tsp cayenne pepper
½ tsp cinnamon
2 cloves of garlic
2 tsp olive oil
2 tbsp tahini
lime juice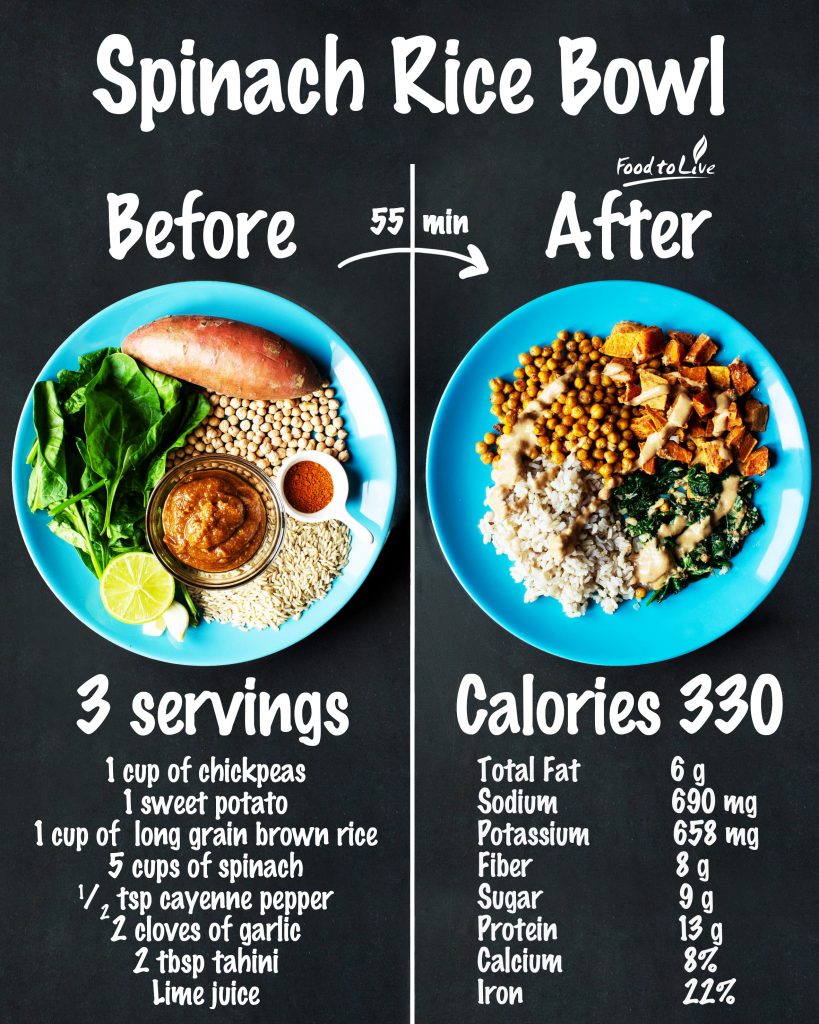 INSTRUCTIONS:
Start by cooking brown rice. Add rice and 2 cups of water to a pot, cook for 30 minutes or until soft. Season with salt.
Preheat oven to 180°C/350°F.
Mix drained chickpeas with 1 teaspoon of oil, garlic powder, cayenne, salt, and pepper. Arrange chickpeas on one side of the baking tray in a single layer.
Cut sweet potatoes into bite-sized pieces and place them on the baking tray too. Sprinkle with cinnamon and chili. Bake chickpeas and sweet potato for 25-30 minutes.
Heat up 1 teaspoon of olive oil in a large pan, add crushed garlic and sauté for 2 minutes. Add spinach and cook for 3-5 minutes.
For the tahini dressing mix together tahini, lime juice with a little water.
Add rice, sweet potatoes, chickpeas, and spinach to a big bowl and top with the tahini dressing. Enjoy!