October 20, 2020 · Written by Foodtolive Team
Fall Veggie Bowl with Red Lentils and Thai Peanut Dressing
A perfect autumn dish. Serving roasted vegetables, on top of a warm bed of lentils and topped with homemade dressing is a great way to nourish your body with seasonal delights.
Prep Time: 15 min | Cook Time: 40 min | Total Time: 55 min | Servings: 4
INGREDIENTS:
For the bowl:
For the dressing:
1/4 cup peanut butter
1 tbsp soy sauce
2 tsp honey
1/2 tsp ginger powder
2 tsp apple cider vinegar
2-4 tbsp warm water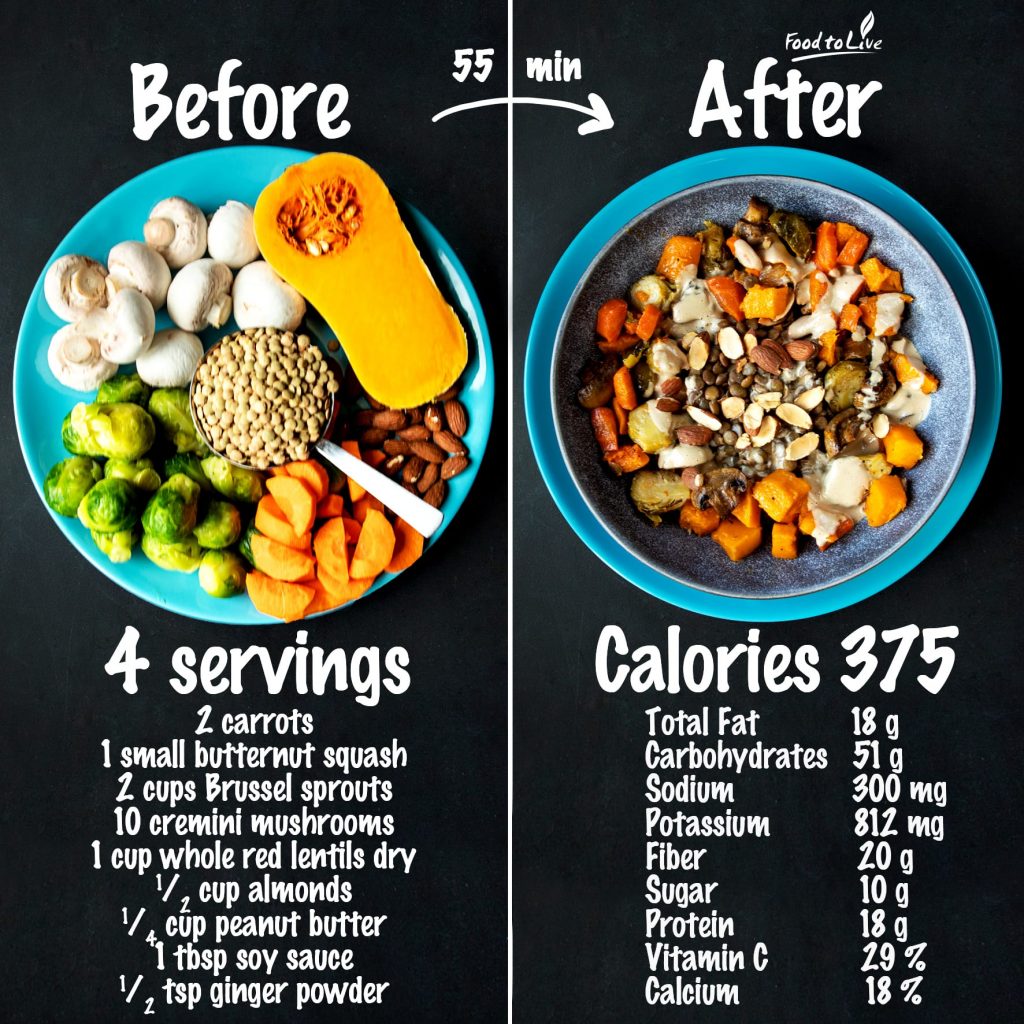 INSTRUCTIONS:
Preheat the oven to 350 °F. Prepare the vegetables by halving the mushrooms, peeling and cutting the carrots, trimming the bottoms of the Brussels Sprouts, and halving, peeling, and cubing the butternut squash.
Combine all of the vegetables, drizzle with olive oil, and add salt and pepper. Toss until the veggies are all lightly and evenly coated.
Cook until the vegetables are tender and golden on the edges, about 30-40 min.
To cook the lentils, first, rinse them really. Put the lentils in a saucepan and add 2 cups of water.
Bring it to a boil and then turn down the heat and let it simmer for about 20-30 min or until all of the water has dissolved.
To make the dressing blend all ingredients together in a blender, or place all ingredients in a mason jar and shake well.
After 40 min has passed check the vegetables and make sure they are done. The vegetables should be golden on the outside and tender when pricked with a fork.
To assemble the dish, evenly distribute the lentils into 4 bowls. Top with a variety of the baked vegetables, top with the dressing and sliced almonds, and enjoy!
This recipe inspired by The Real Food Dietitians
Video Recipe