November 16, 2018 · Written by Foodtolive Team
Vegan Jucy "Meatloaf"
Celebrate Thanksgiving with this vegan loaf that's full of savory holiday flavors! It's a perfect meatless centerpiece for your meal, and it's also low in fat.
INGREDIENTS:
2 cups green lentils, cooked
2 tbsp olive oil
1 onion, diced
2 cloves garlic, minced
½ cup carrots, diced
½ cup celery, diced
8 oz mushrooms, sliced
2 tbsp tomato paste
½ tsp thyme
1 cup of old-fashioned oats, divided
½ cup breadcrumbs
½ cup flax meal
1 tbsp organic ketchup
1 tsp yellow mustard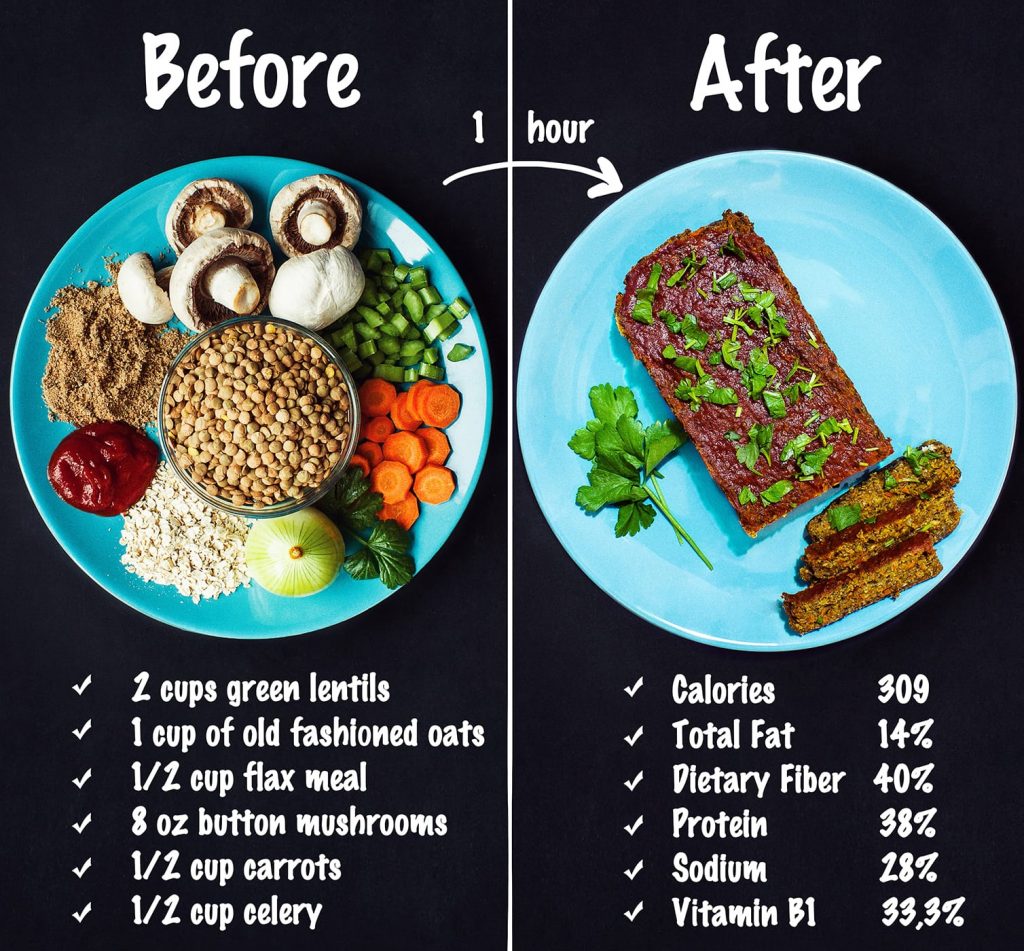 INSTRUCTIONS:
Preheat your oven to 375 degrees and line a baking sheet with parchment paper or foil.
In a large saucepan, heat some olive oil and sauté diced onion and garlic over medium-high heat until they become tender. Then, add celery and carrots, and cook for 5 more minutes on medium heat. After that, toss in the sliced mushrooms, all the spices, and tomato paste. Continue to sauté until all the vegetables are tender, which should take about 5-10 min. Remove from heat.
Transfer the cooked vegetables to a food processor along with the cooked lentils, oats, flax meal, and breadcrumbs. Pulse for a few seconds until everything is combined but still a bit chunky in texture.
Place the mixture into a loaf pan lined with parchment paper and use a spatula to flatten the top.
For the glaze, mix ketchup and mustard in a small bowl. Brush this glaze on top of the loaf.
Bake the loaf for around 40 min, or until a fork inserted in the middle comes out clean.
Serve with fresh parsley or celery leaves. Enjoy!
This recipe slightly adapted from Pumpkin And Peanut Butter
Video Recipe