November 24, 2017 · Written by Foodtolive Team
The Ultimate Guide to a Healthy Thanksgiving Day
Thanksgiving is the most American of all holidays. But it's also one of the worst for you as gorging oneself on a feast of food is the unsaid tradition of this weekend. Therefore, if you want to have a healthy Thanksgiving Day, you must prepare for it properly. It'll be a bit easier for vegans as they skip out on all the most fat and calorie-laden foods by default. However, with the right preparation, you'll be able to enjoy the celebrations without gaining extra pounds.
9 Tips for a Healthy Thanksgiving Day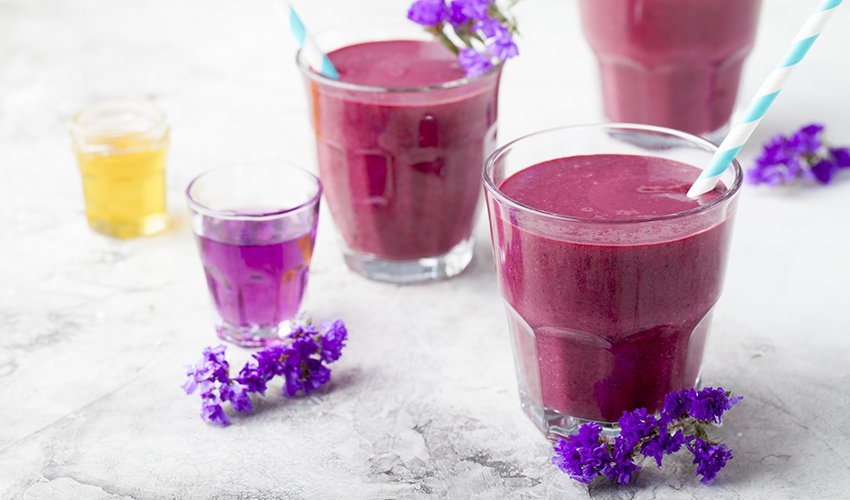 1. Start your day with a good (and light) breakfast
Making a green smoothie would be a perfect solution. It'll give you energy and nutrition necessary to cook and celebrate, yet it won't be hard on the stomach. You can add some superfoods for an extra kick, for example maca powder or organic acai berry powder. Make sure your breakfast smoothie includes plenty of fiber to reduce your hunger and prevent you from wolfing down the main meal.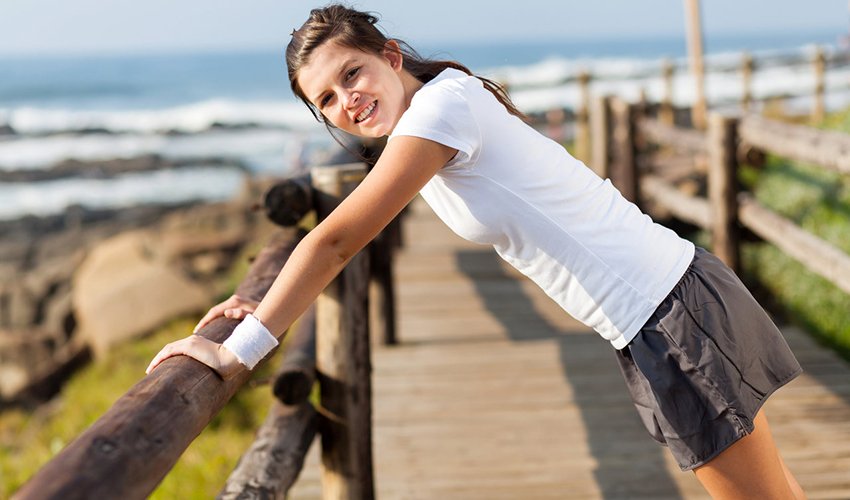 2. Don't forego your morning workout
It's true that Thanksgiving is usually a rather busy day, but you need all the help in fat burning you can get. Shedding a few calories with an intense cardio session from the start will give you some leeway with the feast. Remember, that due to the 'foody' nature of the entire Thanksgiving Weekend, you mustn't skip your gym sessions neither during it, nor right after.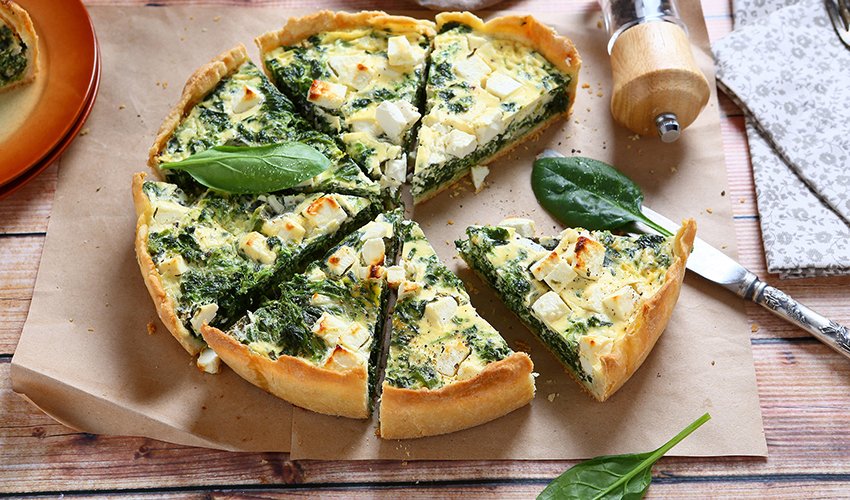 3. Limit yourself to one piece of every appetizer
If you are the one cooking, you can ensure a healthy Thanksgiving Day by making only low-calorie foods. However, if you are visiting or other people add dishes to your table, you must learn to control yourselves. It's quite common to go hard on appetizers as the majority of guests are rather puckish by this time. However, with a heavy meal ahead, you can only afford to take a few pieces of those. Stick to light appetizers, like veggies.
Sponsored by Food to live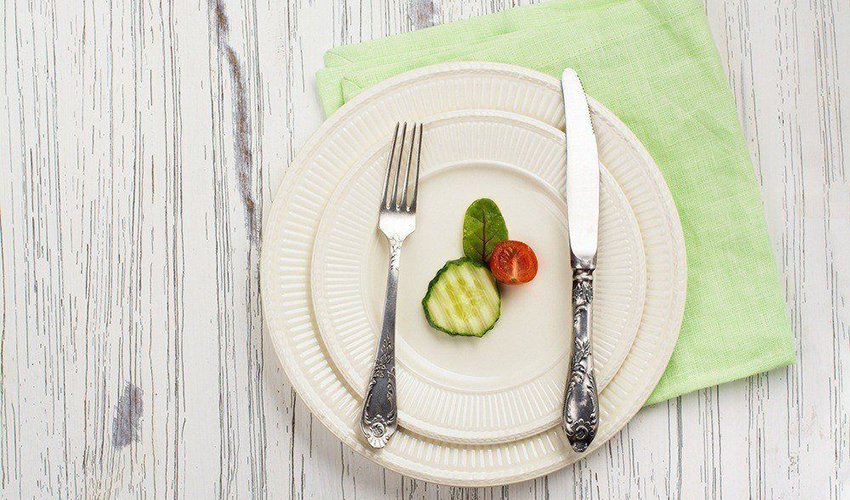 4. Put restrictions on your portion sizes
It would be best to take a smaller plate from the start. However, if it's impossible, make sure to limit the amount of food on your plate. You can also fill a half of it with a light salad. Seeing the plate full will 'trick' your brain into believing you are actually eating more than you do. Note that you must combine this with the next tip on the list to achieve the best effect.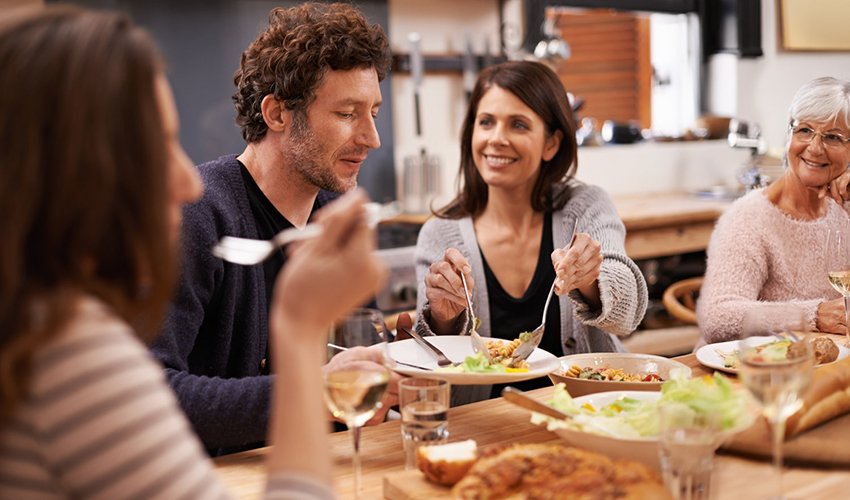 5. Savor every bite
Eating slowly allows your brain to catch up with your stomach, so you know exactly when you get full. Wolfing your food down, on the other hand, means that you overeat, as the signal of 'I'm full' takes a while to register. Take small bites and chew them carefully while enjoying a conversation with your loved ones. This will also make your food easier to digest, so achieving your healthy Thanksgiving Day objective is 50% complete.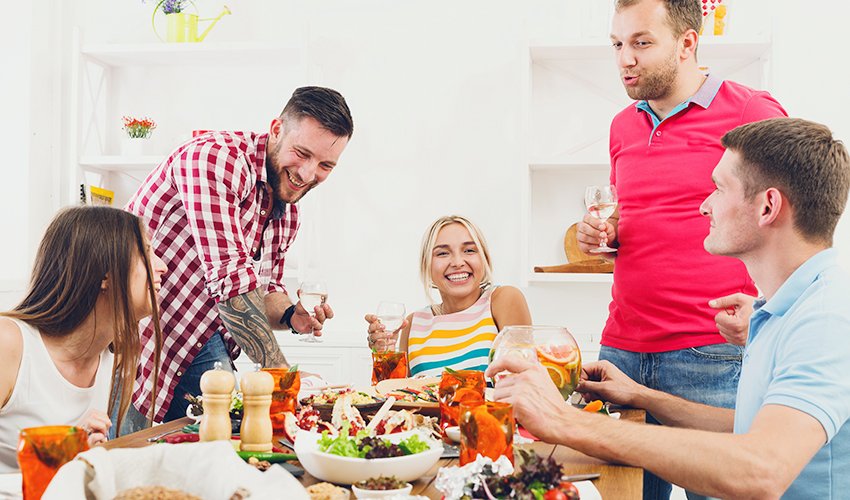 6. Enjoy all your favorites
There are some days to abstain from delicious treats, but Thanksgiving isn't it. Consider it your cheat meal day when you indulge to feel happy and keep up your motivation. It's necessary to make controlling your portions easier, as you still get to taste all those treats. You can use this principle for every holiday as feasts are a traditional part of them. To help yourself stick to smaller portions, focus on every bite. Allow yourself to enjoy it fully and remember all your positive experiences associated with the dish.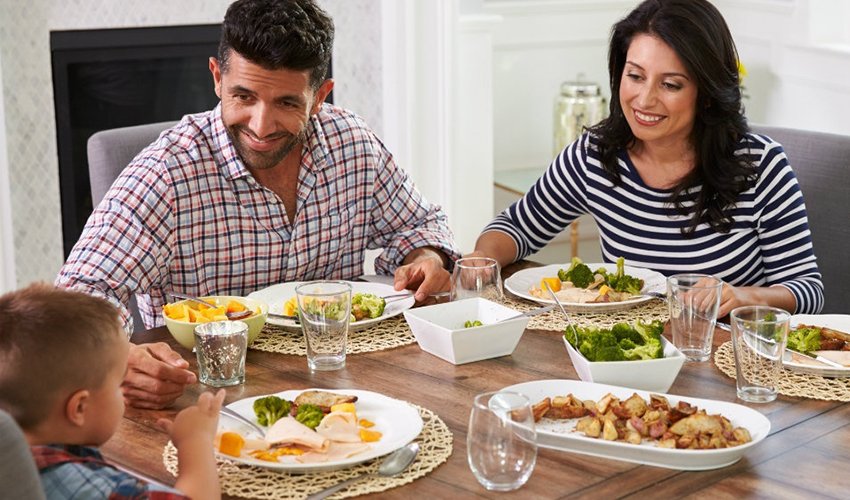 7. Cut down on alcohol
You can drastically reduce the amount of calories ingested at a feast simply by excluding alcohol. Despite being liquid, it's one of the 'heaviest' foods out there, and it messes up your metabolism. So, you can make a truly healthy Thanksgiving Day by completely banning it from the table. At least, reduce the available choices to wines as they are easier on the body than hard liquor and cocktails.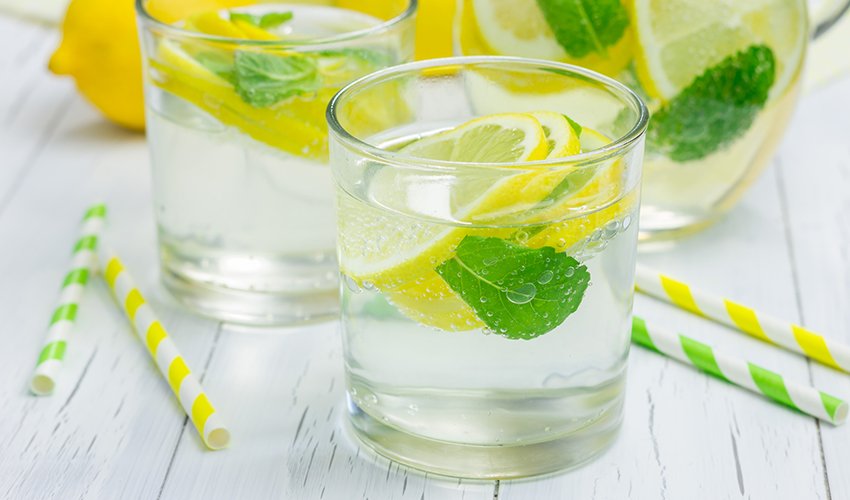 8. Drink more water
Don't keep your glass empty but forego soda for plain water. As there would be plenty of delicious treats, such a 'bland' drink should fit right in. It will also help you with cutting down on eating sugar. Taking a sip every few bites will be good for reducing the overall amount of food you ingest. In case water is too bland for your tastes, infuse it with some fresh fruits.
9. Stop stressing out
Don't focus too much on every extra calorie you eat. It's true that having a 100% skinny and healthy Thanksgiving Day is impossible. However, it's a holiday and you are allowed to enjoy yourself. Be reasonable and relax, as well as enjoy spending time with your family. Catching up with the loved ones you haven't seen in a while is sure to take your mind off food.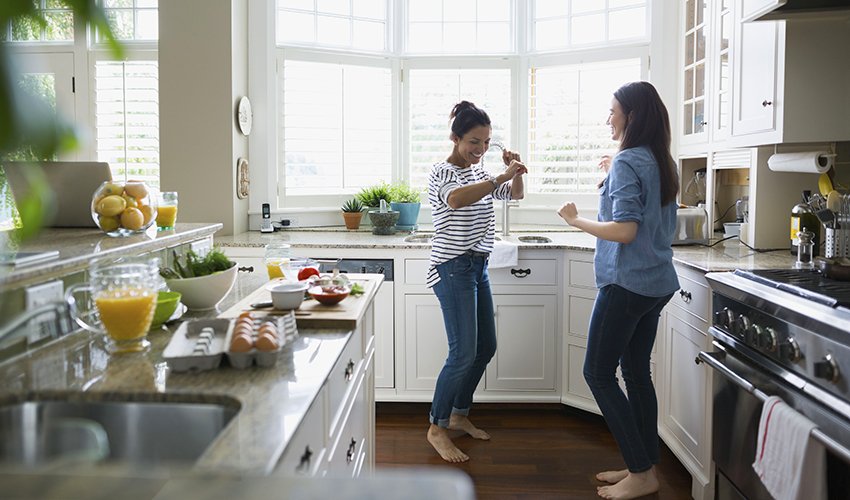 Having a Healthy Thanksgiving Day: Be Active
It's tempting to just relax with your family on Thanksgiving. However, to make this day healthier and lighter on your stomach, exercise is a must. There's plenty of activities to busy yourself with. Some communities organize turkey races and various fairs. If you want to stay at home, play some sports games.
Try to spend as much of your day active as possible. Get the entire family to join in to make it more fun. You can have fun with some dancing, especially if you learn a new simple dance with reels, so everyone can participate. This will not only help you burn off some calories, but also give you many precious memories.
If you have to spend big part of the day cooking, work in simple exercises into the process. For example, squat between steers and do simple stretches while waiting for the timer.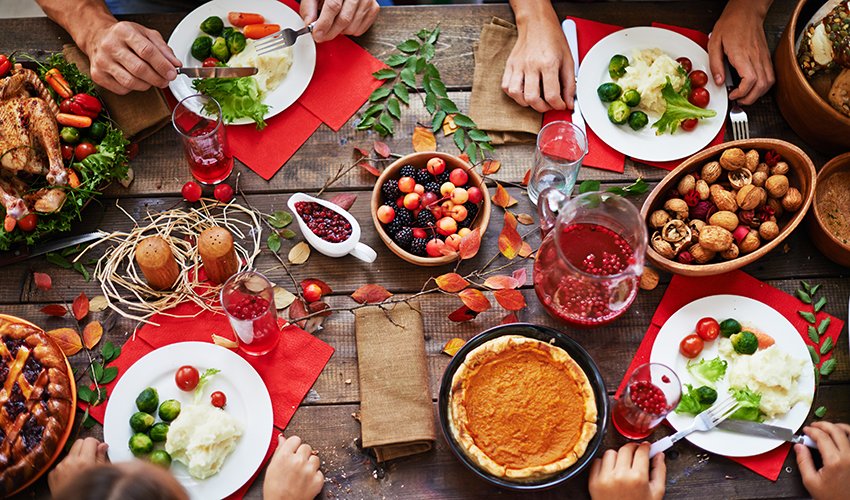 Thanksgiving Day Meals for Vegans and Vegeterians
food and climate change and the fact that Americans consume about 46 million turkeys for Thanksgiving, becoming a vegan on this day is a good idea.

Other traditional foods on a healthy Thanksgiving Day menu are:
Pumpkin (especially pumpkin pie)
Squash (stuffed or baked)
Cranberry sauce
Mashed potatoes
Baked carrots
Bean casserole
Cornbread
As you can see, vegans simply need to forego turkey in order to enjoy an otherwise traditional feast. This will also help you avoid the so-called 'tryptophan coma', a very common Thanksgiving myth. Note that it's been busted by scientists, so even if you do eat turkey, you don't have to fear for your health. However, it's true that overeating on this day can make one very sleepy.
With the average Thanksgiving meal being about 3,000 calories, it's no wonder that your body seeks to enter a 'hibernation state'. It's a natural reaction as you need to use most of your energy to digest all that food.
Of course, no digestive system can handle such an amount of calories with a 100% efficiency. This is where those extra gained pounds come from. Therefore, to have a truly healthy Thanksgiving Day and avoid a heavy stomach, you must plan your menu with extreme care. In addition, as it's nearly impossible to avoid overeating completely, you should plan how to burn off those extra calories fast.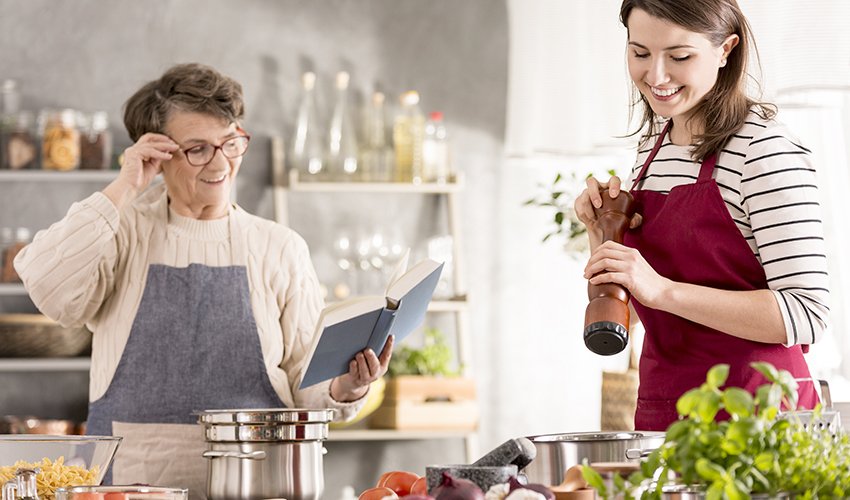 Recipes for a Healthy Thanksgiving Day
The most important thing to do in order to make your Thanksgiving healthier is to make appropriate foods. In regards to appetizers, it's quite easy. You can stick to veggies with delicious low-fat dips, check out these organic hummus recipes for ideas. You can also serve bakes vegetables as they are delicious and light.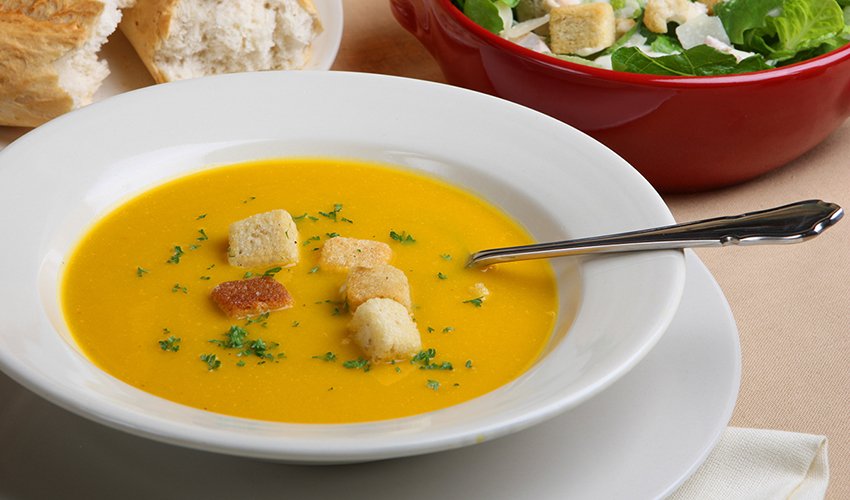 When it comes to soup, a nice and traditional squash will be a good choice.
Ingredients:
3 pounds butternut squash
3 cups vegetable broth
¼ cup honey
½ cup cream or a vegan alternative
1 tablespoon salt
1 teaspoon ground white pepper
1 teaspoon fresh ginger (minced)
¼ teaspoon nutmeg
Olive oil (for brushing)
Instructions:
Quarter the squash and brush it with olive oil. Season with salt and pepper. Roast in an oven for about 35 minutes.
Scoop out soft squash flesh and place it into a pot. Add honey, ginger, and broth.
Bring to a simmer and leave this way for about 7 minutes.
Pulse your hot mix in a blender adding cream and the rest of the spices. Note that you must let the soup cool for no less than 5 minutes before using a blender.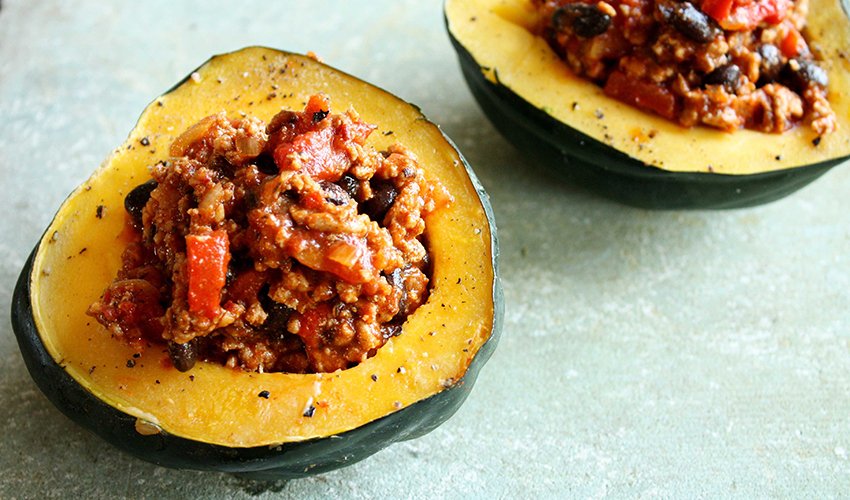 A lighter variety of the main dish, and one suitable for vegans, can be a stuffed acorn squash.
Ingredients:
4 acorn squashes (halved and seeded)
1 cup onions (finely chopped)
4 cloves garlic
3 cups cubed winter squash
3-4 cups cooked chickpeas (or 2 15-ounce cans)
2 cups tomatoes (diced)
¼ cup fresh cilantro
1 ¼ cups water
½ teaspoon cayenne pepper
¾ teaspoon salt
1 teaspoon cinnamon (ground)
1 teaspoon paprika
1 teaspoon smoked paprika
¼ teaspoon turmeric
2 tablespoons coriander seeds (ground)
3 tablespoons canola oil
Instructions:
Cut off a thin slice from the squash bottoms to make sure they stand straight on the baking pan.
Brush the insides of squash halves with oil and season with salt. Bake for 40-45 minutes at 375F.
Cook onions and garlic in the rest of the oil for about 3 minutes before adding the mix of spices. Stir for 30 seconds.
Add tomatoes, chickpeas, and water (add more liquid if necessary). Bring to a boil.
Cook covered at a simmer for 10 minutes before adding cilantro.
Fill baked squash halves with your spicy tomato-chickpea stew.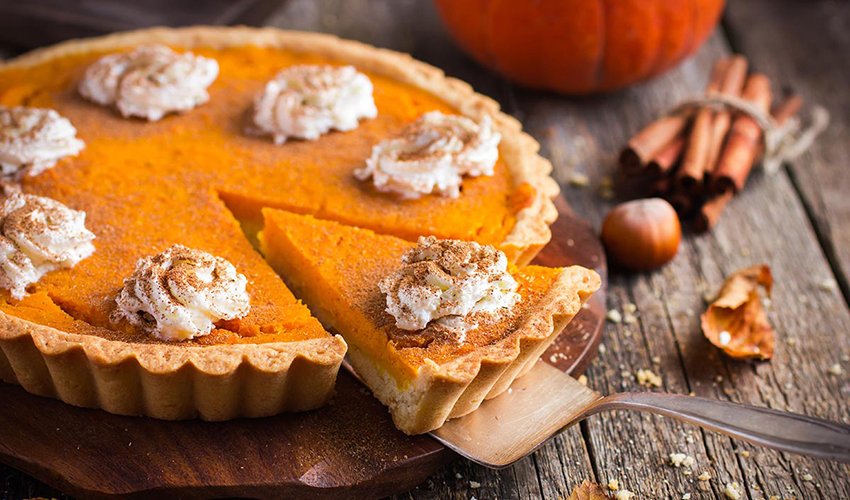 Add a flourish to your feast with a delicious vegan pumpkin pie.
Crust ingredients:
6 tablespoons chilled coconut oil (or a different unsalted vegan butter)
4-6 tablespoons iced water
1 ¼ cup flour
¼ teaspoon salt
Filling ingredients:
2 ¾ cups pumpkin puree
1/3 cup almond milk (unsweetened)
1 tablespoon olive oil
1 ¾ teaspoon pumpkin spice
2 ½ tablespoons cornstarch
¼ cup maple or agave syrup
¼ cup sugar (preferably brown)
¼ teaspoon salt
Instructions:
Whisk together flour and salt.
Slowly and gently work in iced butter, don't stir too hard, just get the ingredients well mixed.
Form the dough into a disk gently on a piece of plastic wrap.
Refrigerate your dough for no less than 30 minutes (completely wrapped in plastic) and let 'thaw' for a few minutes before using. Note that you can keep it in the fridge for up to 2 days.
Preheat your oven to 350F while making a filling.
Blend all ingredients together until smooth.
Put the crust into your pie-baking pan and spread gently with your fingers.
Fill the crust and bake your pumpkin pie for about an hour.
This pie will taste best if you let it cool and then refrigerate for about 4 more hours. Serve with vegan whipped cream.
Check out more recipes for healthy and delicious dishes for holiday meals and be sure to prepare your holiday meal plan in advance to have a truly healthy Thanksgiving Day.