April 14, 2020 · Written by Foodtolive Team
Brazil Nuts Spanakopita Triangles
These cute vegan spanakopita triangles make a perfect appetizer, are great for dinner parties and potlucks.
Prep Time: 20 min | Cook Time: 20 min | Total Time: 40 min | Servings: 16 triangles
INGREDIENTS:
1 16 oz package pre-made Phyllo pastry sheets
2 cups brazil nuts chopped
3 сups fresh spinach
2 tbsp ground golden flaxseeds
2 tbsp olive oil (+1 cup for brushing onto Phyllo sheets)
2 tbsp lemon juice
1 large onion, diced
2 garlic cloves, minced
1/2 tsp salt
1/4 fresh ground pepper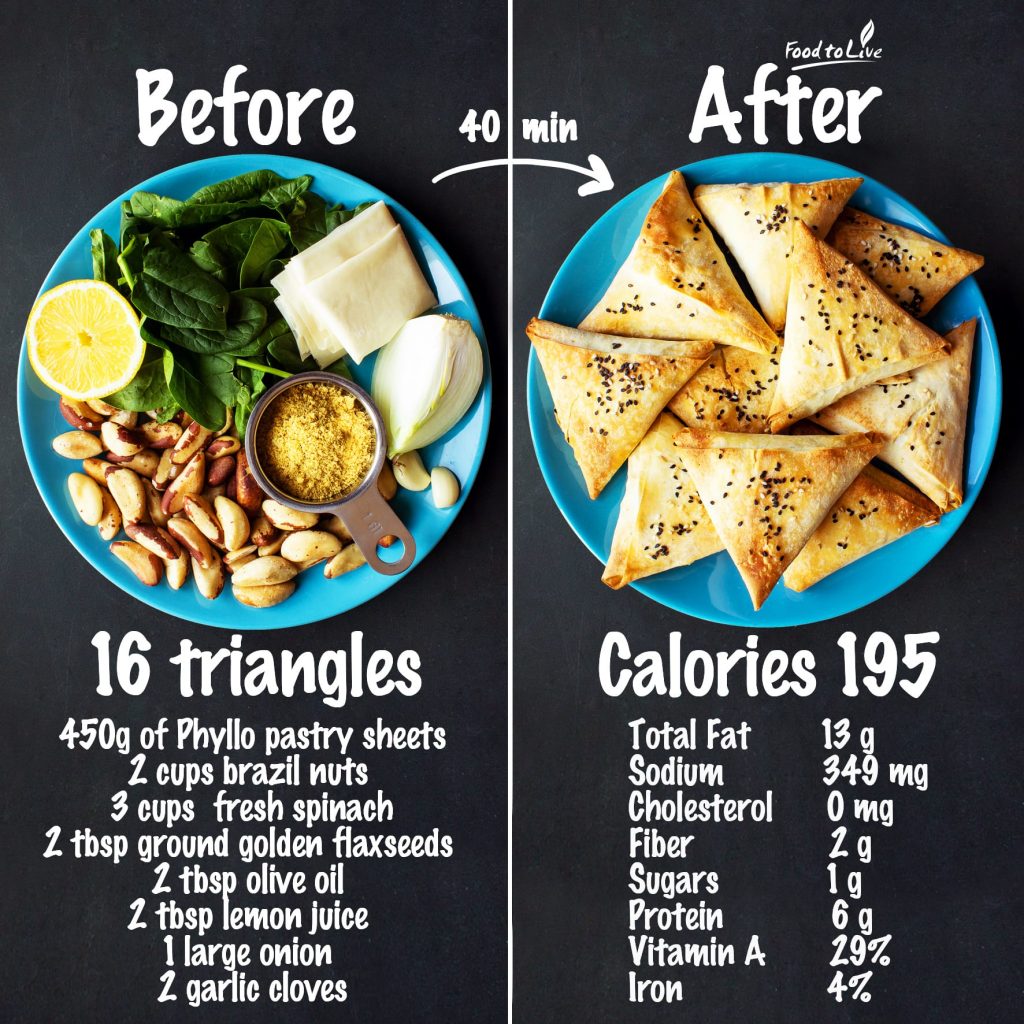 INSTRUCTIONS:
Heat up the oven to 175° C / 350° F.
Make the flax egg: put the ground flaxseeds in a small bowl and stir in 6 tbsp water. Set aside.
Blanch clean spinach in a pot of boiling water. Immerse in ice-cold water immediately after to preserve the beautiful green color.
Heat up 2 tbsp of olive oil in a large frying pan. Add diced onion and fry gently, until soft. Add diced garlic and fry on a low-medium heat until translucent and fragrant.
Squeeze the water from the blanched spinach really well using your hands. Go over the spinach twice or even three times to get it as dry as possible. Chop it and add it to the pan.
Remove from heat. Add flax "egg", lemon juice, salt, pepper, and chopped brazil nuts. Mix well.
Unwrap the first segment of pastry and place the first strip on a table ahead of you, keep the rest under the damp towel. Lightly brush it with olive oil. Now, place another strip on top of the first one and brush it lightly with oil again.
Place a heaped teaspoon (do not overfill the triangles) of filling at the bottom of each strip and then start folding the pastry around the filling forming triangles. Continue until you use up all of the filling or pastry sheets.
Brush the tops of the triangles with olive oil and sprinkle with sesame seeds. Bake for 20 minutes, until golden.
This recipe adapted from Lazy Cat Kitchen
Video Recipe