March 10, 2019 · Written by Foodtolive Team
Flavorful Roasted Veggie Couscous Bowl
Experience a burst of flavors with this Flavorful Roasted Veggie Couscous Bowl. Roasted vegetables, tender couscous, and a delightful medley of seasonings come together in this hearty and satisfying dish.
Prep Time: 10 mins | Cook Time: 40 mins | Total Time: 50 mins | Servings:  6
INGREDIENTS:
2 cups couscous
4 tomatoes
1 zucchini
1 bell pepper
1 red onion
3 cloves garlic
2 tbsp olive oil
3 cups vegetable broth
fresh parsley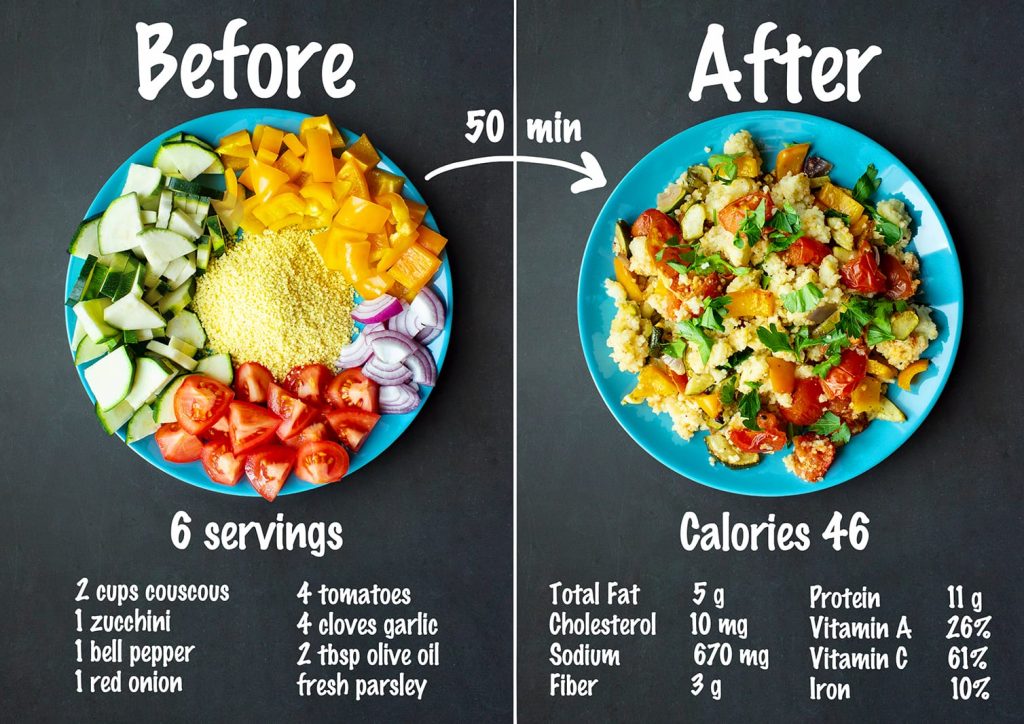 INSTRUCTIONS:
Preheat your oven to 400ºF (200ºC).
Wash the tomatoes, zucchini, bell pepper, and red onion. Chop them into 1.5-inch pieces.
Peel the garlic cloves but leave them whole.
Toss the chopped vegetables and garlic with 2 tbsp of olive oil. Spread them out in a single layer on a baking sheet. Season with a pinch of salt and pepper.
Place the baking sheet in the preheated oven and roast the vegetables for about 40 min.
While the vegetables are roasting, prepare the couscous. In a saucepot, bring 3 cups of vegetable broth to a boil. Once boiling, add 2 cups of couscous, turn off the heat, and cover the pot with a lid. Let it sit undisturbed for ten minutes, then fluff with a fork.
Once the roasted vegetables are done, collect the softened garlic cloves and chop them finely.
Roughly chop some fresh parsley for added flavor.
Combine the cooked couscous, roasted vegetables (including garlic), and fresh parsley in a bowl. Give it a good stir and season with more salt and pepper to taste.
Your Flavorful Roasted Veggie Couscous Bowl is ready to be served! Enjoy it warm or cold as you prefer.
This recipe slightly adapted from Budget Bytes
Video Recipe