March 14, 2018 · Written by Foodtolive Team
4 interesting Couscous Recipes for Vegetarians
One of the most interesting dishes for vegetarians is Couscous. A staple in the North African diet this dish is made up of tiny grains made from steamed and dried durum wheat. This gained popularity as a great alternative to rice and pasta. Here are some interesting Couscous Recipes that Vegetarians could enjoy.
Interesting Couscous Recipes for Vegetarians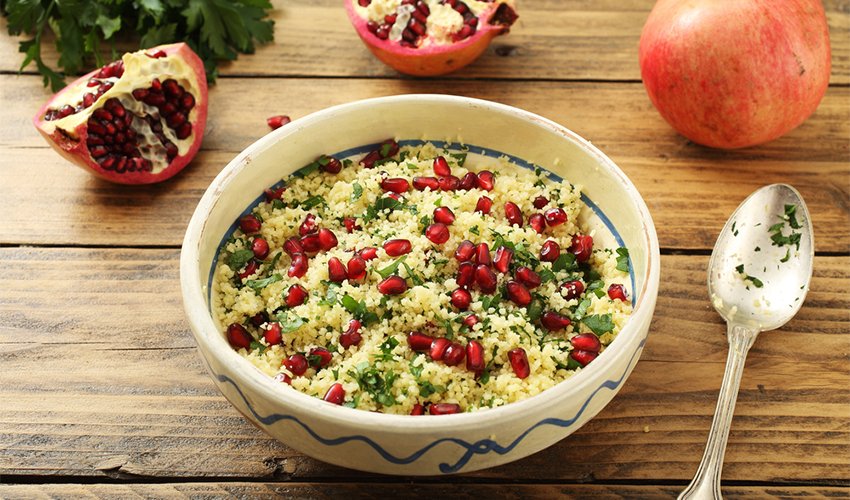 Ingredients:
1/2 cup Baby peas, frozen
1/3 cup Flat-leaf parsley
1 Lemon
2 tbsp Mint, small leaves
75 g Pomegranate arils
1 Red onion, small
4 cups Chicken stock, hot
2 1/2 cups Couscous
1 tbsp Olive oil, extra virgin
1/4 cup Pistachios
Method:
Place the couscous in a large mixing bowl. Stir in stock, oil, lemon juice and mix well. Cover with plastic and set aside for 10 minutes.
Soak peas in how water until thawed. Drain well.
Remove plastic from couscous and fluff using a fork. Toss through peas, onion, pomegranate, pistachio, herbs and lemon rind.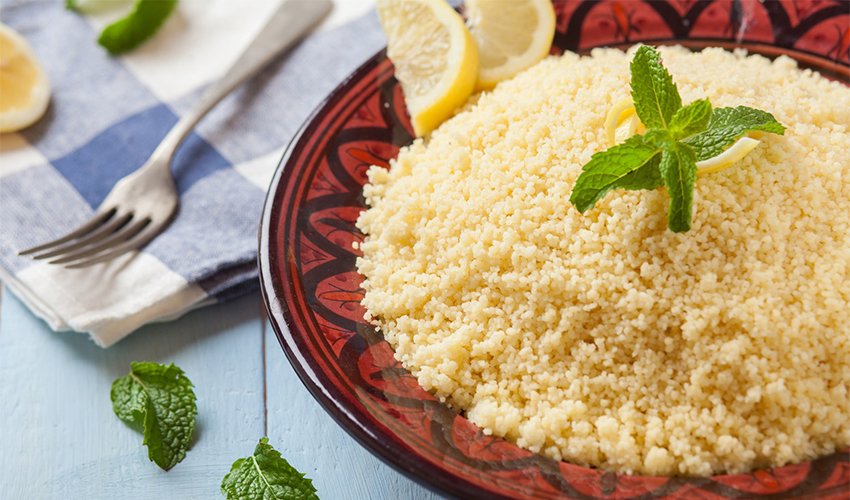 Vegan Couscous with Lemon, Peppers and Olives
Ingredients:
300 gms Couscous
4 tbsp Olive Oil
2 Shallots
125 gms Pitted Black Olives
2 Red Pepper chopped
4 Lemons
1 Lemon juice
2 tbsp Coriander fresh/chopped
Method:
Cook the couscous according to packet instructions, fluff with a fork and keep warm.
Heat the oil and cook the garlic and shallots until translucent. Add the chopped lemon, red pepper and olives. Stir briefly. Transfer to bowl and mix with lemon juice.
Season well with salt and pepper, mix in the chopped coriander and carefully stir in the couscous. Leave to stand for an hour before serving.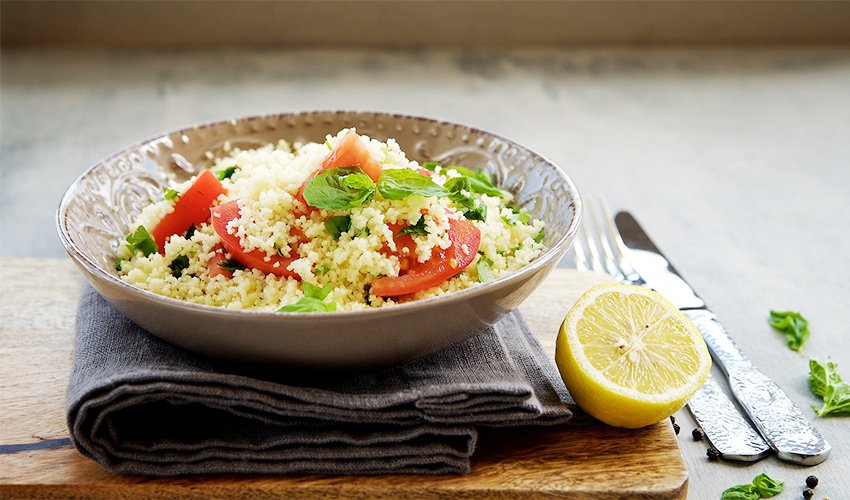 Spicy Vegetable Couscous
Ingredients:
½ teaspoon vegetable oil
2 green onions chopped
1 sweet red pepper
1 garlic clove minced
2 tomatoes chopped
1 zucchini diced
1 cup chickpeas cooked
1 cup boiling water
¼ teaspoon salt
½ teaspoon curry powder
1 teaspoon ground cumin
2 tablespoons fresh parsley
1/8 teaspoon ground cinnamon
½ teaspoon ginger
¼ teaspoon cayenne
1 cup couscous
Method:
In medium size skillet heat the oil
Add green onions, sweet pepper, garlic, tomatoes and zucchini. Saute 5 minutes. Stir.
Remove from heat and keep warm.
In a medium saucepan, combine the remaining ingredients, mix, cover and let stand 5 minutes, until liquid is absorbed. Add the first mixture and fluff with fork.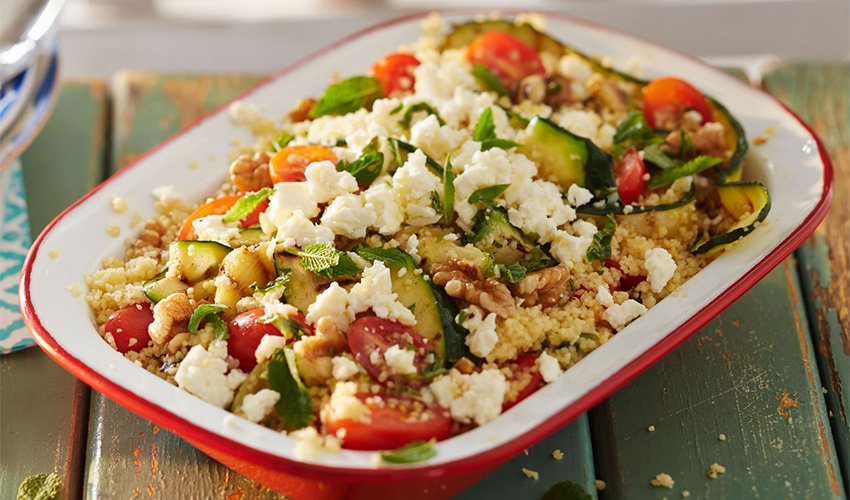 Vegetarian Couscous with Feta
Ingredients:
1 Tbsp Butter
2 cloves garlic chopped
1 onion, chopped
2 stalks celery, thinly sliced
1 yellow pepper, diced
1 cup green beans, cut in pieces
540 ml. diced tomatoes
½ cup orange juice
½ cup vegetable stock
1 salt
1 ground pepper to taste
1 hot pepper to taste
1 cup medium grain wheat semolina (couscous)
540 ml chickpeas, rinsed and drained
2 Tbsp fresh oregano, chopped
2 Tbsp fresh mint
1 ½ cup Canadian Feta, diced or crumbled
Method:
In a large skillet, melt the butter over medium-high heat. Saute the garlic, onion, celery, pepper, and beans. Cook for 2 to 3 minutes.
Add the tomatoes, orange juice, and stock. Bring to a boil. Season and add the hot pepper sauce.
Add the Couscous, stir, and cover. Turn off the heat and let stand for about 5 minutes or until couscous has absorbed the liquid. Use a fork to separate the grains if necessary. Add the chickpeas, herbs, and Feta, mix well and serve. Use a little orange juice and olive oil as a dressing.