June 27, 2018 · Written by Foodtolive Team
Roasted New Potatoes with Asparagus
Prep Time 5 minutes | Cook Time 40 minutes | Total Time 45 minutes | 4 Servings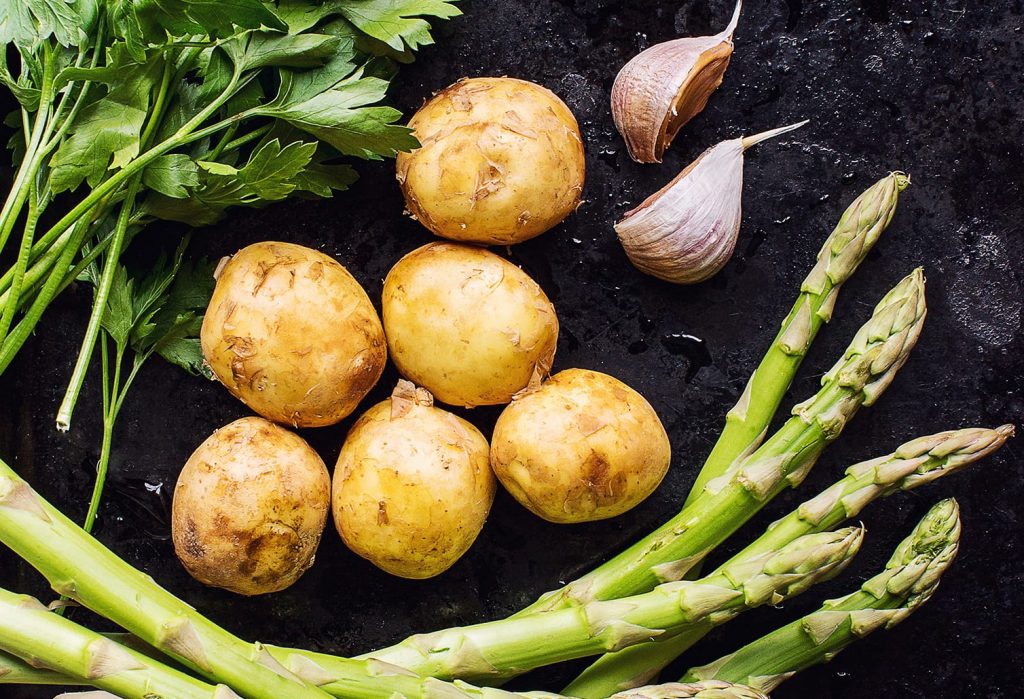 INGREDIENTS:
2 lbs new potatoes, cut into quarters
8 oz asparagus, cut into 4 pieces
3 tbsp olive oil
1 tsp dried basil
1 tsp dried oregano
1 tsp garlic powder

INSTRUCTIONS:
Preheat your oven to 425°F (220°C) and line a baking sheet with parchment paper for easy cleanup.
In a large bowl, place the quartered new potatoes.
Sprinkle the dried basil, dried oregano, garlic powder, salt, and pepper over the potatoes. Drizzle 2 tbsp of olive oil over the potatoes and toss them to coat evenly.
Transfer the seasoned potatoes to the prepared baking sheet, spreading them out in a single layer.
Roast the potatoes in the preheated oven for about 15-20 min or until they start to become tender and lightly browned.
While the potatoes are roasting, place the asparagus pieces in the same bowl used for the potatoes.
After the initial roasting time for the potatoes, add the seasoned asparagus to the baking sheet with the partially roasted potatoes. Drizzle the remaining 1 tbsp of olive oil over the asparagus and toss to coat.
Continue roasting for an additional 10-15 min or until the potatoes are fully tender and both the potatoes and asparagus are lightly browned and flavorful.
Remove from the oven and serve your roasted new potatoes with asparagus as a delicious side dish. Enjoy!
This recipe slightly adapted from Wallflower Kitchen
Video Recipe