May 23, 2018 · Written by Foodtolive Team
Roasted Sweet Potatoes and Brussels Sprouts
Roasted sweet potatoes and Brussels sprouts are an excellent side dish for your main course or eat it as is together with your favorite wine. It is well seasoned and roasted to perfection. It brings a tangy and crunchy taste your palate will love.
Prep Time 5 minutes | Cook Time 45 minutes | Total Time 50 minutes | 6-8 Servings
INGREDIENTS:
1 pound Brussels sprouts, trimmed
1 large sweet potato (1 pound)
2 cloves garlic, smashed
1/3 cup olive oil
1 teaspoon coriander
1 teaspoon dried thyme
1 teaspoon salt
pepper to taste
1 tablespoon red wine vinegar
sesame, to garnish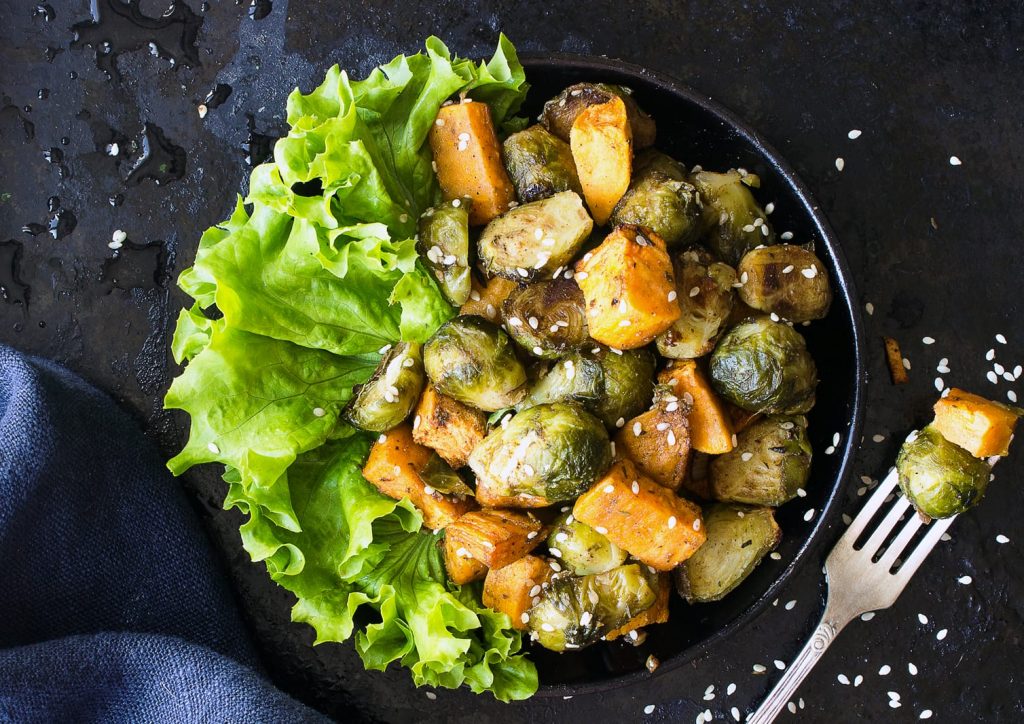 INSTRUCTIONS:
Preheat your oven to 400 degrees F.
Trim your Brussels by cutting off the little brown end. If there are any yellow leaves, pull them off. Cut any large ones in half.
Peel your sweet potato and chop into 1-2 inch pieces.
In a large roasting tin, add the olive oil, sweet potato, Brussels, garlic, dried thyme, coriander, salt, pepper, and toss to coat fully.
Roast at 400 for about 40-45 minutes. The veggies are done when they are brown and a fork slides into them easily.
Place the veggies in a serving bowl and toss with 1-2 tablespoons red wine vinegar to taste. Garnish with sesame. Eat hot!