September 16, 2015 · Written by Foodtolive Team
Delicious Foods That Are Good for You: Green Peas
We don't see green peas as something exotic or even a food to enjoy. They are just there and we are used to eating them since the dreaded "eat your greens" memories from childhood. In fact, quite a few people harbor some amount of resentment towards this particular legume.
This is a huge mistake as green peas can be delicious if cooked right and they definitely are one of the healthiest foods out there. They are full of nutrients and low on fats, which makes them a great addition to any diet. Green peas rarely cause an allergic reaction, even in people who are sensitive to other forms of legumes. In addition to this, they are relatively easy to digest and their high content of dietary fiber ensures that they don't have a negative effect on your digestion.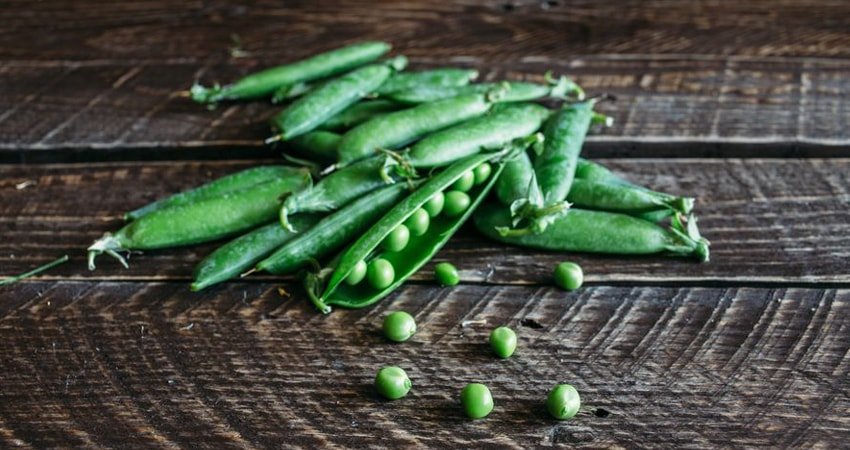 Benefits of Green Peas
If you are still undecided about including this legume in your diet, you definitely should consider all the good this will do to your health as a whole. The most important health benefits of green peas are associated with the unique blend of phytonutrients they contain.
There are many types of these elements in peas and all of them have different but an overall positive effect on your body. The most important of them is cancer prevention. Although, it's impossible to protect yourself from this dreadful disease with 100% certainty, various studies prove that a well-balanced diet full of foods rich in antioxidants is a sure way to reduce the risk, especially when it comes to the cancers that affect the digestive system.
Saponins, the most abundant phytonutrients in green peas, have proven to be effective in the prevention of type 2 diabetes. As a food with a low glycemic index and high content of dietary fiber, this type of legumes is a good choice for diabetics as a whole. Green leas protein content also makes them a great addition to the diet of bodybuilders and other people who want to reshape their body and strengthen their muscles.
The benefits of peas are truly far reaching as they affect not only your body but the very soil they grow in. According to the results of agricultural research, peas fall into the category of "nitrogen fixing" crops. Therefore, they take nitrogen from the air and transfer it to the soil. The plant itself transforms the gas into a usable form. In essence, this means that green peas have a natural ability to fertilize the soil around them, and their shallow root systems cut down on the level of erosion.
Rotating peas with other crops will provide you with better harvests as well as reduce the risk of pests. Therefore, green peas are one of the most eco-friendly foods you can find. If you are truly committed to "green philosophy", these legumes definitely deserve a place on your table.
Another great benefit of green peas is their high content of alpha-linoleic acid, an important omega 3 fatty acid. This food has one of the lowest fat counts, so it's safe to eat regardless of how strict your diet is.
Green Peas Nutrition Facts
A cup of cooked peas (about 137 grams) contains:
Calories: 116
Vitamin K: 40% DV
Manganese: 36% DV
Vitamin B1: 30% DV
Copper: 27% DV
Vitamin C: 26% DV
Folate: 22% DV
Protein: 15% DV
Zinc: 15% DV
Iron: 12% DV
"% DV" is the required daily dose for a traditional 2,000 calorie diet. The list could go on as peas contain varied amounts of several dozen essential nutrients.
Considering all these significant benefits, it's really not surprising that the American Cancer Society, the American Heart Association, and the American Diabetes Association all advise to eat at least three cups of legumes per week. According to their healthy guidelines, legumes as a whole are the most important food group for disease prevention.
Cooking Green Peas
In general, peas mix well with any kind of vegetable. The Indian cuisine, in particular, is rich in recipes that include this particular type of legumes. However, many other world cuisines use peas as well. You can find a great number of recipes with a simple online search. We offer a few of our favorites today.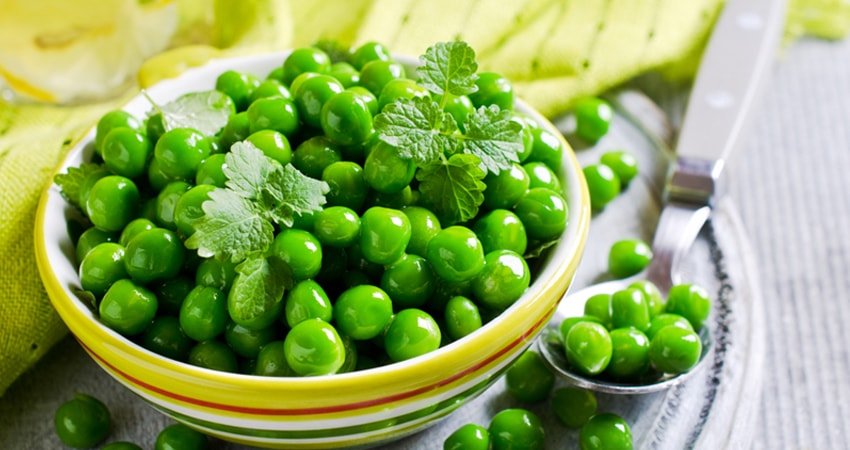 Minted Green Peas in Lettuce Cups
Ingredients:
Peas: 2 cups (fresh) or 10 ounces (frozen)
Onions: 1 (minced)
Butter: 2 ounces (unsalted)
Fresh mint: 1/3 cup (chopped)
Sugar: 1 teaspoon
Salt, pepper: to taste
Boston lettuce leaves: 8 (washed)
Instructions:
Defrost the peas or blanch them for 5 minutes in boiling water if you are using fresh.
Sautee the onions in butter for about 10 minutes for them to turn golden.
Add peas, sugar, salt, pepper, and mint to the pan and cook for 5 minutes.
Spoon minted peas onto the lettuce leaves and serve while still warm.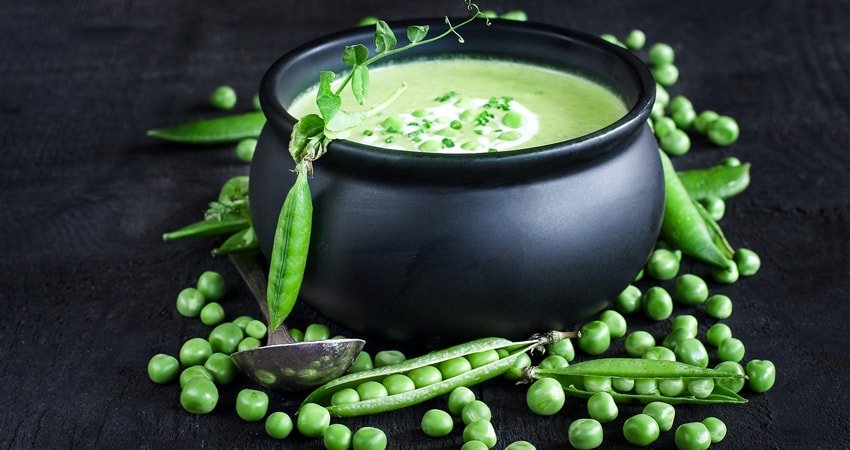 The Best Spring Green Pea Soup Recipe
Ingredients:
Peas: 5 cups (fresh) or 20 ounces (frozen)
Vegetable stock: 2 cups
Water: 2 cups
Sweet onion: 1 cup (chopped)
Fresh mint: 1/3 cup (chopped)
Fresh parsley: 1/3 cup (chopped)
Coconut oil: 2 tablespoons
Sea salt: 1 teaspoon
Black pepper: ½ teaspoon (ground)
Garnish: ½ cup pea shoots (chopped) and ¼ cup fresh chives (chopped)
Sponsored by Food to live
Instructions:
Put coconut oil and onion into a large saucepan and cook for about 10 minutes.
Add water and vegetable stock and bring mixture to a boil.
Add peas and cook until they become tender.
Note, peas cook quickly, so it shouldn't take more than 5 minutes if they are fresh and only about 3 if you use frozen.
Take the saucepan off the heat and add the herbs and seasonings.
Blend the mixture into a creamy soup.
Garnish with pea shoots and chives, and serve!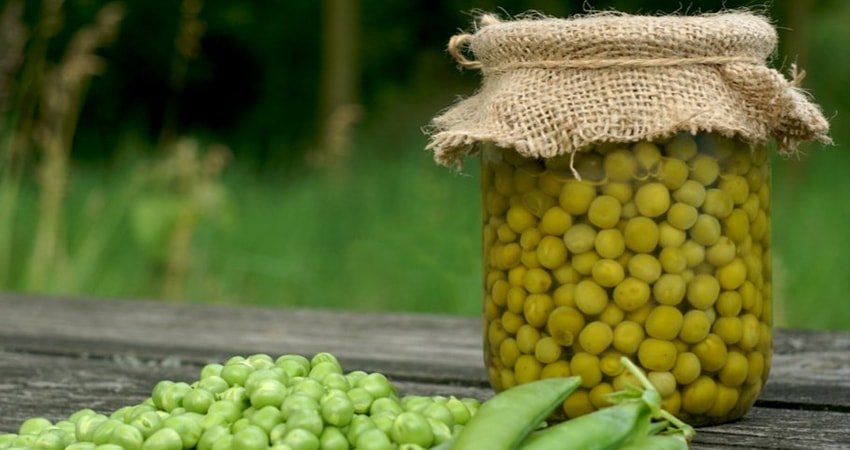 Green Peas: Selection and Storage Tips
You can buy fresh, frozen, canned, and dry green peas. Each option has its advantages, and all kinds of peas retain a large amount of their nutrients regardless of how they've been treated. Therefore, the choice is completely up to you. The vast majority of recipes afford for using various types of peas, so you can choose whichever you like best.
When shopping for fresh peas, check them carefully to make sure they are really fresh, green, and healthy-looking. If you refer frozen, look for "petite" brands as they are most flavorful. Buy canned foods only from the most reliable brands.
Dry peas are easy to store and can last in your pantry for months. Therefore, they are the best kind for buying in bulk.
Note that fresh peas will become starchy in 2-3 days. Therefore, they are unfit for storage. If you absolutely have to, you can store them at the bottom of the vegetable drawer in your fridge. However, it would be more beneficial to vacuum-pack and freeze them. This way, you will be able to use them for months.